Miles loved France and France loved Miles. His first trip abroad was to France, in 1949, when aged just 22. Miles was part of a quintet that included the pianist Tadd Dameron, playing at the first Paris International Jazz Festival since the end of the Second World War. In the US, Miles was a rising jazz star, but that counted for nothing in the racist, segregated world of American society.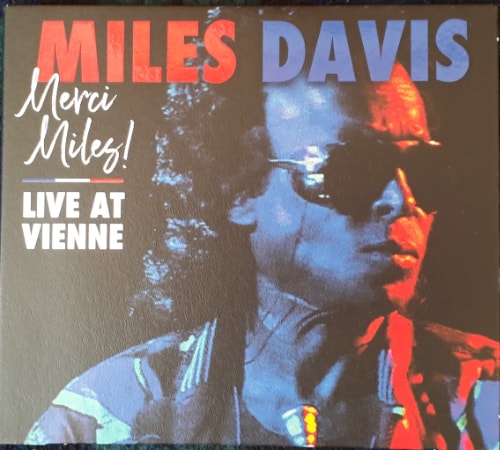 Miles Davis:
Merci Miles! Live at Vienne
CD cover
But in France, Miles and his peers were treated like kings. "This was my first trip out of the country," recalled Miles in his autobiography. "It changed the way I looked at things forever… I loved being in Paris and loved the way I was treated. Paris was where I understood that all white people were not the same; that some weren't prejudiced." In France, he met Picasso and Jean-Paul Sartre, and fell in love with the actor and singer Juliette Gréco. French jazz pianist René Urtreger (who played with Miles), says: "Miles was proud and touched by the fact that in France, jazz was considered to be very important music."
In 1957, when Miles was on tour in France, he was asked by French director Louis Malle to compose the soundtrack to the film noir Ascenseur pour l'Echafaud (Lift to the Scaffold). The soundtrack was improvised and played by Miles with a small group of French musicians, including René Urtreger, and American drummer Kenny Clarke. It was a critical success.
Miles often visited France throughout the rest of his life, and when playing in the south of France, would make a point of visiting his friend, the American novelist, essayist and civil rights activist James Baldwin, as Miles recalled in his autobiography, "Every time I went to play Antibes, I would always spend a day or two out at Jimmy's house in St Paul de Vence. We would just sit in that great big beautiful house of his telling all kinds of stories." Miles loved cooking and one of his signature dishes was Bouillabaisse, a traditional French stew.
In 1989, Miles received one of Paris's highest awards, the Grande Médaille de Vermeil, which was presented to him by the then mayor of Paris (and future French president) Jacques Chirac. In the same year, Miles was in Paris filming scenes for the only movie to feature him as an actor, the Australian/French production, Dingo. The film's director, Rolf de Heer, says, "Miles often talked about Paris. The French were in love with Miles and treated him like a god. He liked that because it was a form of respect he didn't get in his own country." Miles worked on the Dingo soundtrack with the acclaimed French composer/arranger/musician Michel Legrand.
On 10 July 1991, Davis played an incredible concert in Paris at the Grande Halle de la Villette, featuring many old musical associates including, Herbie Hancock, Joe Zawinul, Wayne Shorter, Jackie McLean and John McLaughlin. That same year, he received one of France's highest cultural awards: Knight of the Legion of Honour. And it's apt that the signature tune of Miles's closing era – the tune he played for many years during his final decade – has a French title: Jean-Pierre. France's love affair with Miles continues long after his death, and in 2009, a major exhibition, devoted to the life and music of Miles, We Want Miles – Miles Davis: The Face of a Legend opened in Paris.
So, it's fitting that a concert from his last tour of that country has been released. This concert was recorded on 1 July 1991 at Vienne, in south-eastern France, at the Theatre Antique, an amazing Roman amphitheatre, high up in the hills, which seats more than 10,000 and overlooks a valley. This wasn't Miles's last time in France – his final French concert was three weeks later, on 21 July 1991, at Chapiteau, Andernos, followed by gigs in Italy, Luxembourg and Austria (information from Peter Michael Probst's excellent website www.kind-of-blue.de). When Miles set out again to play in 1981, his band was a sextet, but over time, this number would grow, with some line-ups expanding to a nonet, with two keyboardists and two percussionists.
But by the time this album was recorded, the band had been pared down to a sextet – Miles's last specialist percussionist was his son Erin, who left the band in November 1990. This gave the music more space and band members more opportunity to solo for long stretches. The band comprised of Miles on trumpet and keyboards; Kenny Garrett, sax and flute; Deron Johnson, keyboards; Foley, lead bass, Richard Patterson, bass and Ricky Wellman, drums. Sadly, Ricky Wellman died in 2013 and a nice touch is that this album is dedicated to him and he has been given composer credit for the last number on the album, 'Finale'.
The Vienne concert was filmed by French production company Zycopolis Productions in high-definition video, but so far, is unreleased. However, a couple of performances are available on YouTube, 'Human Nature' and 'Hannibal'. The album is the video soundtrack, recorded in high quality audio and mixed by Patrick Savey, founder of Zycopolis Productions. The album is produced by Miles's nephew Vince Wilburn Jr, Ashley Kahn (who also wrote the liner notes) and Florence Joelle Halfon, consultant to Warner Music UK's jazz catalogue, and who has worked with the Miles Davis Estate to get a lot of music from Miles's final era released.
The album comes in two physical versions: LP and CD. Both are double-disc releases and contain the same music, although for reasons of space, the LP track listing has been shuffled about, while the CD retains the original concert set-list order. Note that this is not the complete concert – the two opening numbers, 'Perfect Way' and 'New Blues' are omitted. It's not quite certain why, but the probable reasons are either that technical issues meant these tunes were not recorded on the night, or an event during the post-production process rendered these two numbers unusable. Even so, there is roughly 80 minutes of superb music to enjoy.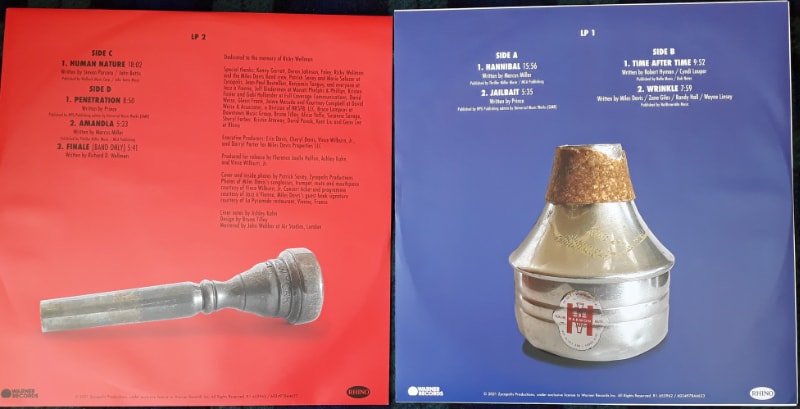 The LP inner sleeves showing Miles's trumpet mouthpiece and Harmon mute
The LP and CD packaging are both excellent, and it's obvious that a great deal of care and attention has been taken over them. It's a strong reason to invest in the physical version of this album. Designer Bruno Tiley (whose previous work includes releases by Bob Marley, Jimi Hendrix and Steve Winwood, as well Miles's Rubberband album) has chosen a striking photo of Miles for the cover. The CD booklet includes concert photos, plus pictures of a concert ticket and Miles's signature in the guest book of a local restaurant. Because the LP booklet is much larger, it contains additional photographs. The LP inner sleeves and the CD inside cover include photos of Miles's shades (which he wore at the concert), trumpet mouthpiece and Harmon mute. The liner notes include interviews with Foley, Deron Johnson and Richard Patterson, who recall what it was like being a member of Miles's band and their memories of the concert. Kenny Garrett was presumably unavailable for interview, which is a shame.
Miles's band was a mix of the old and the new: Foley, Kenny Garrett and Ricky Wellman had been with Miles since early 1987, while Richard Patterson joined in late 1990. Deron Johnson had been in the band for around six months. Johnson kept things simple: "I didn't have a big rig. I just had the basic materials needed. I tried to put more stuff into my playing than trying to just get every sound. The set-up was definitely basic. I had a sampler, which was cool, but basically it was one electric piano vibe, one synth, one organ. That was the great thing, though, because with that band there was just so much space."
The concert set-list was a mix of old and new tunes including 'Human Nature' and 'Time After Time' from You're Under Arrest; 'Wrinkle' from the Rubberband sessions; 'Hannibal' and 'Amandla' from Amandla; and two numbers composed by Prince, 'Penetration' and 'Jailbait,' which Miles had started playing in concert in January 1991, and recorded rough mixes of both tunes in a studio in Germany in March 1991. Miles was planning to include the two tunes (plus at least one other Prince composition) on his next album, Doo-Bop. Sadly, Miles would die before completing the album and the tunes were not included. The closing track, 'Finale,' features just the band and is an energetic funk jam.
The CD listing:
Disc 1
Hannibal
Human Nature
Time After Time
Penetration
Disc 2
Wrinkle
Amandla
Jailbait
Finale

CD digipak folded out showing outer covers

CD digipak folded out showing inside covers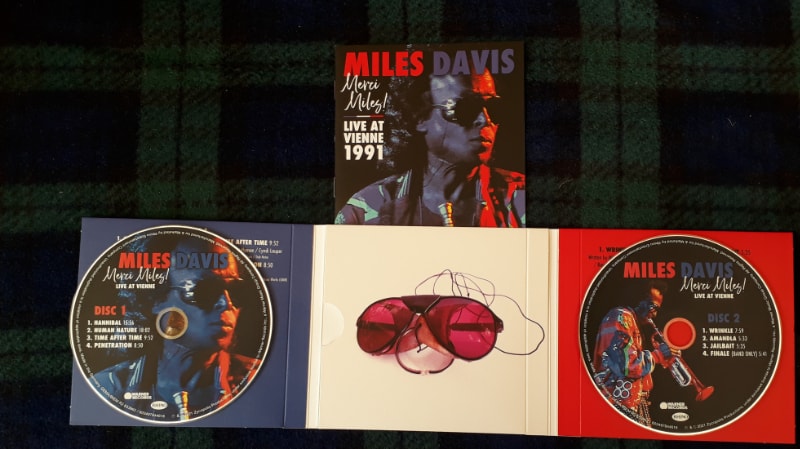 CD disc labels and booklet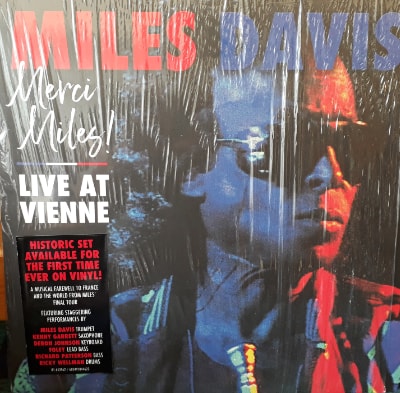 The front cover of the LP
The LP Listing:
Disc 1
Side A
Hannibal
Jailbait
Side B
Time After Time
Wrinkle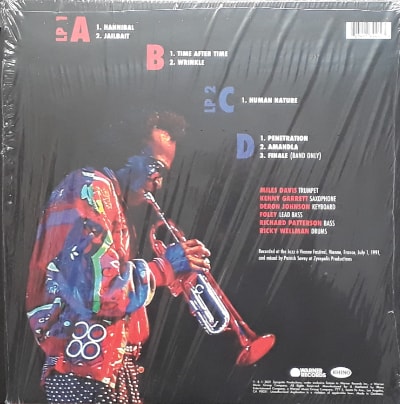 LP back cover
Disc 2
Side C
Human Nature
Side D
Penetration
Amandla
Finale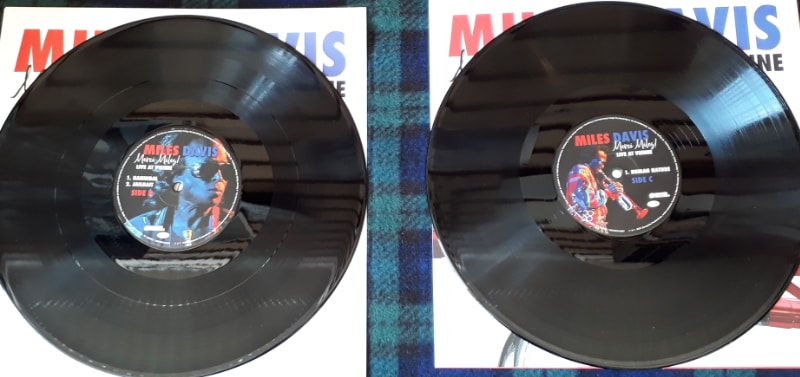 The LP records with different label designs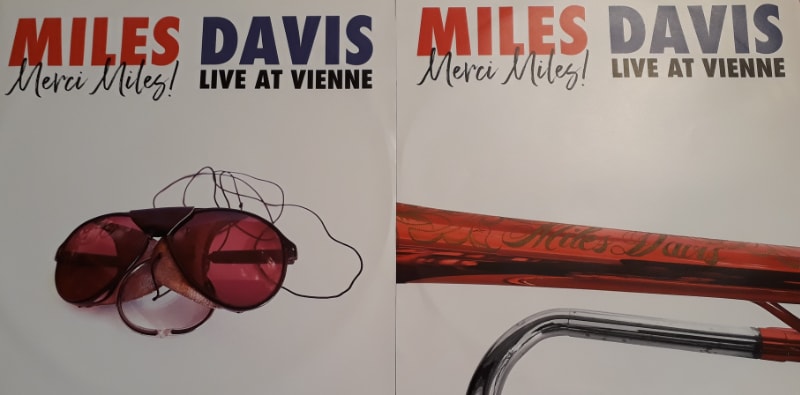 The LP inner sleeves showing Miles's shades and red trumpet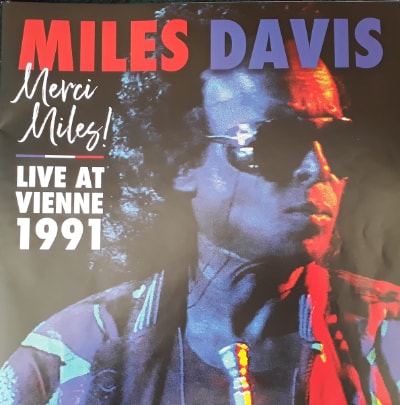 LP booklet cover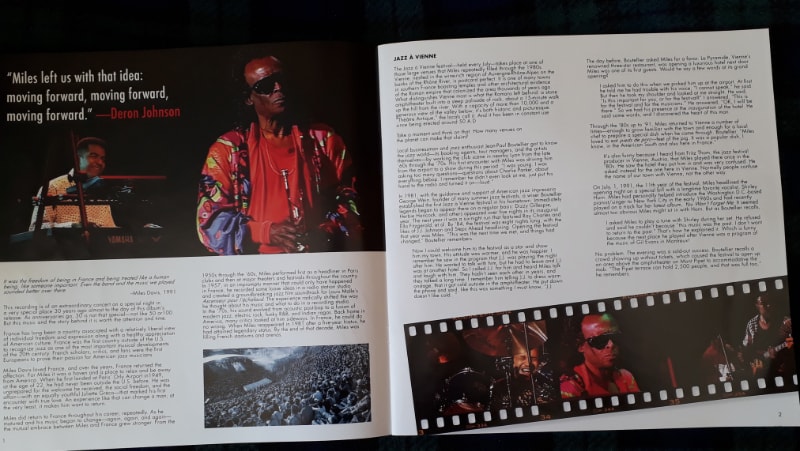 Inside booklet showing liner notes and photos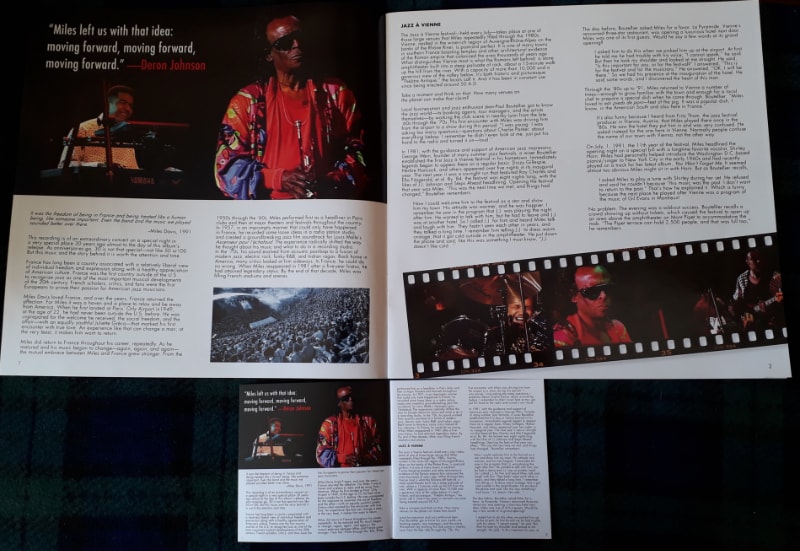 The larger size of the LP booklet means that more photographs can be included than in the CD booklet. Both contain the same information and liner notes
I was fortunate to see this band almost three weeks later in London, and I can recall how tight it was, with Miles playing strongly. This concert recording really captures the vibrancy of the music, the closeness of the band and the beauty of Miles's sound. You can also feel the energy and excitement of the audience. 'Hannibal' is almost 16 minutes in length and features a long, funky keyboard solo from Johnson – the version of 'Hannibal' on the 1995 Live Around The World album was cut to seven minutes and Johnson's solo was excised in the process, so it's great to hear it here. 'Human Nature' lasts 18 minutes and takes up the whole side of an LP.
Kenny Garrett plays an extended, explosive solo and moves so energetically, that he loses the wireless mic attached to his alto sax and has to abort his solo (you can hear it on the album and see it on the video); however, the band doesn't miss a beat and brings the tune to its graceful conclusion. The 9-minute long 'Time After Time' finds Miles playing movingly and tenderly – it's a tour-de-force performance. The silky smooth 'Amandla' features more fine soloing from Johnson, sounding as if he's playing an acoustic grand piano. The two Prince tunes are 'Penetration,' a slice of mid-tempo funk, and the laid-back, bluesy 'Jailbait.' Both 'Wrinkle' and 'Finale' showcase the powerhouse rhythm section of Foley, Patterson and Wellman. On the latter tune, the audience clap along to the beat and whoop with delight – the people clearly enjoyed this show.
This is a terrific album, a superb addition to Miles's musical legacy. Let's hope it's the first of many more new releases from this era, and that the full video of this performance is finally released.
Some of the quotes in this piece are from my book, and an article I wrote for The Guardian newspaper in 2009 about Miles and Paris.
There's a very interesting discussion on the album on YouTube, moderated by Ashley Kahn and including, Deron Johnson, Vince Wilburn Jr, Florence Joelle Halfon and French jazz writer/historian Vincent Bessieres. It also includes additional video clips from the concert.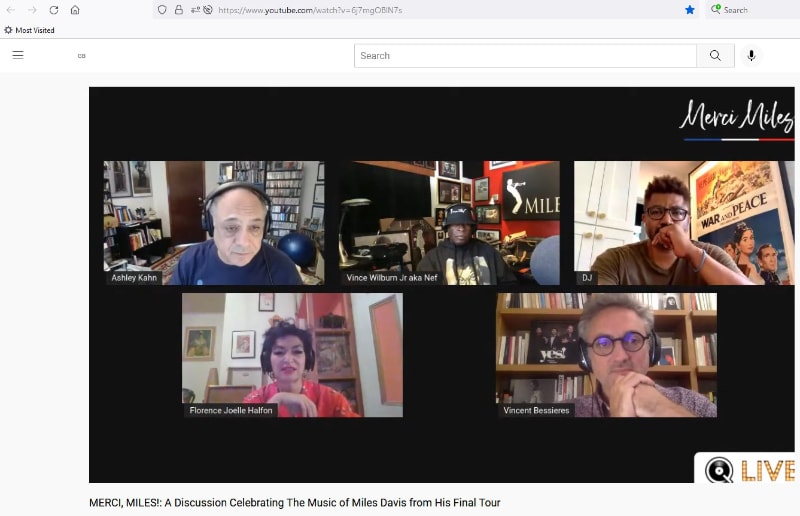 Miles Vienne discussion panel
Another good discussion on the album is on the Jazziz.com website, featuring Ashley Kahn, Vince Wilburn Jr, Deron Johnson, Kenny Garrett and Florence Joelle Halfon.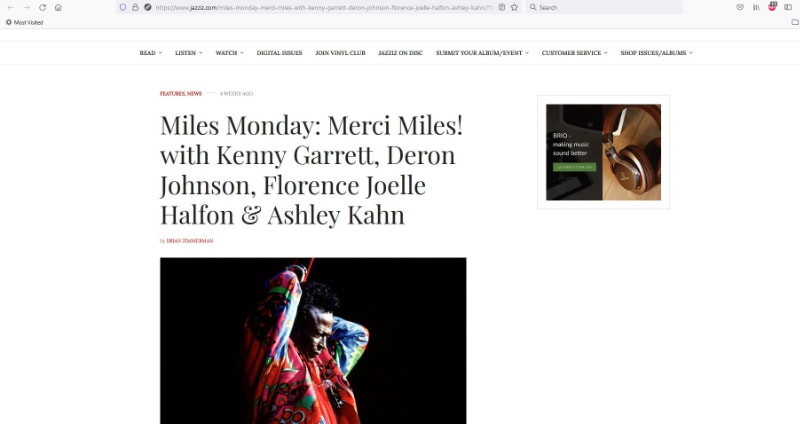 Jazziz Vienne discussion