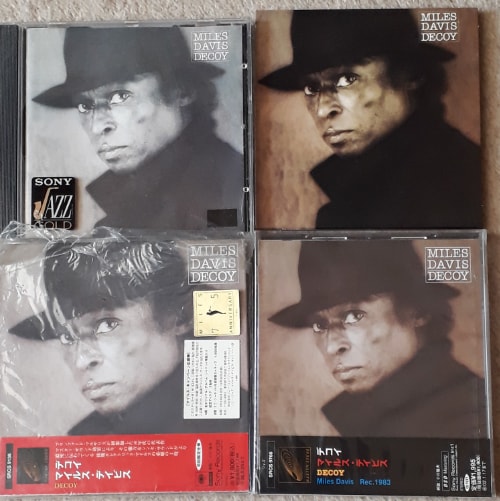 Various CD versions clockwise from left to right, the standard CD with jewel box; the Complete Columbia Album Collection has a mini cardboard sleeve; the 2001 Japan Master Sound release has a jewel case, and the 1996 Master Sound release, a mini cardboard sleeve
Background: The recording of Decoy followed some major changes in Miles's musical direction. He stopped working with his long-time producer Teo Macero and decided to produce himself; bassist Tom Barney and guitarist Mike Stern both left the band; Miles recruited Robert Irving III, his first specialist keyboard player in a decade, and an associate from The Man With The Horn sessions. His new bassist was 21-year-old Chicagoan Darryl 'The Munch' Jones. Miles was also looking to replace his saxophonist Bill Evans, and Branford Marsalis was recruited to play soprano sax on several tracks.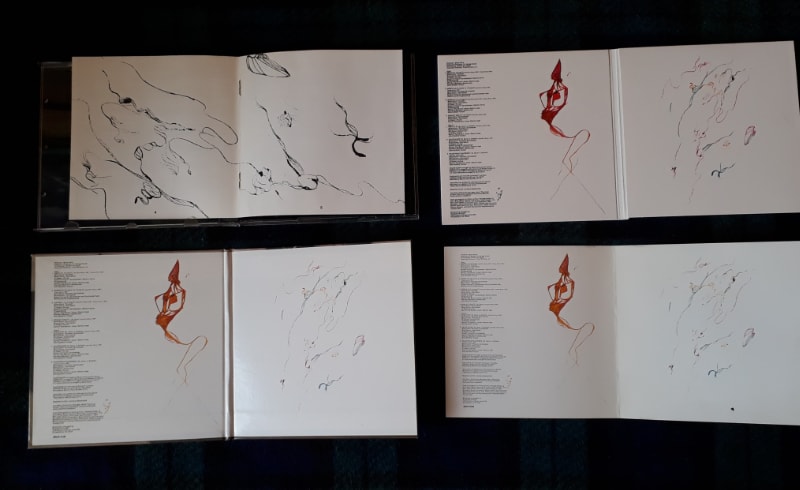 The LP had a gatefold sleeve, featuring colour artwork by Miles on the inside covers. This was replicated on most CD releases, but the standard CD release used different artwork, which was in black and white
Although Miles took on the producer's role, he opted for a more hands-off approach and appointed Robert Irving III as co-producer and his nephew Vince Wilburn Jr (who played drums on a couple of tracks on The Man With The Horn) as associate producer. Miles would rarely attend tracking sessions and would often listen to the studio sessions over the phone, and then make suggestions. At the end of each day, Irving III and Wilburn Jr would also give Miles tapes of rough mixes of the day's sessions for assessment. Electronic instrumentation – synthesisers and drum machines in particular – were also playing a larger role in the music, and acoustic drums and electronic drums would be mixed on some tracks.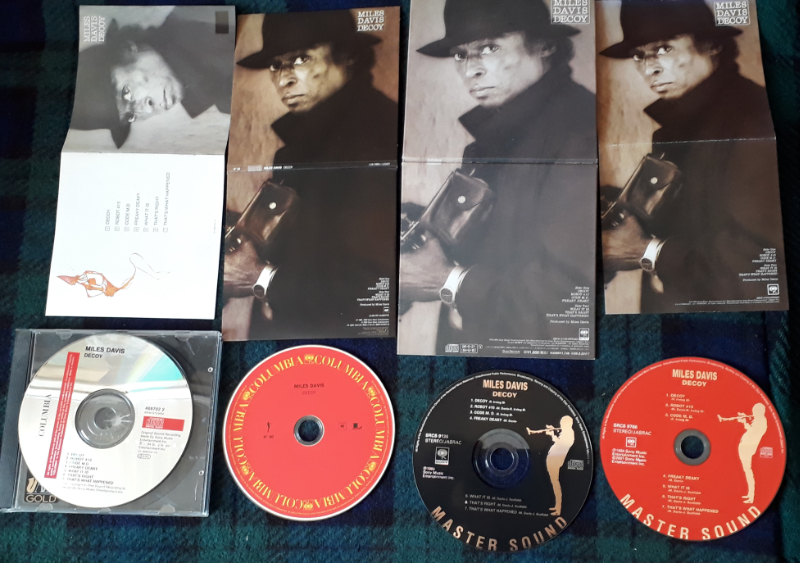 The various labels and album covers
Tunes:
Decoy
Robot 415
Code MD
Freaky Deaky
What It Is
That's Right
That's What Happened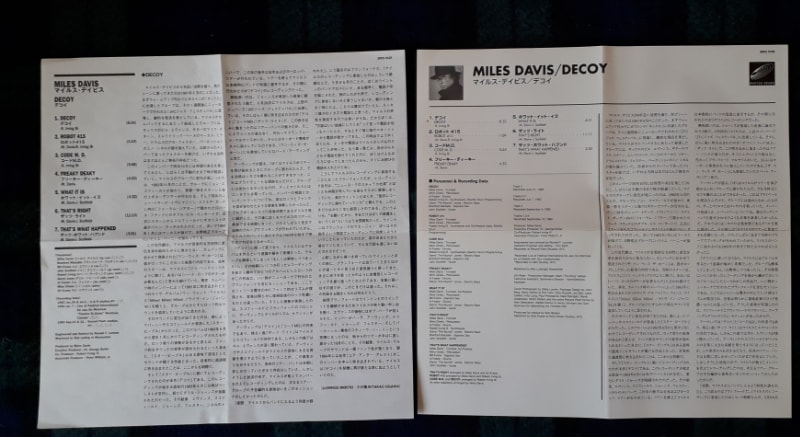 The liner notes for the Japan Master Sound releases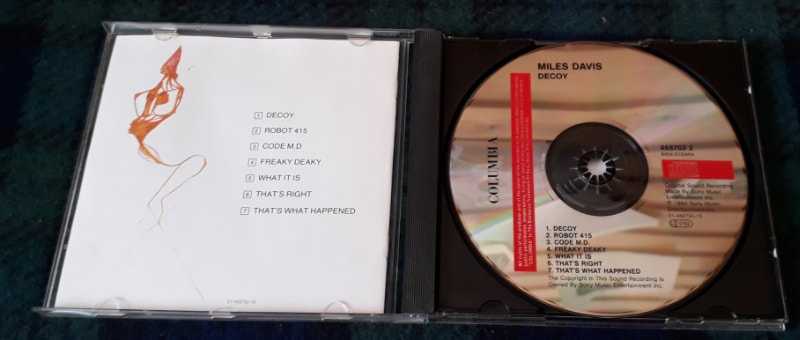 Close-up of he standard CD jewel case
Producer: Miles Davis
Co-producer: Robert Irving III
Associate producer: Vince Wilburn Jr
Recorded: June-September 1983
Released: 1984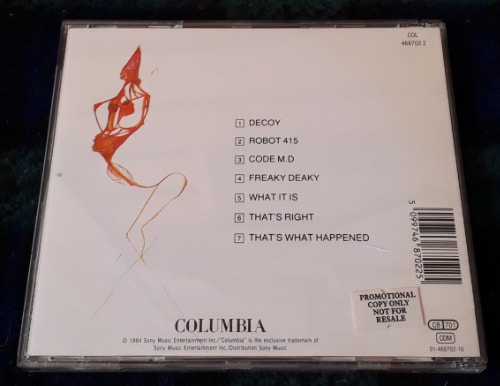 The back of the standard CD jewel case
Musicians:
Miles plays trumpet on all tracks, and synthesiser on tracks 2, 4, 5, 6 and 7
Keyboards and electronic drum programming: Robert Irving III
Sax: Branford Marsalis (tracks 1, 3 and 6); Bill Evans (tracks 5 and 7)
Guitar: John Scofield
Bass: Darryl "The Munch" Jones
Drums: Al Foster
Percussion: Mino Cinelu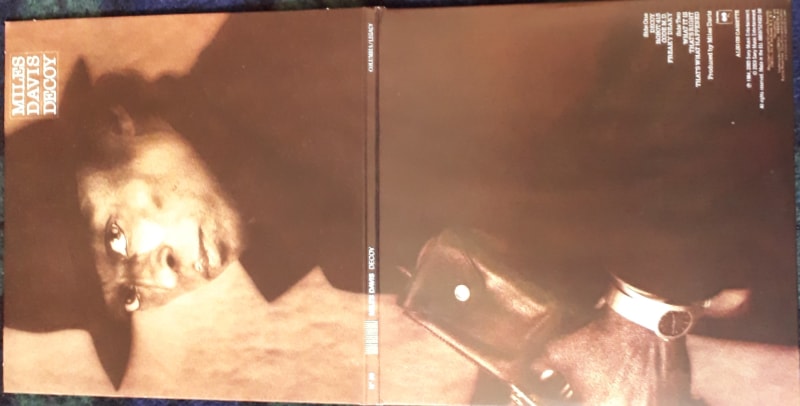 The Complete Columbia Album Collection version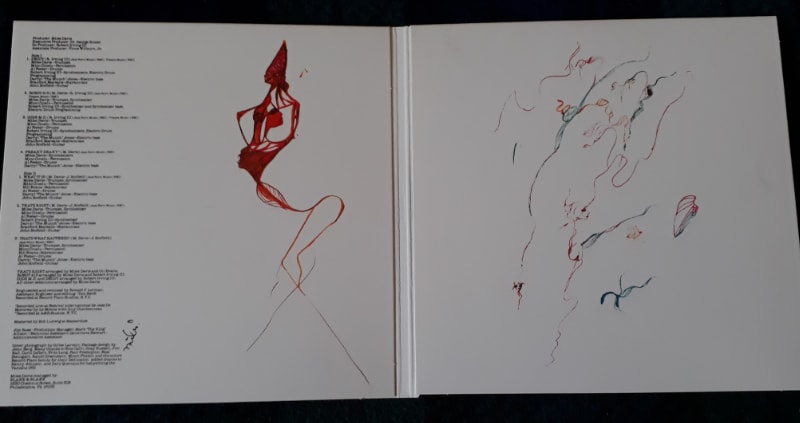 Inside the Complete Columbia Album Collection version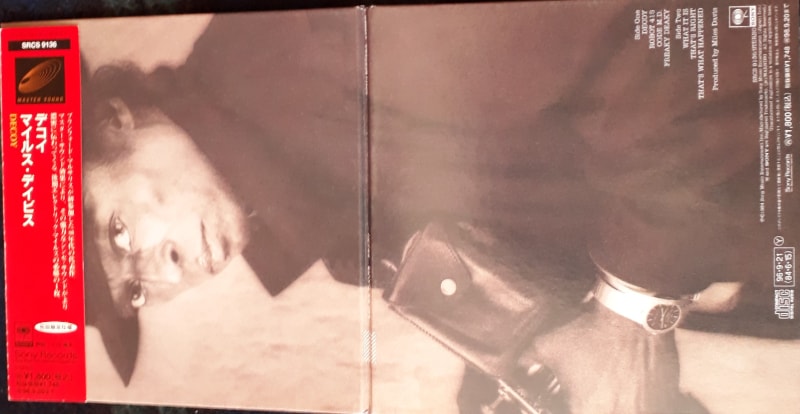 The 1996 Master Sound mini-cardboard cover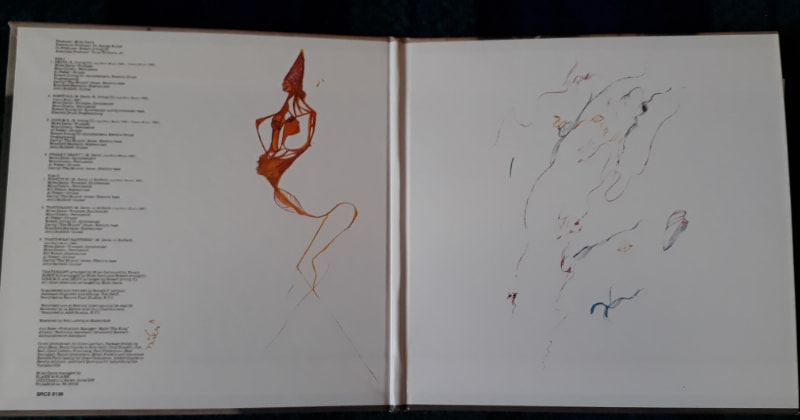 Inside the 1996 Master Sound release
A dozen facts about Decoy:
The striking cover shot by photographer Gilles Larrain was also used for the cover of Miles's autobiography, published in 1989. Another shot from the same photo session was used for the cover of the album Aura, released the same year. Although Decoy was a single album, the LP version was issued in a gatefold cover.
Decoy is just 39 minutes in length – 20 minutes shorter than Star People. A combination of a shortage of recorded material and the need to complete the album before going on tour saw two live tracks – 'What It Is' and 'That's What happened' – from the Festival Internationale De Jazz in Montreal on 7 July 1983, being added to the album.
The bluesy number 'That's Right' has the arrangement credited to Gil Evans, but in fact, it was done by Miles and Irving III. Evans was credited as a thank you for the inspiration he had given to both men.
'Freaky Deaky' was the first track to be produced by Miles and the first time Darryl Jones recorded with him. Jones recalls Miles wanting "A bass line that went on forever", and his numerous attempts to find one that Miles was happy with. Another version, featuring more of Miles' trumpet, was recorded, but the sparser version was selected for the album.
'Robot 415' is a short track, lasting barely a minute. Miles was inspired by various artists who put interludes on their albums, such as Earth, Wind & Fire.
The title track has a tremendous thumbed bass line by Darryl Jones, but this was literally a last-second decision by Miles, who told Jones over the phone – just as the recording was about to start – to thumb the bass line rather than use his fingers. When Jones asked Miles to confirm the instruction, Miles said, "Thumb it Darryl, all of it!"
Miles was so impressed by Branford Marsalis, that he asked him to join his band. Marsalis turned him down, because he felt that the jazz-funk being played by Miles wouldn't help him develop as a musician. When Marsalis later joined Sting's band, Miles was less than happy.
'Decoy' was written by Robert Irving III and originally called 'Outer Space.' Miles changed the title, which came from a song Miles and guitarist/singer/producer Randy Hall had written for The Rolling Stones, called '(Let Me Be Your) Decoy.' The Stones declined to record the song, but Miles obviously liked the title so much that he decided to use it for this tune and album title.
A video was made for the title track 'Decoy,' created by British directors Annabel Jankel and Rocky Morton.
Decoy was the second album to feature Miles's artwork, although this time; on the inside cover.
'That's Right' is the album's longest track, at just over 11 minutes in length. It is also one of the best, recorded live in the studio with Miles, but was only ever played twice live in concert, in Poland and Spain. Fortunately, the performance in Poland was recorded and is available on the CD Live in Poland 1983 and on DVD.
Decoy features lots of fine playing by guitarist John Scofield, who really enjoyed making the album, and recalls, "I remember thinking with Decoy, 'Wow, this is really happening, this is great'."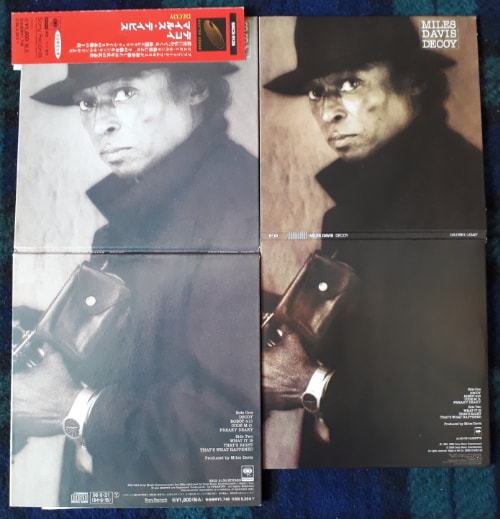 Comparison in size between the 1996 Master Sound and Complete Columbia Album Collection versions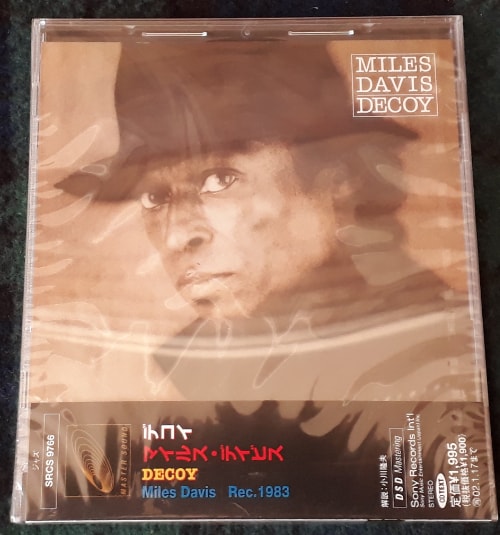 The 2001 Master Sound Jewel case with Obi strip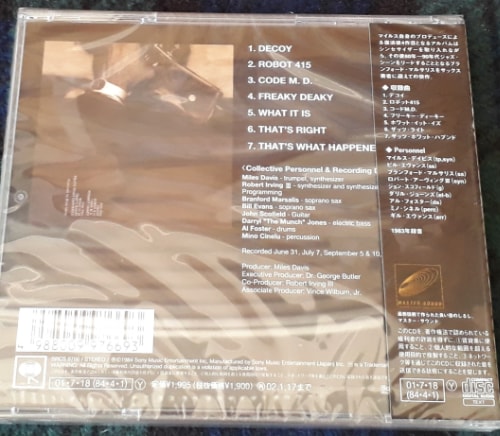 The back of the 2001 Master Sound release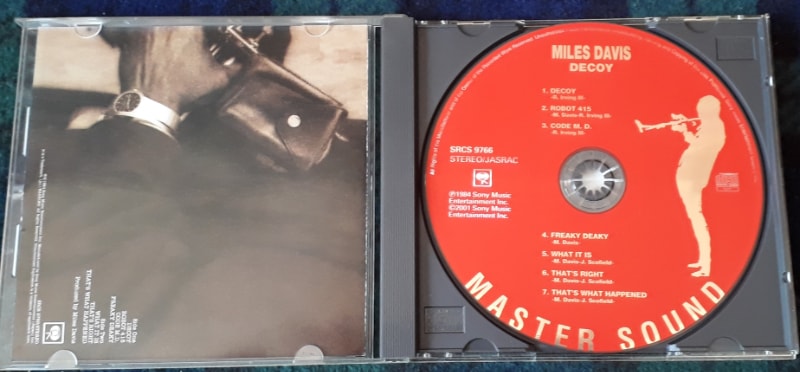 The red label used by the 2001 Master Sound release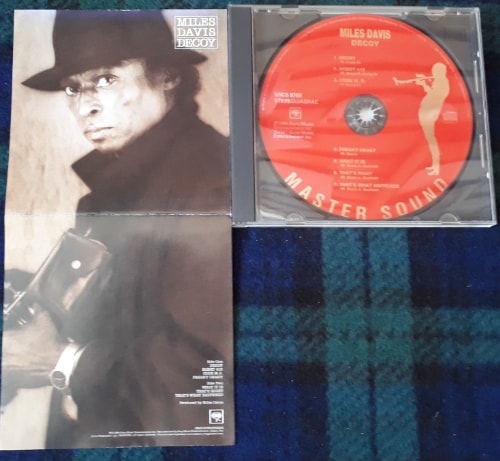 The 2001 Master Sound release has a fold-out paper cover showing all of the album cover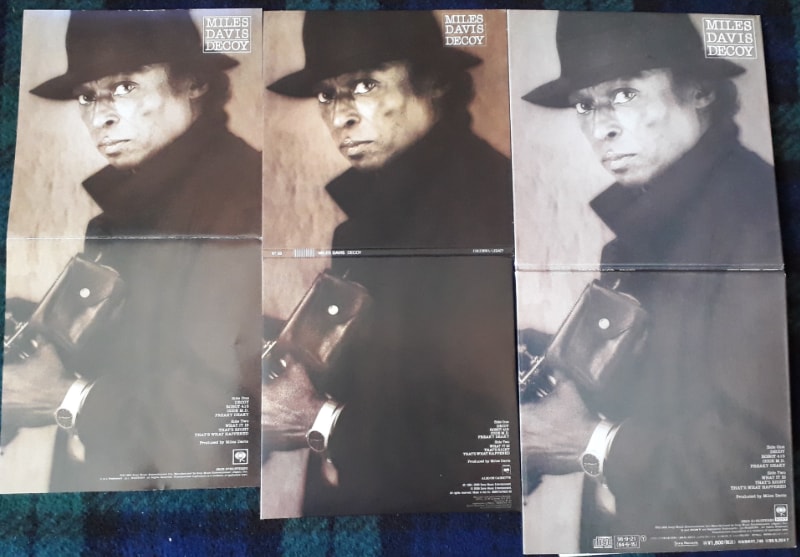 The 2001 Master Sound, Complete Columbia Album Collection and 1996 Master Sound fold-outs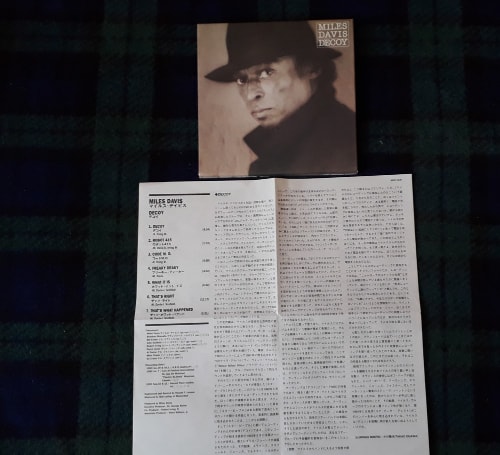 The front liner notes of the 1996 Master Sound release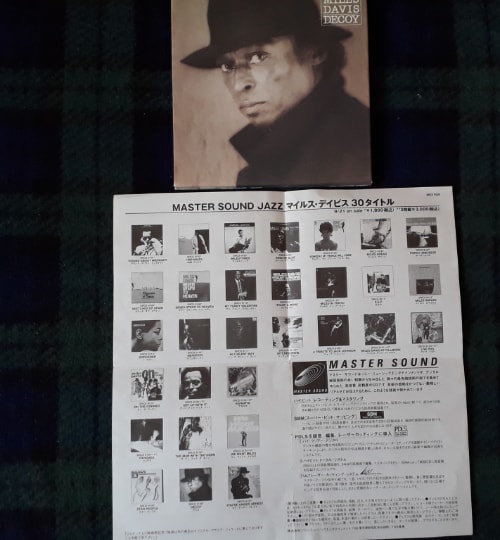 The back liner notes of the 1996 Master Sound release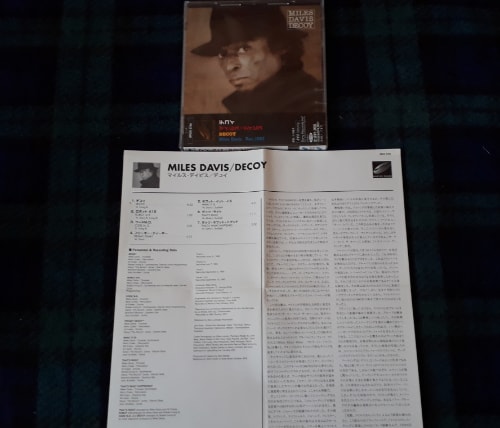 The liner notes of the 2001 Master Sound release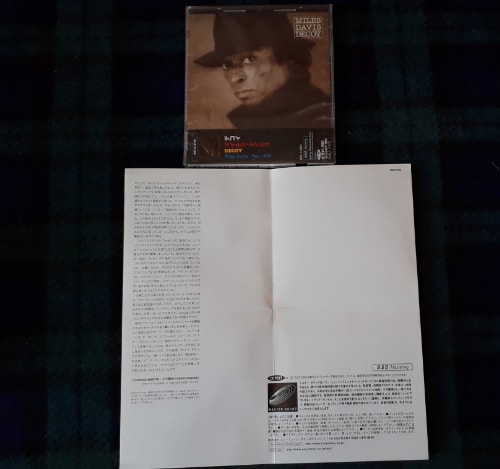 The back of the liner notes of the 2001 master Sound release
| | | | |
| --- | --- | --- | --- |
| The Man With The Horn | We Want Miles | Star People | Decoy |
| You're Under Arrest | Aura | Rubberband | Tutu |
| Siesta | Amandla | Dingo | The Hot Spot |
| Doo-Bop | Live Around The World | Montreux 1973 - 1991 | miles alive |
| Miles Davis Trilogy | Time After Time | Perfect Way | Hollywood Bowl 1981 |
| Original Classics | Complete Columbia Collection | Tutu Deluxe Edition | Montreal Concert |
| 1986 - 1991 Warner Years | Perfect Miles Collection | On The Crest Of The Airwaves | The Last World |
| Tutu Deluxe LP | Rubberband | Music from Birth of the Cool | Original Album Series |
| Merci Miles! Live at Vienne | | | |
See also