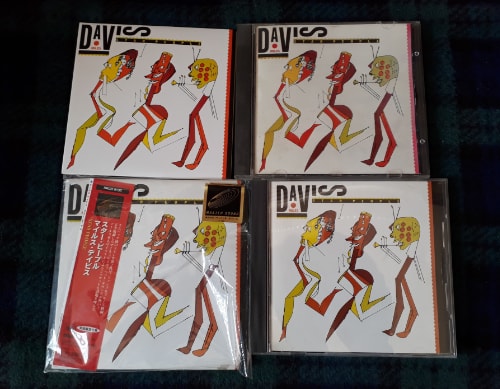 The various CD versions – from top left clockwise, The Complete Columbia Album Collection; standard CD release, 2001 Japan Mastersound; 1996 Japan Mastersound
Background: This was Miles's second studio album of the new decade. Miles's playing was stronger and his health was slowly improving, although he had suffered a stroke at the beginning of 1982. The album followed successful tours in Japan, the US and Europe, and the band had clearly gelled together. However, changes were in the air: a second guitarist, John Scofield, joined the band in November 1982, and bassist Marcus Miller would leave at the end of the sessions in early 1983.
Once again, Teo Macero was in the producer's chair, and also present in the studio was Miles's old friend and musical associate Gil Evans, who would transcribe solos and convert them into themes to create new tunes. Evans is not credited on the album, although Miles mentioned his role in the liner notes. Star People is an eclectic mix of jazz, blues and funk, and Paul Tingen, writer of the superb book on Miles's electric era, Miles Beyond [www.miles-beyond.com], has described the music of this period as: 'chromatic funk' – showers of notes, underpinned by linear bass lines, with driving rock rhythms and complex harmonies. Miles was also playing more keyboard and getting into synthesiser technology – he would use the polyphonic Oberheim OB-Xa both on-stage and in the studio.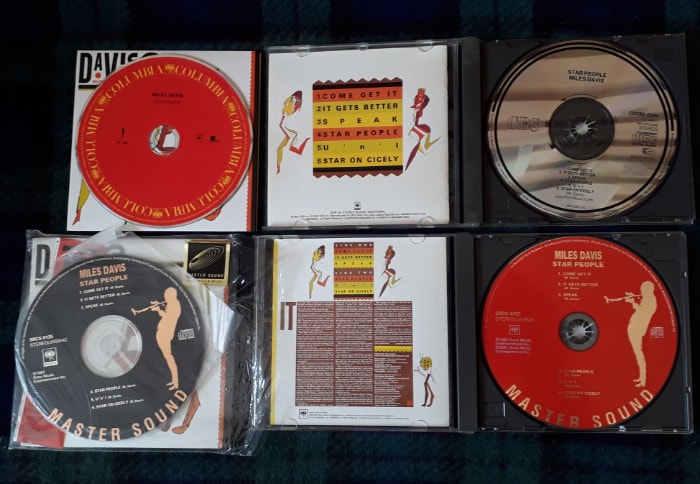 The different cases and labels for the releases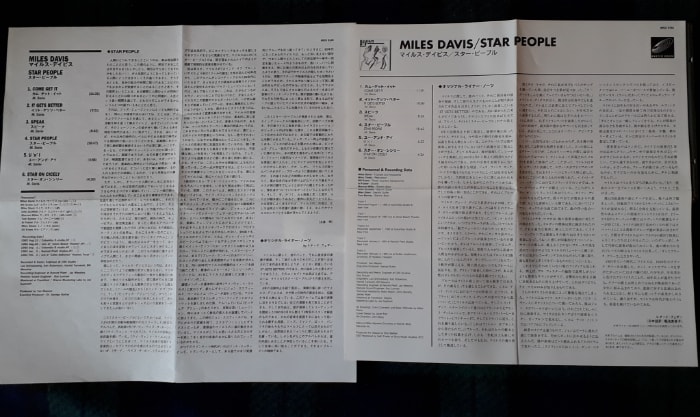 The additional Japanese liner notes the 1996 and 2001 Mastersound releases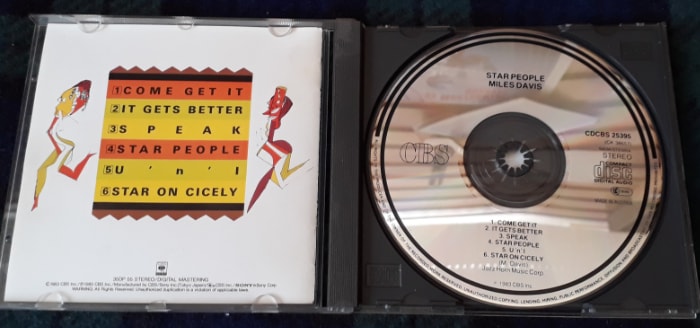 The standard CD release came in a jewel case
Tunes:
Come Get It
It Gets Better
Speak
Star People
U 'N' I
Star On Cicely
Producer: Teo Macero
Recorded: August 1982-February 1983
Released: 1983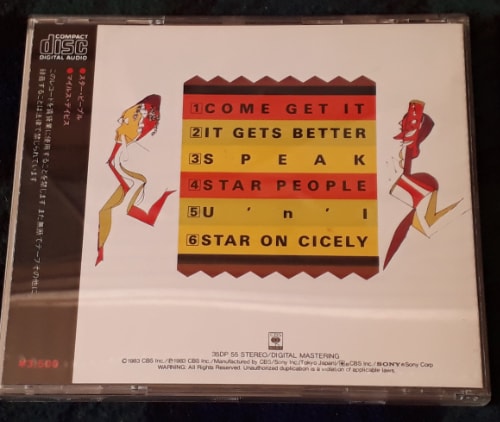 The back of the standard CD version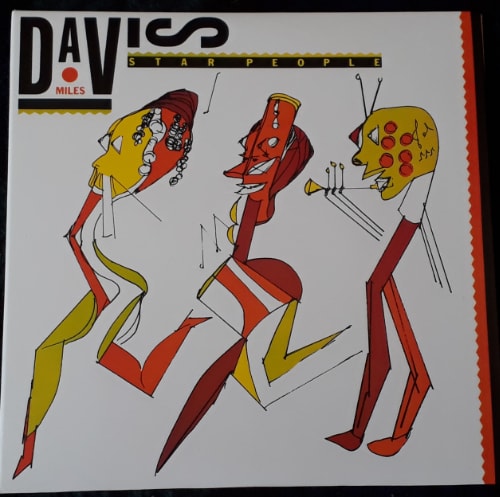 The Complete Columbia Album Collection used a miniature facsimile of the original cardboard LP cover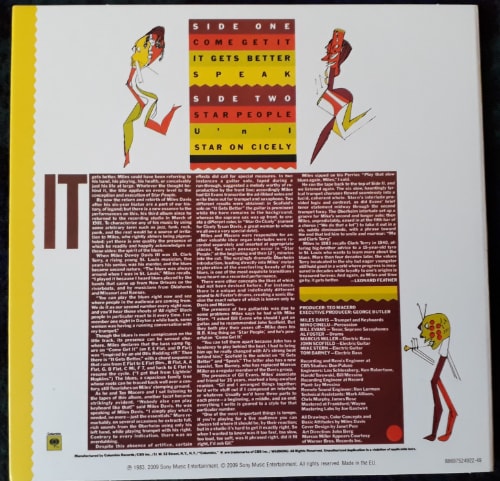 The liner notes are on the back of the Complete Columbia Album Collection version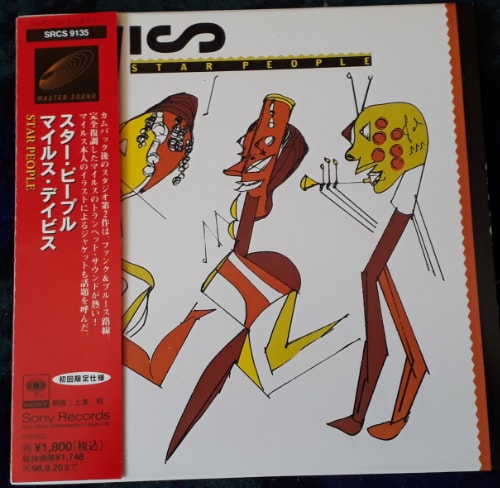 The 1996 Japan Master Sound version used a miniature facsimile of the original cardboard LP cover
The back of the 1996 Master Sound release
Musicians:
Miles plays trumpet, electric piano and synthesiser
Sax: Bill Evans (except track 1)
Guitar: Mike Stern (except track 2), John Scofield (tracks 2 and 3)
Bass: Marcus Miller (except track 3); Tom Barney (track 3)
Drums: Al Foster
Percussion: Mino Cinelu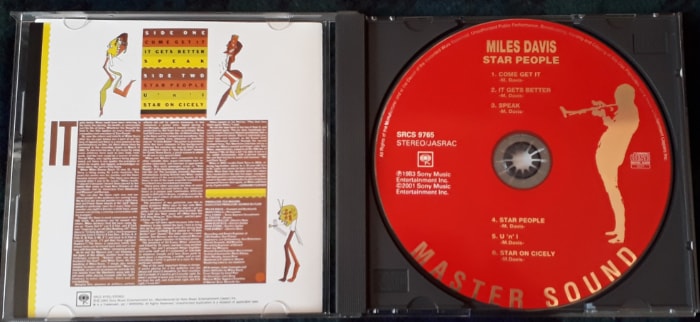 The 2001 Master Sound release used a CD jewel case and a red CD label
A dozen facts about Star People:
This was the last time Miles worked with Teo Macero, who had been associated with him since 1959. It was also the final time Miles worked with Gil Evans, who had been his friend and musical associate since the late 1940s. At the very end of the title track, Miles can be heard saying 'Teo,' – the last time he utters the producer's name on record.
With a running time of 59 minutes, Star People is one of Miles's longest single albums – the title track alone runs to almost 19 minutes. Star People was released at a time when the LP vinyl record was still the dominant recording medium and its length pushed the medium to its limits.
The front cover featured drawings by Miles – the first time his artwork had appeared on an album. The back cover included liner notes (a rarity on Miles's albums) by the distinguished jazz critic Leonard Feather, who interviewed Miles for the piece. Feather invented the famous 'blindfold test,' writing his first column for DownBeat magazine in 1951. The blindfold test involves an artist listening to various tracks without being told who is playing them, and then discussing their reaction to the music. Feather continued writing the column for decades, interviewing many famous jazz musicians. Miles participated in several tests: in 1955, 1958 and 1964. Feather also wrote the liner notes for the posthumous Miles and Qunicy Live at Montreux album, released in 1993, the year before his death.
The album includes two live tracks, 'Come Get It' and 'Speak,' both edited from concert performances. On 'Come Get It' Bill Evan's sax solo is excised and he's not heard on the track.
'Speak' features bassist Tom Barney, who was playing with saxophonist David Sanborn when he was recruited by Miles. At the time of writing, this track is the only official release of the two guitar line-up of Mike Stern and John Scofield that Miles had between November 1982 and June 1983.
Mino Cinelu says lots more unreleased material was recorded during these sessions. This includes a duet with Miles on electric piano and J.J. Johnson on trombone.
Miles's third wife, the actress Cicely Tyson, helped Miles recover from his stroke, and 'Star on Cicely' is a tribute to her. The couple divorced in 1988.
'It Gets Better' was created out of a John Scofield guitar solo that Gil Evans transcribed when Scofield jammed with them at Miles's home. When Evans later told Scofield how the tune had been created, Miles said: 'Gil, don't tell him that; he'll get a big head!"
Miles was really getting into technology at this time and in addition to using synthesisers, he got Teo Macero to sonically treat Al Foster's drum sound, and even tried using a click track (metronome) in the studio.
This was the first time Miles recorded at the Record Plant studio in New York, and Miles would use the studio extensively for his next two studio albums.
Engineer Jay Messina, who worked on the Record Plant sessions, described how Teo Macero worked in the studio: "I think the only thing Teo said to me was, 'Keep the tape rolling.' He always had a cigarette in his mouth. It was never lit, but he was always chewing on the filter."
Star People is regarded by many Miles fans as being one of the best albums from this era. Teo Macero described it as: "A great album."
The back of the 2001 release includes a small image of the liner notes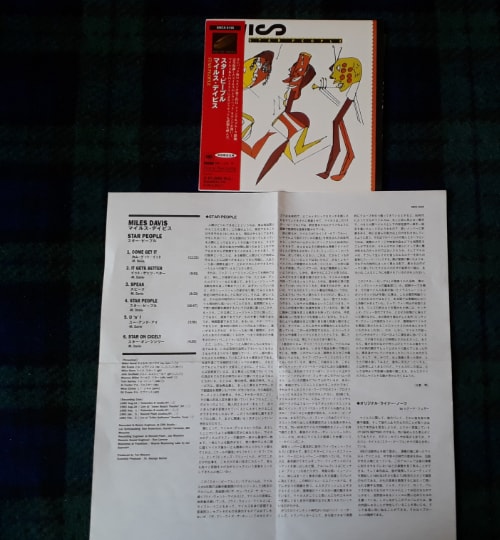 The front liner notes for the 1996 Master Sound release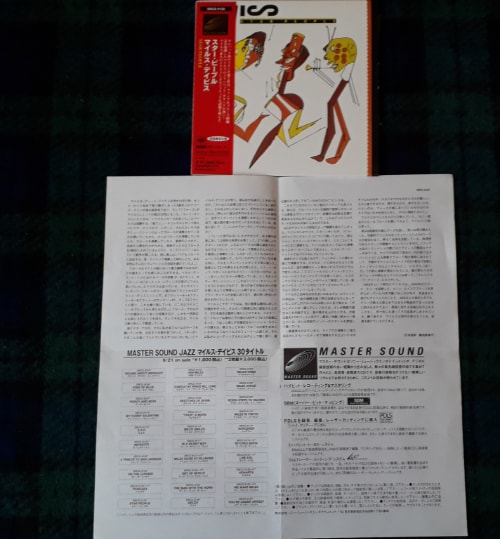 The back liner notes for the 1996 Master Sound release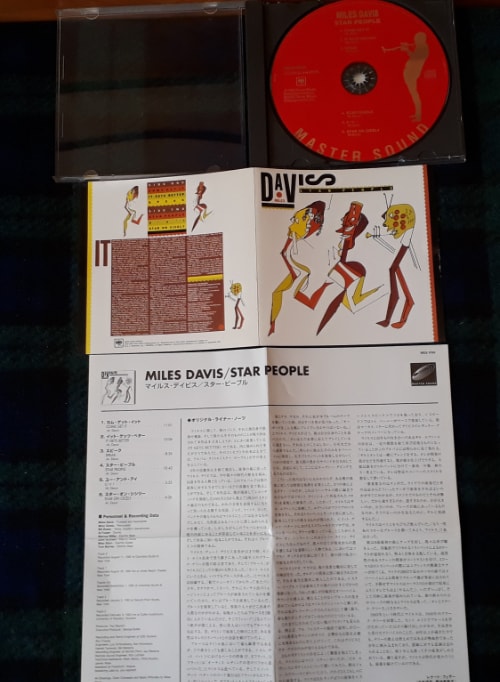 The front liner notes for the 2001 Master Sound release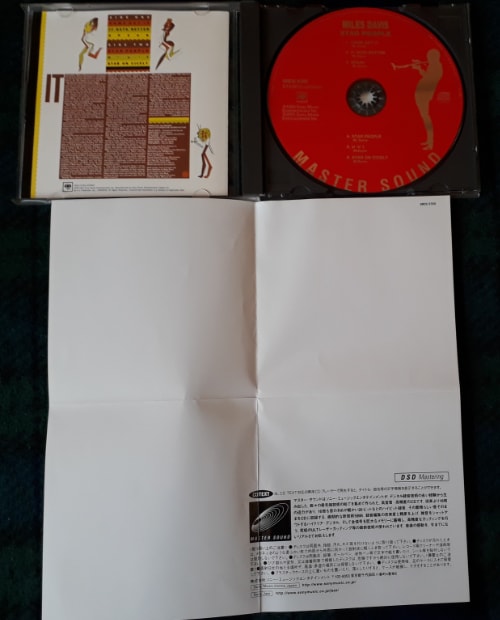 The back of the liner notes for the 2001 Master Sound release
| | | | |
| --- | --- | --- | --- |
| The Man With The Horn | We Want Miles | Star People | Decoy |
| You're Under Arrest | Aura | Rubberband | Tutu |
| Siesta | Amandla | Dingo | The Hot Spot |
| Doo-Bop | Live Around The World | Montreux 1973 - 1991 | miles alive |
| Miles Davis Trilogy | Time After Time | Perfect Way | Hollywood Bowl 1981 |
| Original Classics | Complete Columbia Collection | Tutu Deluxe Edition | Montreal Concert |
| 1986 - 1991 Warner Years | Perfect Miles Collection | On The Crest Of The Airwaves | The Last World |
| Tutu Deluxe LP | Rubberband | Music from Birth of the Cool | Original Album Series |
| Merci Miles! Live at Vienne | | | |
See also