A book by George Cole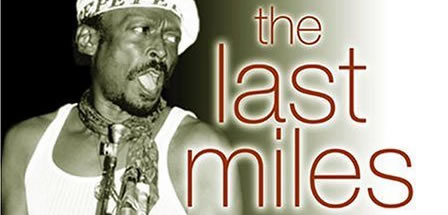 The Last Miles is available in paperback in the USA and the UK!
The Last Miles USA paperback ISBN is 978-0472032600 [Amazon.com]
The Last Miles UK paperback ISBN is 9781845531225 [Amazon.co.uk]
The paperback is essentially the same as the hardback version in terms of content, but in a number of places, I have been able to update or add new information.
If you want to read some of The Last Miles online, you can see excerpts at Google Books
What's New October 2021
About The Last Miles
The Last Miles is the first book to focus exclusively on the final decade of Miles's life and music, a period that has all too often been dismissed by critics and fans of Miles's earlier musical periods.
My book and website aim to show how even in his final years, Miles was still exploring, still changing and still pushing at the edges of jazz.
TheLastMiles.com has been voted one of the Top 5 Miles Davis websites by The London Times newspaper.
Click here to see what people have been saying about The Last Miles
The Last Miles contains interviews with almost 100 people including, band members, session musicians, producers, engineers, management and road crew. There are also interviews with members from Miles's earlier bands. Miles's only daughter Cheryl also talks about her father.
Those interviewed include:
1980s band members – 31 out of the 36 band members Miles had in the final decade including Marcus Miller, Darryl Jones, Robben Ford, Bob Berg, Mike Stern, Robert Irving III, Hiram Bullock, John Scofield, Foley, Ricky Wellman, Mino Cinelu, Adam Holzman, Bobby Broom, John Beasley, Vince Wilburn Jr. and Tom Barney. Every bassist, guitarist and keyboard player is interviewed.
Musical associates such as Palle Mikkelborg, George Duke, Paul Buckmaster, Branford Marsalis, Paolo Rustichelli, Chaka Khan, Steve Porcaro, David Sanborn, Wallace Roney and Easy Mo Bee.
Session musicians including, Barry Finnerty, Paulinho DaCosta, Jean-Paul Bourelly and Michal Urbaniak.
Producers including, Teo Macero, Tommy LiPuma, Zane Giles, Randy Hall and George Butler.
Former band members like Don Alias, Pete Cosey, Dave Holland, Michael Henderson, Dave Liebman and Mike Zwerin.
Engineers such as Stanley Tonkel, Don Puluse, Reggie Dozier, Jay Messina, Bruce Miller, Steven Strassman and D'Anthony Johnson.
Road crew and management including Gordon Meltzer, Mark Rothbaum, Ron Lorman and Patrick Murray.
Miles's music is explored through the albums he made in this period, and a song-by-song analysis provides many new and interesting stories. There is also a massive chapter (almost 40,000 words) on Mile's live music.
The Last Miles also examines Miles's other recordings (such as soundtracks like Street Smart and Dingo), guest recordings (with artists such as Chaka Khan, Toto, Cameo, Paolo Rustichelli and Shirley Horn), cover versions, compilations, videos and DVDs, tribute albums and unreleased material from the 1980s, including the story behind the abandoned Warner Bros retrospective, The Last Word.
Other chapters examine Miles the man, and his life and music before 1975. The latter chapter explores controversial areas such as the role Teo Macero played in the making of Bitches Brew, how Miles composed his music and the story behind On The Corner. Another chapter describes what Miles did during his five-year lay-off – and reveals that Miles was more actively involved in music during this period than is often described.
Also included are a discography which includes a look at alternative releases (like SACD, DVD-Audio and Japan Master Sound titles), a list of Miles' live repertoire, band line-ups throughout the final decade and useful books and websites.
Last but not least, many musicians from Miles's 1980's bands and earlier periods deliver their verdict on the music Miles played in his final decade, and show how Miles and his music still sharply divide opinion today.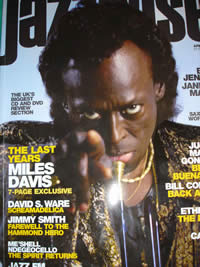 The Last Miles in Jazzwise: The April 2005 edition of the UK magazine Jazzwise had an extensive and exclusive interview I did with Jo Gelbard, Miles's partner from 1986 to 1991. Jo talked frankly about Miles's art, music, personality, their relationship and the last year of Miles's life. For information about back issues and subscriptions, go to www.jazzwise.com
If you have any comments, information or photographs of Miles (please ensure you own the copyright) you'd like to include on this site, please get in touch!
You can email me at