Venue: Hammersmith Odeon, London
Date: 21st April 1982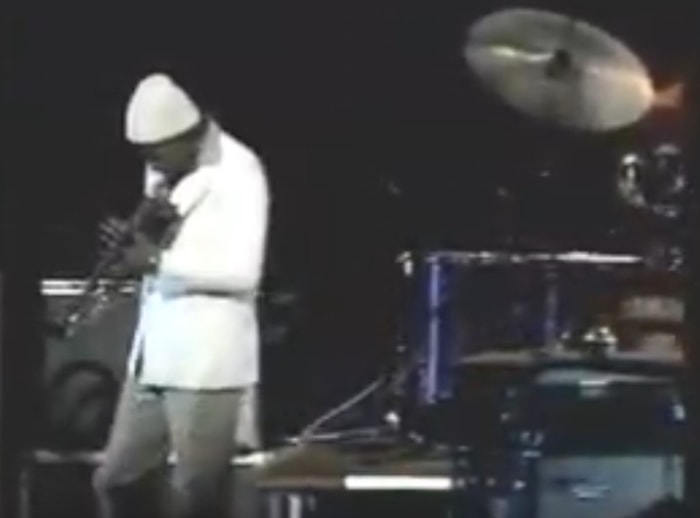 Miles onstage
There are moments when you wish you could step into a time machine and be transported back to a particular time and place. This gig is one of them. I was lucky enough to see Miles every time he visited the UK during his comeback years – except for this year. Fortunately, the concert was filmed and later televised. The performance of 'Jean-Pierre' was broadcast on the arts programme The South Bank Show not long after the concert, as part of a profile of Miles by his biographer, Ian Carr, but the full concert wasn't broadcast until late autumn, on the UK's new Channel 4 TV service. It was well worth the wait.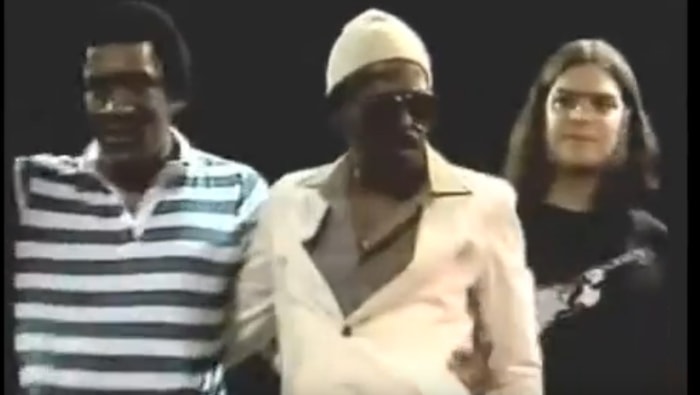 Al Foster, Miles and Mike Stern take a bow
This was the same band that toured with Miles in 1981 and is featured on the We Want Miles live album, with Miles playing trumpet and electric piano; Bill Evans, sax; Mike Stern, guitar; Marcus Miller, bass; Al Foster, drums, and Mino Cinelu, percussion. The band had been playing together for almost a year by now, and as a result, are more confident and much tighter. Miles hadn't played in the UK since November 1973, so there was much excitement and anticipation around this gig.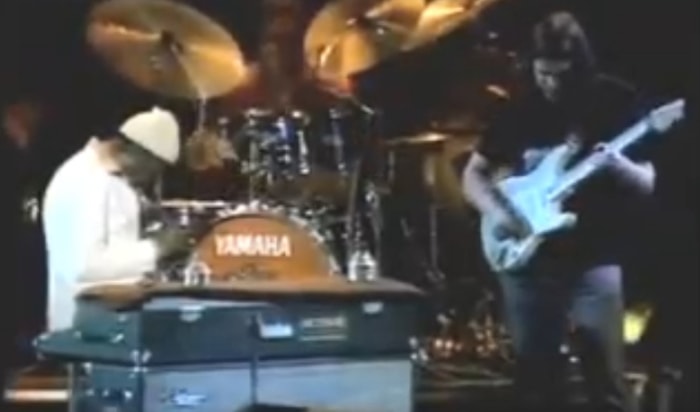 Miles spent a lot of time sitting down when playing
Miles played three nights at the Hammersmith Odeon, a famous music venue in west London. This concert was the second night. When Miles walks onto the stage, the audience starts clapping and cheering. Miles looks dapper, in a white jacket, open-neck shirt, shades and white beany hat. He is sporting a moustache. He also looks frail, and in many ways, it is amazing that he made this gig, because three months previously, he had suffered a mild stroke, which had paralysed his right hand. Thanks to support from his wife Cicely Tyson, and extensive medical treatment and therapy, he recovered fast enough to continue touring. It also explains why Miles spends a lot of time sitting on the stool next his electric piano, either listening to or directing the band, or playing his horn.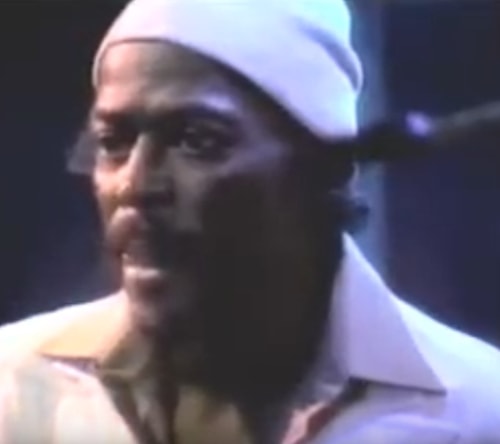 A frail-looking Miles
The band starts off with a lively 'Back Seat Betty,' and Mike Stern is clearly obeying the instructions Miles once gave to him: "Turn it up, or turn it off!" because he plays lots of loud, exciting, blistering guitar. Miles and Stern exchange many smiles during the gig and Miles certainly loved Stern's playing, even it wasn't to the taste of some fans and critics. Bill Evans plays a good soprano sax solo. The music segues into the ballad 'My Man's Gone Now,' and although Miles sounds a little fragile, he plays with much tenderness and feeling. The tune alternates between a ballad and a jazz swing rhythm, with Miles cuing the changes by blowing a short, fast phrase on his horn.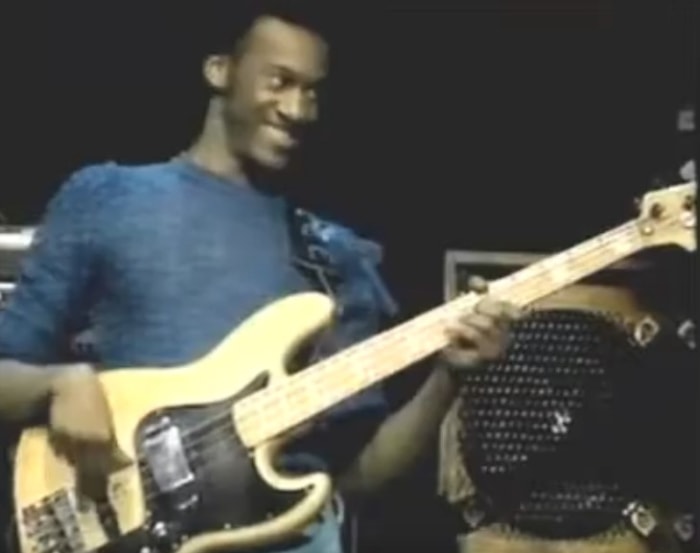 Marcus Miller smiles at Miles
It's great to see how quickly the band responds to this: one moment, Miller is playing a slow bass vamp, Foster is laying down a slow beat and Stern is comping gracefully, and the next, the tempo races, without any noticeable glitch in the sound. It wasn't enough for a musician to be a superb technician when playing in Miles' band; they also needed to be great listeners, with fast reactions and the ability to improvise to whatever was happening to the music. The band members in this group had these skills in abundance.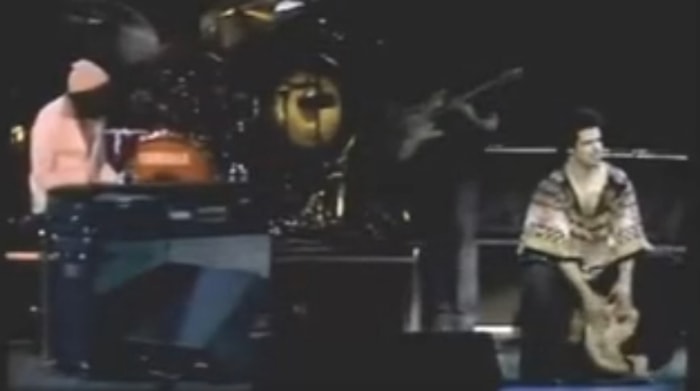 Mino Cinelu solo
At the end of 'My Man's Gone Now,' the tune seems to be coming to a slow conclusion, but then Miles blows the motif from 'Aida' and the band instantly switches gear and plays a hard, driving groove. This is my favourite performance of the night. The music crackles and fizzes with energy, and everyone seems to be on fire. Foster and Miller are an awesome combination – be sure to check out Miller's bass playing on this tune. Stern's solo starts off quietly with gentle, melodic jazzy lines, and ends full-on jazz-rock, with screaming guitar and aggressive strokes that almost break the guitar strings. Evans plays a powerful tenor sax solo, and Mino Cinelu is given an extensive solo. Part of it involved sitting astride an upturned conga drum at the front of the stage and using both hands and his left foot (to dampen the sound). His solo builds up to an energetic climax, with Cinelu furiously hitting the conga drum, Miller sliding up and down the fretboard, and Foster using the hi-hat and a series of fills to drive the music – just look how fluid his movements are; he's almost dancing in his drum chair. A trumpet shriek from Miles ends the tune and the concert's first set.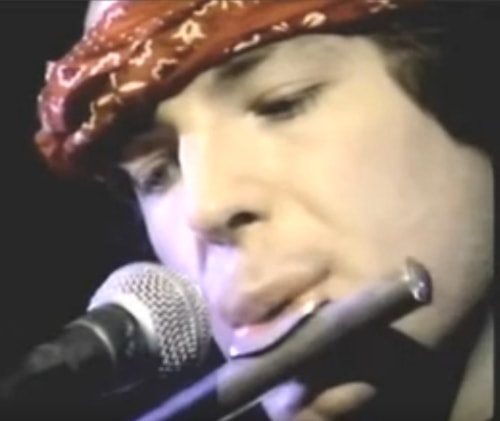 Bill Evans plays flute
The second set opened with a tune from Miles's past – a rare event in Miles's final decade. 'Ife,' was first played by Miles's bassist Michael Henderson in 1972, and had a fast bass vamp. But later on when played in concerts, the bass vamp slowed down considerably. In this version, Miller plays a slow but modified vamp and Evans plays the flute. Miles only played 'Ife' 27 times in the 1980s – the last time was at the end of August 1982. He then dropped it from his concert set-lists, so it's great to have a performance of it on film. 'Fat Time' is played more vigorously than the version found on The Man With The Horn and with a greater Spanish vibe. Miller is even given a very short solo segment, in which he plays a bass riff that sounds like a flamenco guitar.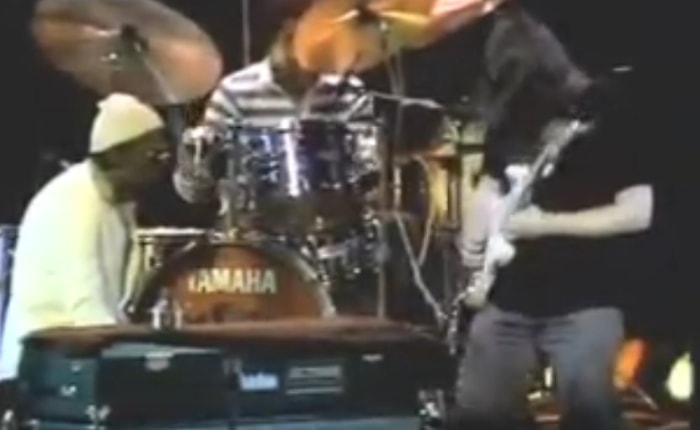 Miles, Al Foster and Mike Stern
The third and final song of the second set was Miles' signature tune, 'Jean-Pierre,' whose opening chords elicit cheers from the audience. The piece includes some fine soprano sax from Evans, and a funky bass solo from Miller, who exchanges smiles with Miles during it. At the coda, Miles plays the theme, before ending the tune with a trumpet shriek. Foster's cymbal smash and single strike on a gong bring the tune to its conclusion. The band takes a curtain bow and the audience applauds enthusiastically, but there is no encore. Miles returned to the Hammersmith Odeon the following year with a different band (Miller had left and John Scofield joined as a second guitarist) and a different repertoire (only 'Jean-Pierre' remained in the set-list). But it was still Miles.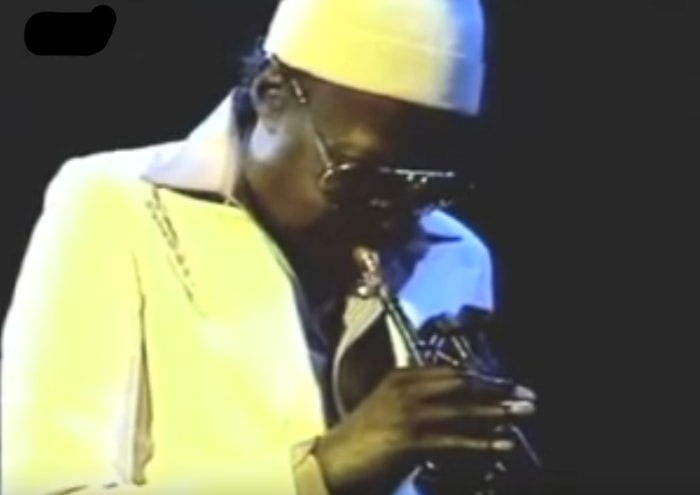 Miles onstage
Thanks to the website www.kind-of-blue.de for the stats regarding the Hammersmith Odeon concerts, and 'Ife.'
Miles fan Matt Phillips attended the following night's performance and has kindly provided images of the 1982 tour programme and his concert ticket.
If you have any memories of Miles's gigs from 1981-1991, why don't you tell us about it?! All reports will be put online for other Miles fans to share. Email