The first in a series of reports on Miles's live gigs from 1981-1991 that I attended or have seen on video.
Venue: Hammersmith Odeon, London
Date: 28th April 1983
This will always be a special event for me because it was the first time I saw Miles live on stage. I'd see him another seven times during this period, and while there would be some great gigs to follow, nothing would beat the first time I saw Miles. I'd only got into Miles's music a couple of years earlier and missed the first UK comeback gig, which was also at the Hammersmith Odeon a year earlier.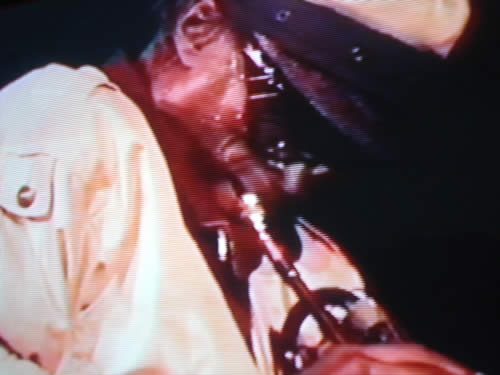 This was the second of two London gigs and I remember sitting in the stalls, close to the stage. I also recall being disappointed that Marcus Miller was no longer in the band (he played his last live gig with Miles on New Year's Eve 1982), but at the same time it was exciting to see two guitarists on stage: John Scofield and Mike Stern. The rest of the band consisted on Bill Evans (sax and electric piano), Tom Barney (bass), Al Foster (drums), Mino Cinelu (percussion) and Miles playing horn and keyboards. I can still hear the gasps and then the cheers when the band took the stage and the roar when Miles appeared. But Miles was in no mood to acknowledge the audience and the band went straight into a roaring version of "Come Get It" which saw Stern and Scofield trading lots of hot licks. The temperature cooled down with the bluesy "Star People" before the funk started up again with "Speak." I remember Tom Barney was giving his bass a good thumpin' during this number! Then there was the second blues number "It Gets Better" and Scofield got to show his talents on this one, with an extended solo that Miles obviously liked. Al Foster never seemed to stop smiling and Mino Cinelu performed a solo spot that involved sitting on top of an upturned conga drum.
One of the funniest moments occurred during "U 'n' I" when Miles pushed a seemingly reluctant Bill Evans towards the electric piano, where he played a strong solo, consisting of rippling chords and funky stabs. Then there followed a rousing version of "Star on Cicely" before the band finished with a long version of "Jean-Pierre." The encore was a short version of "Jean-Pierre" and then it was over. From here, the band would go on to play in Japan and soon after, break-up. In fact, by the end of the year, Barney, Stern, Evans and Cinelu had left the band. It's a shame that, with the exception of "Speak" on the Star People album, this band has not been documented on an official album release or DVD. Let's hope it happens one day. I remember leaving the Hammersmith Odeon and thinking "Well, if I die tonight, at least I've seen Miles." I'd see Miles a number of times again, but nothing will ever compare to the time when I was in the same place as him for the first time.
If you have any memories of Miles's gigs from 1981-1991, why don't you tell us about it?! All reports will be put online for other Miles fans to share. Email