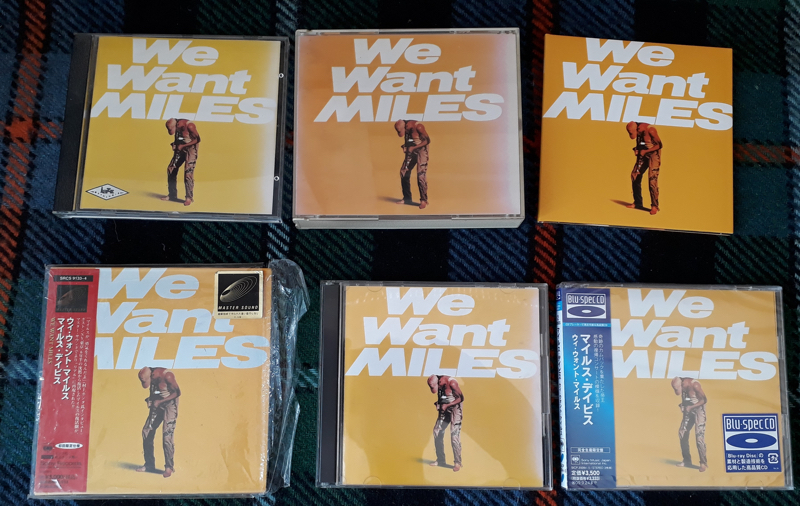 1.
We Want Miles
comes in various CD formats. Top left to right: Standard CD single disc, Standard CD, double disc, CD from
Complete Columbia Album Collection
. Bottom left to right: 1996 Japan Master Sound, 2000 Japan Master Sound, 2009 Japan Blu-Spec CD.
Background: In Spring 1981, Miles decided to go back on the road – his first tour for more than six years. The tour covered the US and Japan, starting in Boston and New York in the summer, and Tokyo in the autumn. Most of the band members had played on The Man With The Horn album and most of the repertoire was from this record.

2. The various CD labels and packaging.
The tour started with a four-night (26-29 June) date at a small club in Boston, called Kix, and the following month, the band played two sets at the Kool Jazz Festival in the Avery Fisher Hall, New York. The band toured Japan in October. There was very little rehearsal before the tour – a development which made some band members apprehensive. But the band really gelled and supported Miles, who was very ill on the tour. Miles' road crew also developed a wireless microphone system, giving him greater freedom on the stage.
3. Standard CD single disc version.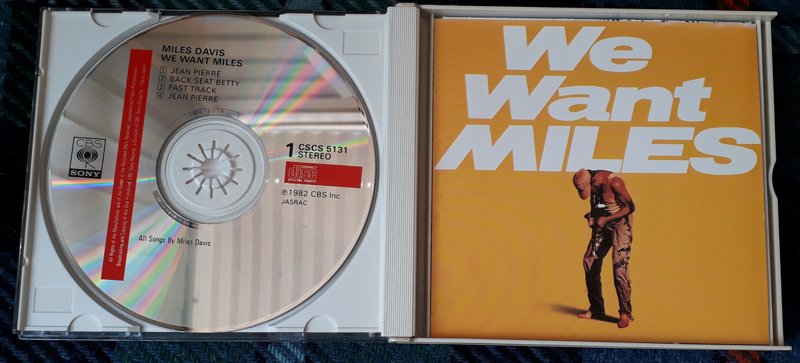 4. Standard CD double disc version.
5. "Fat CD" packaging for standard CD double disc version.
We Want Miles documents a superb band and credit must also be given to producer Teo Macero, who did a great editing job. Sadly, We Want Miles was the only live album released by Miles during his last decade (although the albums Star People and Decoy also included live tracks) and it's one of the best from this period.

6. Comparison between single and Fat CD packaging
Tunes:
Jean-Pierre
Back Seat Betty
Fast Track
Jean Pierre
My Man's Gone Now
Kix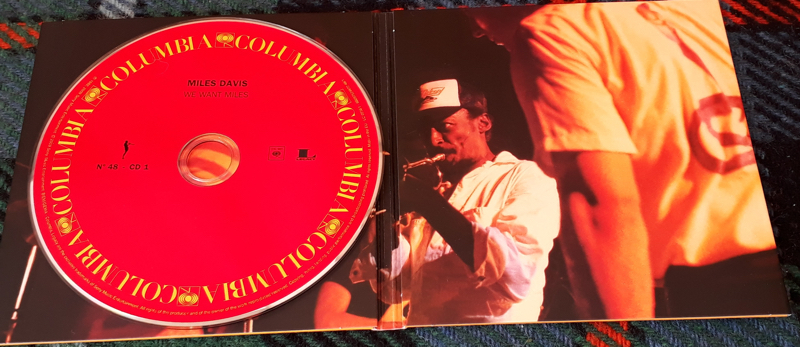 7.
Complete Columbia Album Collection
. It uses a small version of original cardboard album cover. The disc has three extra bonus tracks.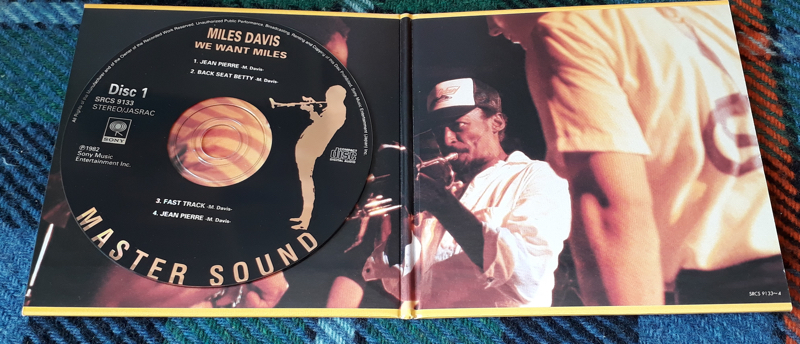 8. The 1996 Japan Master Sound version also uses a small cardboard version of the album cover.
The Complete Columbia Album Collection CD includes three extra tracks from the 1981 Japan tour:
Fat Time
Ursula
Aida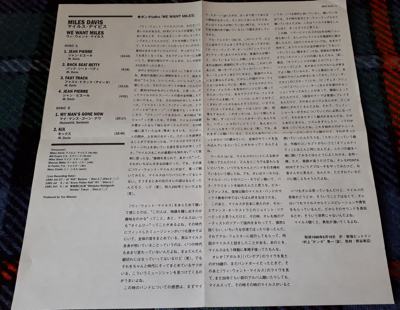 9. Liner notes for the 1996 Master Sound version.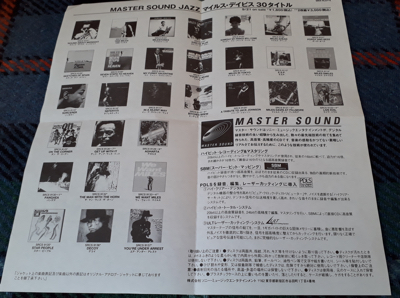 10. Back of liner notes for 1996 Master Sound version.
Producer: Teo Macero
Recorded: June, July and October 1981
Released: 1982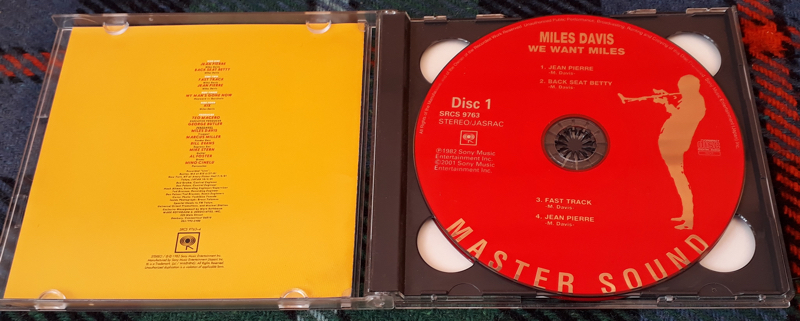 11. The 2000 Master Sound version uses a CD jewel case rather than a mini cardboard album cover.
Musicians:
Miles plays trumpet on all tracks and electric piano on tracks 5 & 6
Sax: Bill Evans (soprano sax; tenor sax track 6)
Guitar: Mike Stern
Bass: Marcus Miller
Drums: Al Foster
Percussion: Mino Cinelu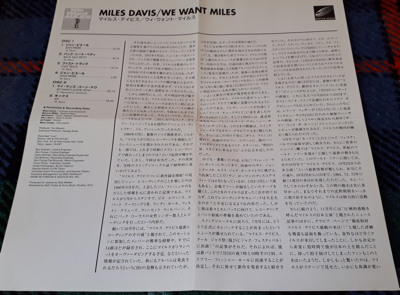 12. The 2000 Master Sound release had new liner notes.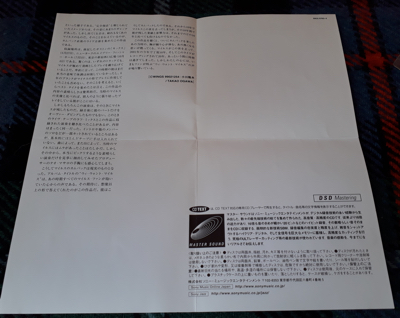 13. Back of the liner notes for the 2000 Master Sound version.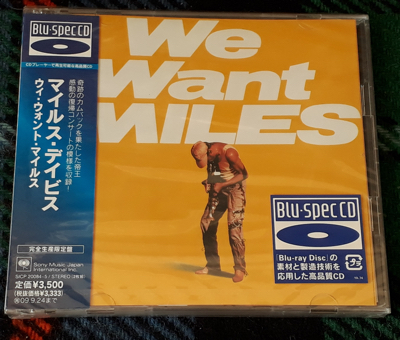 14. The front of the 2009 Blu-Spec release.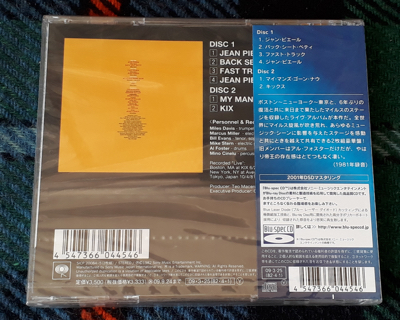 15. Back of the 2009 Blu-Spec release.
A dozen facts about We Want Miles:
Initial pressings gave scant information about when and where the music was recorded – the credits gave the venues and dates but no individual track information. Detective work by Miles' discographers Jan Lohmann and Enrico Merlin found that Back Seat Betty was recorded in New York, the two versions of Jean-Pierre in Japan and the remaining tracks in Boston.
Miles was very ill at the time and Columbia Records were fearful that he might drop out of the music scene again, so every gig and rehearsal was recorded.
Miles discovered percussionist Mino Cinelu playing in a club in New York. After the gig, Miles congratulated Cinelu, but Cinelu didn't recognise Miles and gave him the brush-off! It was only when other people told Cinelu who the admirer was that he went back to see him. Miles asked Cinelu for his number and called him soon after.
Fast Track is the alternative name for the track Aida, from The Man With The Horn.
Jean-Pierre was named after the son of Frances Taylor, Miles' first wife. The tune became Miles' signature tune and also appeared on the You're Under Arrest album.
We Want Miles won Miles his first Grammy in the 1980s, when it was awarded Best Jazz Instrumental Performance, Soloist.
During Fast Track, the band drops out while Cinelu plays a percussion solo – a device Miles often used with his 70s bands.
My Man's Gone now was a rare example of Miles revisiting his past repertoire – Miles first recorded it with Gil Evans in 1958.
The track Kix features a reggae-like riff, something Miles returned to when he recorded the track Ms Morrisine on You're Under Arrest.
Miles is the only keyboard player on the album.
Bill Evans plays soprano sax on most of the tracks, but on Kix, he picked up his tenor sax and seeing Miles' smile of approval, played his first instrument.
The inside cover of the album (and CD booklet) includes a photo of Miles, Marcus Miller, Bill Evans and part of Mike Stern. Miles's band members rarely appeared on his album covers.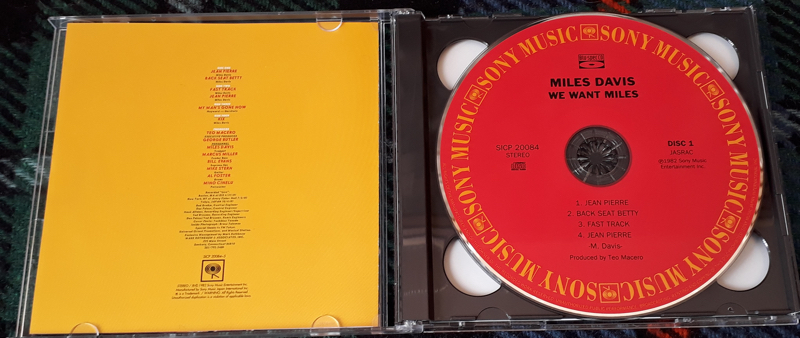 16. Label for the Blu-Spec release.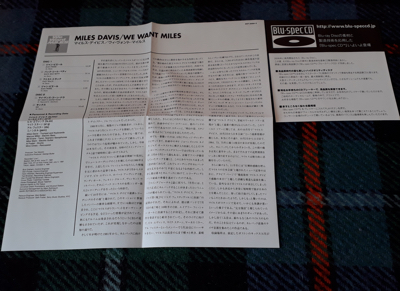 17. Sleeve notes and information on the Blu-Spec format.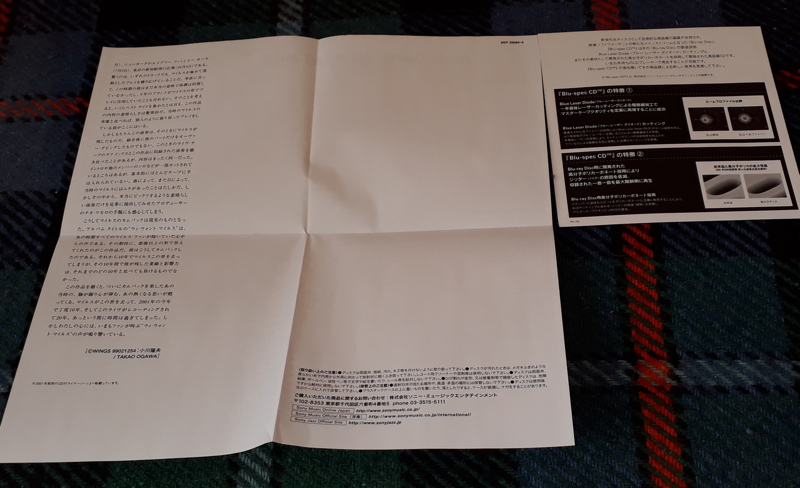 18. Back of Blu-Spec liner notes and information.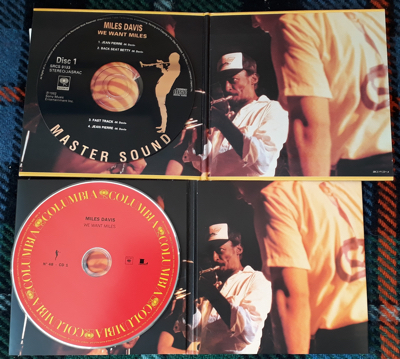 19. Comparison between cardboard mini-sleeves used by 1996 Master Sound release and Complete Columbia Album Collection.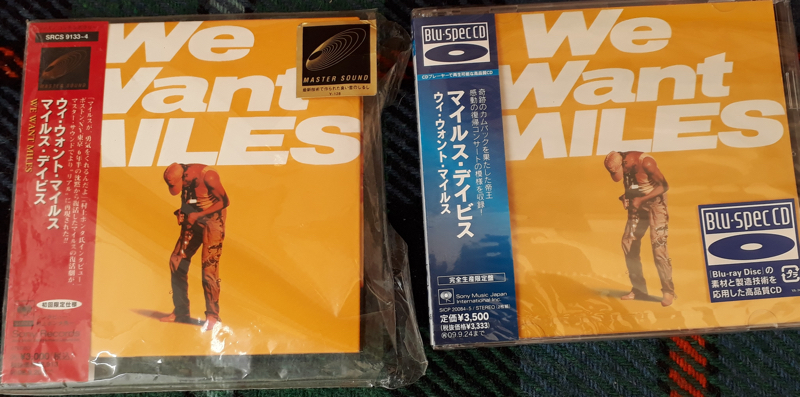 20. Japanese Master Sound and Blu-Spec releases with Obi strips and stickers.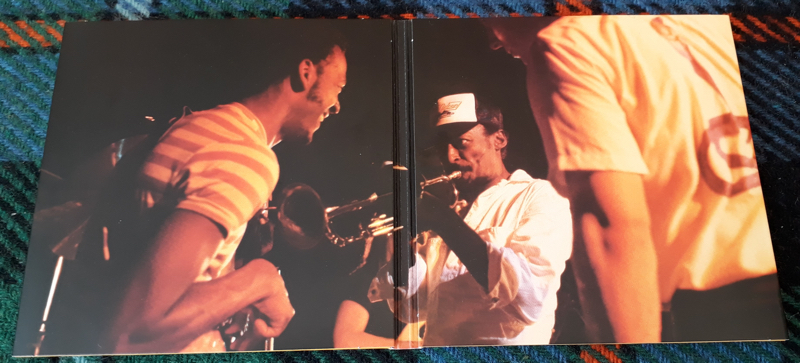 21. Marcus Miller, Bill Evans and (partly shown) Mike Stern with Miles. A rare example of Miles' band members appearing on an album cover.
You can buy We Want Miles from Amazon UK and Amazon US
| | | | |
| --- | --- | --- | --- |
| The Man With The Horn | We Want Miles | Star People | Decoy |
| You're Under Arrest | Aura | Rubberband | Tutu |
| Siesta | Amandla | Dingo | The Hot Spot |
| Doo-Bop | Live Around The World | Montreux 1973 - 1991 | miles alive |
| Miles Davis Trilogy | Time After Time | Perfect Way | Hollywood Bowl 1981 |
| Original Classics | Complete Columbia Collection | Tutu Deluxe Edition | Montreal Concert |
| 1986 - 1991 Warner Years | Perfect Miles Collection | On The Crest Of The Airwaves | The Last World |
| Tutu Deluxe LP | Rubberband | Music from Birth of the Cool | Original Album Series |
| Merci Miles! Live at Vienne | | | |
See also