As Miles Davis entered 1991 (and what would be the last year of his life) he was making big plans for his next album. Miles was excited by two forms of music: hip-hop and the songs of Prince. Prince had sent Miles around half a dozen tracks from an abandoned jazz album project called Madhouse 24, and Miles was planning to include four of the tracks on his next album, along with some hip-hop tunes.
In March 1991, Miles was touring Germany and Switzerland, and performing the Prince tracks live: a mid-tempo funk number "Penetration," the 12-bar blues "Jailbait," the ballad "A Girl And Her Puppy," and the frantic "R U Legal Yet?" On 26 March 1991, Miles played a concert in Cologne, and a studio session was booked for the next day. On 27 March 1991 Miles and his band entered Bauer Studios, about eight miles north of Stuttgart, with the aim of recording the first three Prince tracks. As it turned out, this would be the last time Miles went into the studio with his working band. Engineering the session was Carlos Albrecht. In this interview (part of which was published in Jazzwise magazine in April 2016), Carlos describes the session.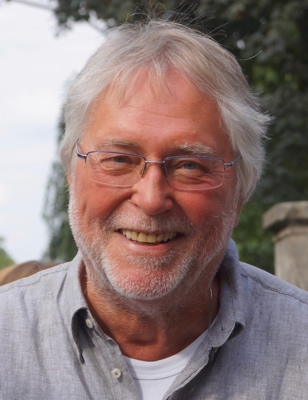 Carlos Albrecht
The Last Miles: Carlos, can you give us some details about your background please?
Carlos Albrecht: I was born in Berlin in 1943, but brought up in Argentina. I studied mechanical engineering for three years. I also played piano and trumpet in a jazz band, and was a professional musician for two years. I was a big Louis Armstrong fan, but then, I heard Porgy and Bess, and for me Miles was number one – he was a genius. I moved to Dusseldorf and started working as a recording engineer. In November 1972, I started working at Bauer Studios. I later went freelance.
TLM: Bauer Studios has been very successful, particularly with attracting big name jazz artists. What is the secret of its success?
CA: The secret was that my colleague Martin Friedland and I were crazy about jazz and played jazz. We knew the German jazz scene and we made contact with a lot of American musicians at the festivals. We also had a very good grand piano in the studio – a Steinway Concert piano. I think Keith Jarrett did his first ten CDs on that piano.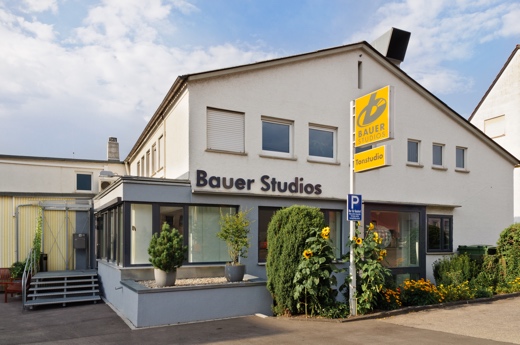 Bauer Studios
TLM: You've worked on more than 1000 CDs. Can you tell us some of the artists you've recorded?
CA: Keith Jarrett, Dave Holland, John Scofield, Jack DeJohnette, Dave Liebman, John McLaughlin, Chet Baker, Carla Bley, Paul Motion, Steve Coleman and many others.
TLM: Moving onto the Miles session. When did you hear that you were going to be recording him?
CA: It was on the day. I turned up for work in the morning and was told by my secretary that Miles Davis would be recording that afternoon. I said, "Wow! Miles!"
TLM: How did the day progress?
CA: The plan was that Miles's road crew would turn up at 2pm with the equipment and instruments, followed by the band around 3pm, and then Miles, at around 6pm. The road crew and band arrived in the afternoon, followed by the band: Kenny Garrett (sax), Deron Johnson (keyboards), Foley (lead bass), Richard Patterson (bass) and Ricky Wellman (drums). The session was in Studio 1. I did a sound check with all the musicians. I started with the drums and got the musicians one by one to come into the recording booth and check the sound. They were very happy with it.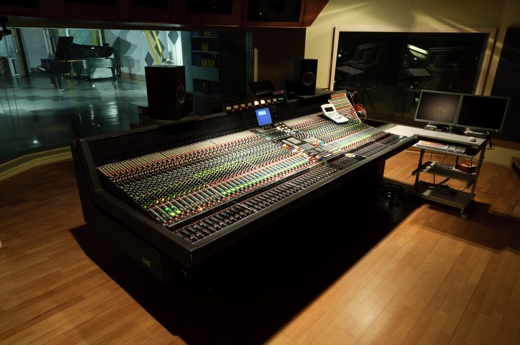 Studio 1 Control Room
TLM: Can you describe the studio set-up?
CA: Studio 1 is a very big room – it used to be a movie theatre. I like having the drums in a big room. The alto sax was in a booth, and the amplifiers for the guitar and bass were in booths. I don't like using booths, but the amplifiers were too loud to have out in the studio. The musicians were close together – they had a very good connection. I think I used a Neumann U67 microphone for the saxophone. For the drums, I used a DPA 40111 cardioid microphone for the overheads; for the snare, I normally used an AKG 414; bass drum AKG D12, and tom-tom, most probably a Neumann U87. I believe we used a 48-track Studer digital console.
TLM: How did the afternoon progress?
CA: We started recording the backing tracks [for the three numbers]. They told me that Miles would like a short snare sound, like a Prince snare. It was a very nice atmosphere, with lots of laugher and joking. At 6pm there was no sign of Miles and so they made a call and the news was that Miles would now be arriving at 8pm. So we had a short break and had dinner. At 8pm, there was no sign of Miles and they said he would be coming at 10pm. He didn't arrive at 10pm, but then at midnight, a white Rolls Royce came to the studios and Miles arrived.
[Miles had been driven from Cologne. Some studio employees watched Miles's road manager Gordon Meltzer help Miles up the studio steps.]
TLM: What happened when Miles arrived in the studio?
CA: We had put a sofa in the studio for Miles, in front of the control room window. Miles came into the studio and sat on the sofa. They handed him his trumpet and a cup of tea. He moved very slowly – I think he was very sick. Miles asked to listen to the backing tracks and – as the band had predicted – told me that he wanted a 'Prince drum sound'. I asked Ricky Wellman if there was any chance of adjusting his set-up but he said no. I worked with a very hard gate [a gate is a studio device that filters out sounds below a certain threshold and makes it possible to record a hard, punchy, drum sound] and played the sound back to Miles, and he was very happy with the sound.
[After about an hour, Miles and Albrecht met for the first time in the control room.]
TLM: What do you remember about meeting Miles?
CA: My heart was pounding! He was a very small man. His skin was so thin – almost transparent, and there were just a few strands of hair standing up on his head. His eyes were very impressive. We shook hands and his hand was very cold.
TLM: I understand that Miles surprised everybody by deciding to record live with the band, rather than overdub the backing tracks.
CA: He said he liked the playbacks but that he wanted to do them again with the musicians. He took his trumpet with the Harmon mute and his clip microphone and they started the three songs again. He stood very close to the drummer, about 50 centimetres, which caused problems, because of [sound] leakage from his trumpet. I explained this to Miles and he said, 'Don't worry, I'm going to record my tracks again in New York.' Miles walked around the studio, pushing the musicians to play harder. The whole atmosphere changed immediately when Miles arrived. The musicians were almost paralysed – there was no joking. In the afternoon, the timing of the rhythm section was perfect, but when Miles was playing with them, it started shaking.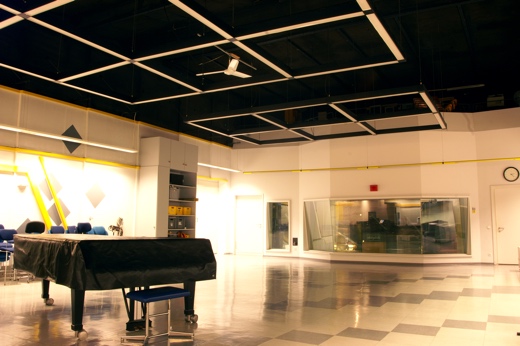 Studio 1
[Around 60 minutes of music was recorded – three takes of "Penetration", (Garrett on alto sax), five takes of "Jailbait" (with Garrett on baritone sax) and two takes of "A Girl And Her Puppy," (Garrett played soprano sax). At around 5am, Miles disappeared.]
TLM: You didn't see Miles again?
CA: The musicians walked into the control room and I asked, 'where's Miles?' and they said he had gone back to his hotel.
TLM: Looking back at the session, what are your thoughts?
CA: It was one of the greatest stories of my life.
[Miles returned to the studio in New York that summer, to record a handful of hip-hop tracks with Easy Mo Bee. Only Deron Johnson from the band would join him in the studio. Miles died almost exactly six months after the Bauer Studios session and never worked again on the Prince tracks. At least one take of "Jailbait" was remixed and planned for release, but Prince refused permission. Today, the music Miles and his band recorded in Germany remains in the vaults.]
Many thanks to Carlos for sharing his memories and for his portrait shot, and thanks to Bauer Studios for the studio photographs.