The thirteenth in a series of reports on Miles's live gigs from 1981-1991 that I attended or have seen on video.
Venue: La Grande Halle, La Villette, Paris, France
Date: 10th July 1991
Miles was renowned for never revisiting the past, even though many fans, critics and concert promoters always hoped that he would. Then, in July 1991, Miles went back, not once, but twice. The first was two days earlier, when he had played the classic arrangements of Gil Evans from the 1950s and 1960 at the Montreux Jazz Festival. Then, Miles arrived at Paris to play this special gig. It was simply advertised as "Miles and Friends" and neither the audience nor Miles' band had any idea on what they were about to witness.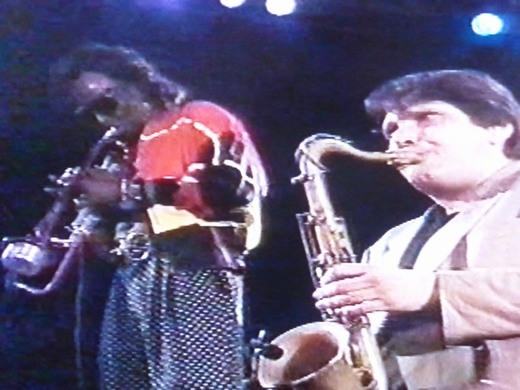 Miles with Steve Grossman
Playing with Miles was an amazing roll-call of past musical associates from the 1950s, 60s, 70s and 80s: Chic Corea, Bill Evans, Al Foster, Steve Grossman, Herbie Hancock, Dave Holland, Darryl Jones, John McLaughlin, Jackie McLean, John Scofield and Joe Zawinul. Miles' band members were Kenny Garrett, Foley, Deron Johnson, Richard Patterson and Ricky Wellman.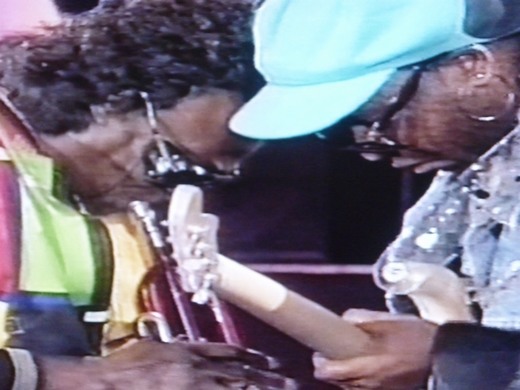 Miles with Foley
Thirteen tunes were played at the concert, and the first three opening numbers, "Perfect Way," Star People" and Human Nature" were played by Miles' current band. "Human Nature" features a long, blistering sax solo from Kenny Garrett. Then, on come the special guests in various combinations, often mixing with Miles' current band members. Miles plays a number of tunes from the 50s and 60s, including, "In A Silent Way/It's About That Time," "Dig," "All Blues," "Watermelon Man" and "Footprints," and everyone is clearly happy to be there. The other tunes played are "Penetration" a song written by Prince, which has a great funk groove, "Katia" (which has John McLaughlin and John Scofield on-stage together) and "Wrinkle". The concert ends with almost everyone joining Miles on-stage to play a rousing version of "Jean-Pierre." It's hard to believe that within three months of this gig, Miles would be dead.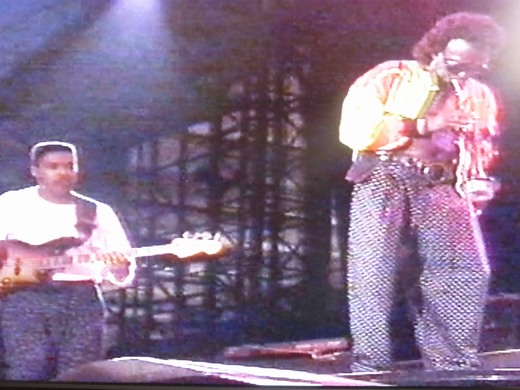 Miles with Richard Patterson
Although this was a very special gig, it has never been officially released on CD or as a download. A two-disc bootleg, Black Devil has appeared, and the only commercial DVD release has been from JVC – Miles Davis at La Villette. The DVD lasts for an hour and features half a dozen tunes. Rumours suggest that Warner Bros would love to release the La Villette concert on CD and DVD, but that getting clearance rights from such a phalanx of artists has been very difficult. One can only hope that, one day; this incredible event will finally get an official release, along with some additional material, such as interviews with the concert organisers, and some of the participating musicians (although sadly, Joe Zawinul and Jackie McLean have died since the concert).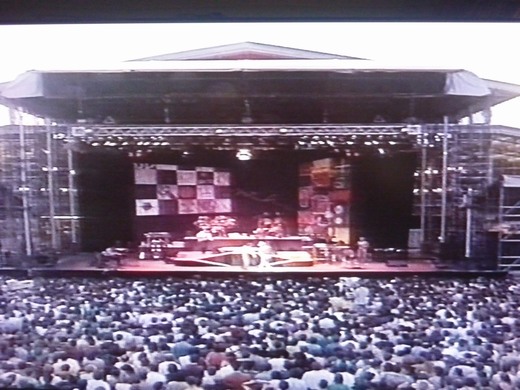 Stage Backdrop
If you have any memories of Miles's gigs from 1981-1991, why don't you tell us about it?! All reports will be put online for other Miles fans to share. Email