Between September 1986 and May 1987, Miles' bands were constantly switching guitarists, as Miles looked for that elusive player. He finally found him when Foley joined the band. But before that, Miles played with an interesting mix of guitarists, one of which was in this band.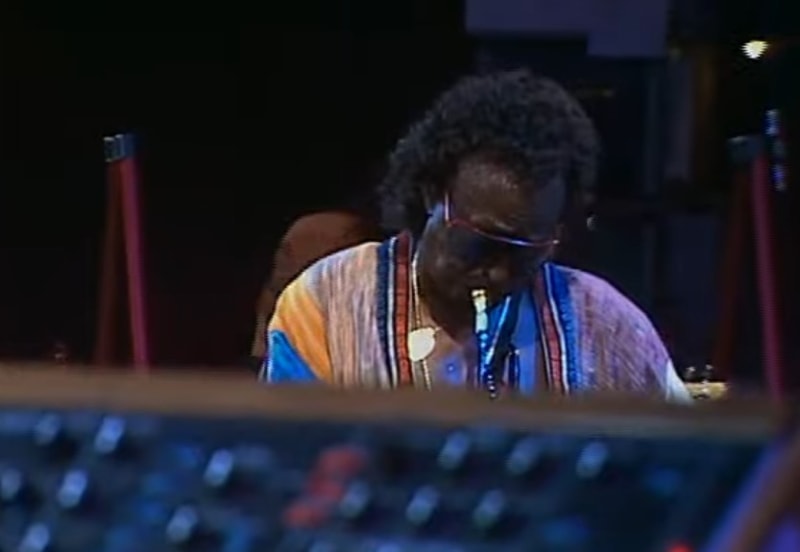 Miles in 1987
The Band
The band was an octet, with two keyboardists. The band members were:
You can find further information about each band member in our profiles section.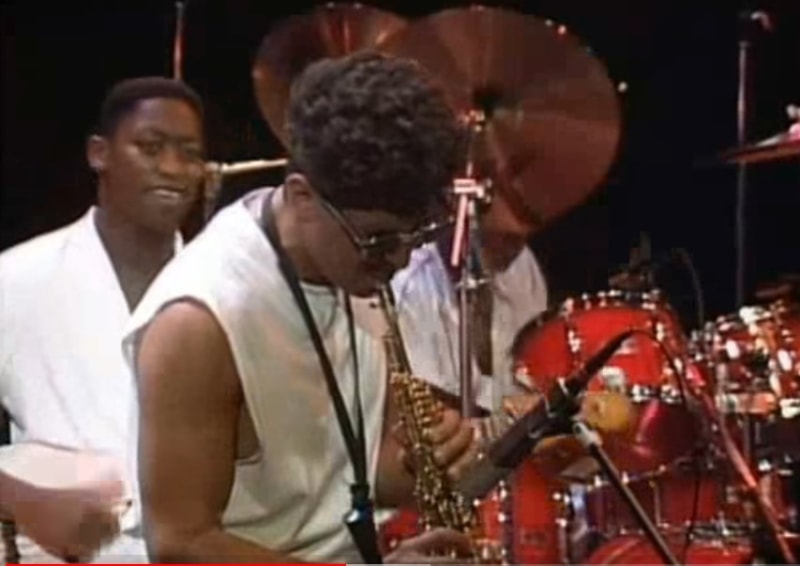 Darryl Jones, Bob Berg and Vince Wilburn Jr
A Few Band Facts
Between June 1981 and March 1986, Miles only ever used two guitarists in his bands – Mike Stern and John Scofield (between November 1982 and June 1983, both players were in the band together) but following Stern's departure in spring 1986, Miles tried out half a dozen guitarists, before settling on Foley (who strictly speaking, played a modified bass guitar as if it was an electric guitar) in May 1987. Hiram Bullock was the latest guitarist to join the band, but he only stayed for four gigs. The bands' gigs were in medium-sized venues (around 3000 seats) in Midwestern States.
Thanks to new information kindly provided by Miles fan Jim Szabo, we now know more about this band. The band played four gigs: Cleveland (State Theater – Jan 22) then Cincinnati (Music Hall – Jan 23), then Indianapolis (Butler University – Jan 24), and their final gig was in Louisville (Kentucky Centre for the Arts – Jan 25).
Jim was one of the financial backers for the first gig and recalls some typically extrovert behaviour from Hiram Bullock! "The State Theater is a 1920s theater that has been restored. It was designed with an orchestra pit in the front of the stage, so there is a bit of distance between the stage and the first row of permanent seats. When the pit is not in use, they put up a black wood barrier to keep the audience from getting too close and cover the actual pit. The width of the wood barrier is about one inch, maybe two. During one of Bullock's solos, he stepped off the stage onto the barrier and creeped about ten feet onto it, still playing and balancing himself like a tightrope walker. I was convinced that he was going to fall but he didn't."
Jim adds, "The State Theater holds 3200 people and our production group, Limelight Productions, was very hopeful that we would sell out. Unfortunately, it was a cold day (high of 32 degrees F) and attendance suffered. We ended up losing money on the gig." The gig was advertised by the Northeast Ohio Jazz Society [see image below] and John Richmond filed a report on the gig in the Cleveland Plain Dealer two days later [also see below]. Both Hiram Bullock and Bob Berg left the band during this period.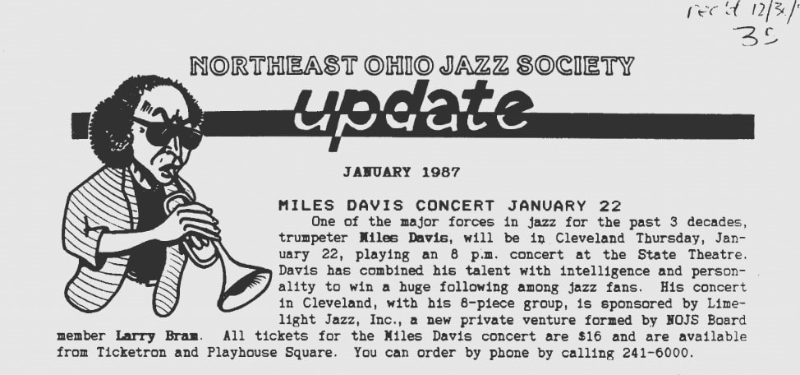 Miles 1987 Cleveland Jazz Club notice, courtesy of Jim Szabo.
Click here
for bigger version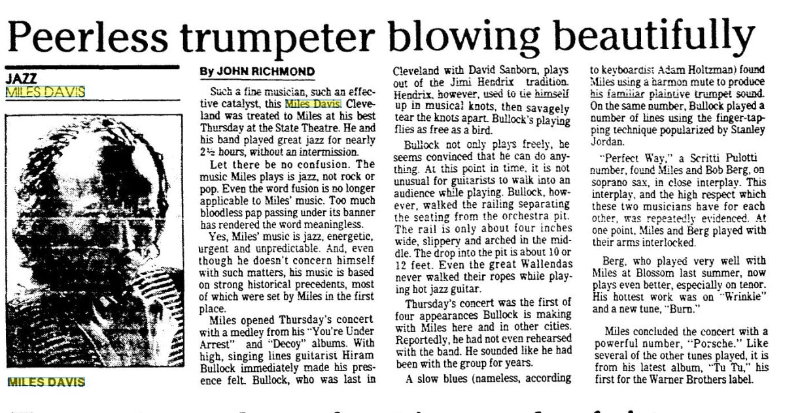 Miles Davis Cleveland Plain Dealer report 24 Jan 1987, courtesy of Jim Szabo.
Click here
for bigger version
The Repertoire
The band played a wide range of repertoire taken from various albums – Star People, Decoy, You're Under Arrest, Tutu, as well sessions from the Rubberband album, The Man With The Horn and one in August 1985. There was also a cover of a Toto song.
The band played the following tunes live:
"Star People"/"Speak" – from Star People
"That's What Happened" – from Decoy
"One Phone Call/Street Scenes"/"Human Nature"/"Time After Time" – from You're Under Arrest
"Carnival Time"/"Wrinkle"– from Rubberband
"Tutu"/"Portia"/"Splatch"/"Tomaas"/"Full Nelson" – from Tutu
"Burn" – from The Man With The Horn sessions
"Maze" – from the 1985 Warner Bros sessions
"Don't Stop Me Now" – a Toto song from their 1986 album Fahrenheit. Miles guested on this track
Note that the repertoire varied for each performance, and some tunes would be dropped or added on the night.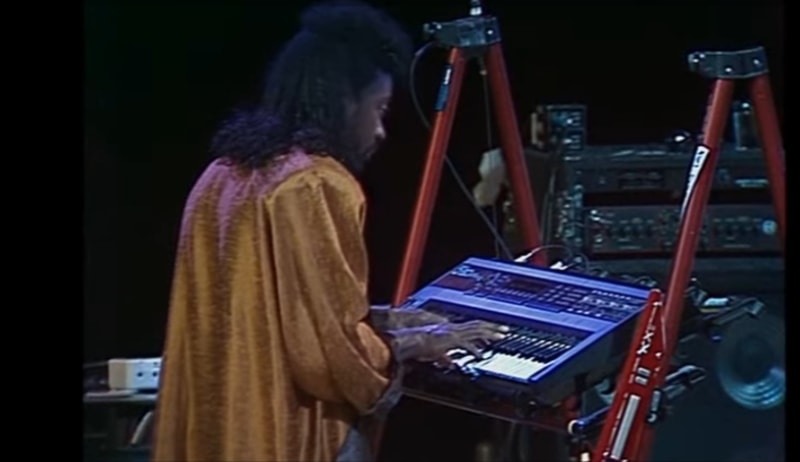 Miles' keyboardist and musical director Robert Irving III
The Band Live
This report is taken from a good private recording of the 25th January gig at the Kentucky Centre for the Arts in Louisville, Kentucky. Hiram Bullock was an exciting, fiery player, who like Mike Stern, played a Fender guitar with a thin, explosive sound. Bullock had been asked to join the band through his association with Gil Evans, and agreed to play just four gigs. This was only his fourth (and final) gig with Miles, but he sounds as if he's been playing for much longer. As Bullock explained, he didn't find the music too difficult to play: "I didn't really see the music as a challenge – it was just music with a definite jazz sensibility." On the opening medley, "One phone Call/Street Scenes/Speak/That's What Happened," Bullock makes his presence known with some opening snarling guitar lines. Miles obviously enjoyed Bullock's playing, because he was given many long solo slots, such as on the blues "Star People," and "Human Nature," where Bullock's guitar screams and soars for several minutes. On "Tutu" Bullock quotes "The Circus Theme Song".
Bullock was an extrovert, an energetic player who enjoyed interacting with the crowd. I remember seeing him playing in David Sanborn's band at the Royal Festival Hall in London, and Bullock, with a wireless mic attached to his guitar, raced up the steps at the side of the auditorium, occasionally stopping to play a solo.
From a report from Jeff Wilson – who was at the Cincinnati concert – Bullock was as playful as ever, "During his blues solo, Bullock walked over to one end of the stage, glanced briefly at a No Smoking sign, and, flashing a cocky smile, got some well-deserved laughs." Jeff has written a very interesting piece about Miles' post-retirement gigs.
Miles was in excellent form, playing strongly on the fast tunes like the opening medley, "Splatch," "Burn," and "Maze", and tenderly on songs such as "Time After Time" and "Don't Stop Me Now." On "Tomaas" there's a lovey call and response section between Miles on muted horn and Berg on soprano sax, before Berg plays a moving solo. This would be Berg's last gig with Miles. Berg went onto have a successful solo career, but sadly, died in 2002.
The saxophonist found that he was hitting a creative wall, and Miles was also giving him less time to play on the bandstand, and had started including a second saxophonist (Donald Harrison or Gary Thomas) on some gigs. Berg however, does get to play some gutsy sax on tunes such as "Burn" and "One Phone Call." The rhythm section of Jones, Wilburn Jr and Cinelu, was also one of the best of the era, and Jones' plays a ferocious bass line on "Wrinkle." and a slick solo on "Maze." The two keyboardists Robert Irving III and Adam Holzman, play more of a background role, but their role is crucial to the overall soundscape, adding moods and textures to the music.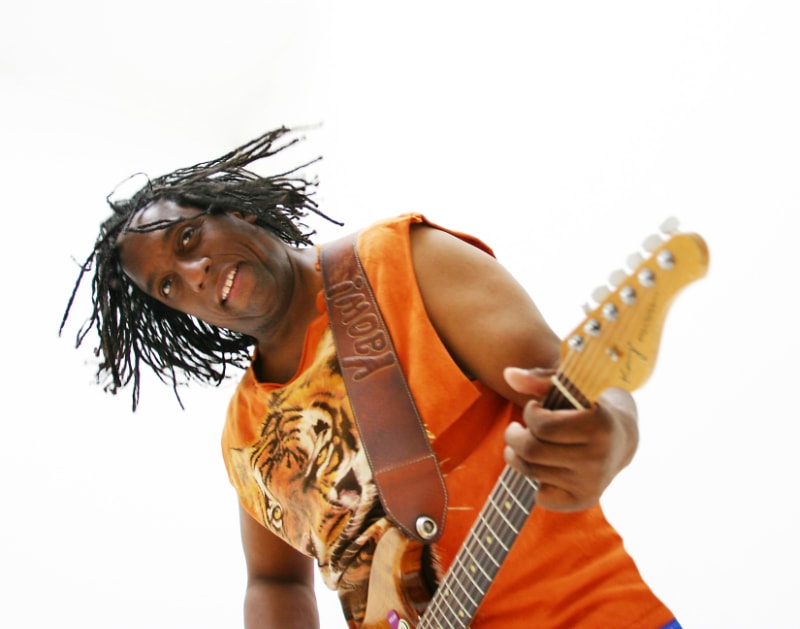 Hiram Bullock © Petia Chtarkova and courtesy of
hirambullock.com
When Bullock's allotted four gigs were over, Miles asked him to stay on with the band, but the guitarist refused, preferring to continue with his highly lucrative freelance career. It's a shame, because Bullock was a great fit with this band and Miles' music. This is one gig I would have loved to have attended, and it would be great if this concert was one day officially released.
Sadly, Hiram Bullock died in 2008. His website is at: www.hirambullock.com.
Many thanks to Jim Szabo for providing the gig dates and other information, and also for kindly providing the images of the 22 January gig advert and press report.