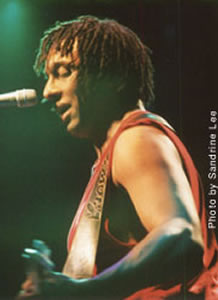 Photo by Sandrine Lee © and Photo courtesy
Hiram Bullock website
Background before joining Miles: Played with David Sanborn, Gil Evans, The Brecker Brothers, Steely Dan, Paul Simon and many others.
How he got the Miles gig: Knew Miles through his association with Gil Evans. Was asked by Miles to play for four gigs.
Played from: Four gigs in January 1987
Official albums and DVDs featured on: None
Tracks worth checking out: N/A
Bullock on Miles: "He could be difficult at times, but at other times he was very sweet and charming. He could be manipulative, not what you'd call a nice guy, but certainly interesting."
Comments: Bullock fitted in well with the band, but when Miles asked him to stay on, he refused because he was busy freelancing.
Website: www.hirambullock.com