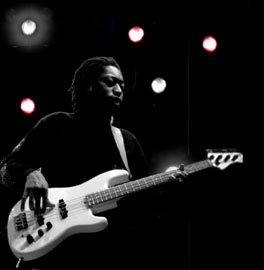 Darryl Jones © Albey Balgochian Photo courtesy Albey Balgochian
Background before joining Miles: Played in bands around Chicago, where he built up a formidable reputation as a bassist.
How he got the Miles gig: Was a long-time friend with Miles's Chicagoan band members, drummer (and Miles's nephew) Vince Wilburn and keyboardist Robert Irving III. Was recommended to Miles by Wilburn.
Played from: June 1983 – July 1985, October 1986 – April 1988
Official albums and DVDs featured on: Decoy, You're Under Arrest, The Complete Miles Davis at Montreux, Miles in Montreal (DVD), Miles Davis Septet Live in Poland 1983, Live in Poland 1983 (DVD), That's What Happened (DVD), Live At Montreux – Highlights 1973-1991 (DVD), The Definitive Miles Davis at Montreux (DVD), Complete Columbia Album Collection, The Perfect Miles Davis Collection.
Tracks worth checking out: "Decoy," "That's Right," "What It Is," "Something's On Your Mind," "You're Under Arrest," "Jean-Pierre," (DVD).
Jones on Miles: "He said some amazing things to me. I remember once he called me to his room one night and said 'if I played bass, I'd wanna play just like you.' I was able to really enjoy the compliments but not get too hung up on it. But it helped me to play a certain way when I was playing with Miles."
Comments: Jones is a monster bassist and the hard edge style to his funk playing was exactly what Miles wanted. Jones left Miles's band in 1985 to join Sting's band, but returned a year later, staying until Miles let him go in 1988. Jones played at Miles's 1991 reunion Paris concert and went on to play for The Rolling Stones.
Website: darryljones.com