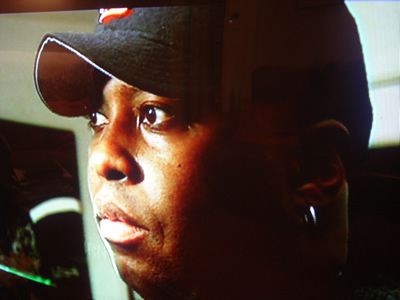 Vince Wilburn Jr Photo courtesy and © Dibb Directions
Background before joining Miles: Played in bands around Chicago. Is Miles's nephew and played on The Man With The Horn sessions. Played with Cameo and then helped in the production of Decoy and You're Under Arrest albums.
How he got the Miles gig: Al Foster walked out during the recording sessions of "Human Nature." Wilburn was in the recording booth and asked to take over the drummer's chair.
Played from: March 1985 – March 1987
Official albums and DVDs featured on: Aura, The Man With The Horn, You're Under Arrest, The Complete Miles Davis at Montreux, Live in Montreal (DVD), Rubberband, Live At Montreux – Highlights 1973-1991 (DVD), The Definitive Miles Davis at Montreux (DVD), Perfect Way: The Miles Davis Anthology – The Warner Bros. Years, Complete Columbia Album Collection, Tutu: Deluxe Edition, Miles Davis 1986-1991: The Warner Years, The Last Word.
Tracks worth checking out: "Katia," "Hopscotch," "One Phone Call/Street Scenes," (live), "You're Under Arrest," (live), "Maze."
Wilburn on Miles: "It was tough, but I learned from it and I wouldn't have traded it for the world."
Comments: Wilburn played at a time when Miles wanted his drummer to play a steady backbeat and consequently, he never got to show the full extent of his abilities. Miles replaced him with Ricky Wellman in early 1987.
Website: None
The picture of Vince Wilburn Jr was taken from The Miles Davis Story DVD directed by Mike Dibb, which includes an interview with Vince Wilburn Jr.