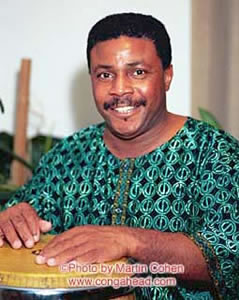 Steve Thornton Photo courtesy and © Steve Thornton and Martin Cohen at Congahead.com
Background before joining Miles: Played with various artists including Roy Ayers and Mongo Santamaria.
How he got the Miles gig: Was recommended to do some session work with Miles by Miles's executive producer George Butler. Played in sessions for what became the You're Under Arrest album and was asked to join the band.
Played from: June 1984 – January 1987
Official albums and DVDs featured on: You're Under Arrest, The Complete Miles Davis At Montreux, Live In Montreal (DVD), Rubberband, Live At Montreux – Highlights 1973-1991 (DVD), The Definitive Miles Davis at Montreux (DVD), Perfect Way: The Miles Davis Anthology – The Warner Bros. Years, Tutu: Deluxe Edition, Miles Davis 1986-1991: The Warner Years, The Last Word.
Tracks worth checking out: "Time After Time," (studio and live) "One Phone Call/Street Scenes" (Steve gets to talk on this track!), "You're Under Arrest," "Code MD" (live).
Thornton on Miles: "The one thing I carry most with me from my experiences with Miles is to just play and to feel relaxed and as comfortable as you can."
Comments: Thornton was with Miles for two and half years and saw many changes in that time. He played in a dual-percussionists band with Marilyn Mazur. Miles would often give Thornton a solo spot that involved moving his drums to the front of the stage.
Website: None, but more information on www.congahead.com