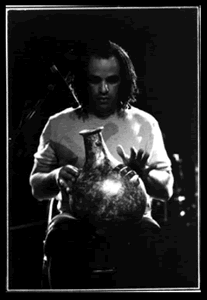 Mino Cinelu Photo courtesy and © Marjolaine Sebagh and Mino Cinelu
Background before joining Miles: Played guitar, drums and percussion. Was in a local R&B New York band.
How he got the Miles gig: Was spotted by Miles playing in a club near Harlem. Miles invited Cinelu to jam with him and Mike Stern at Miles's house and was then invited to join the band.
Played from: June 1981 – November 1983, January 1987 – October 1987
Official albums and DVDs featured on: We Want Miles, Star People, Decoy, Amandla, Miles Davis Septet Live in Poland 1983, Live in Poland 1983 (DVD), That's What Happened (DVD), Perfect Way: The Miles Davis Anthology – The Warner Bros. Years, Complete Columbia Album Collection, The Perfect Miles Davis Collection, Miles Davis 1986-1991: The Warner Years, The Last Word.
Tracks worth checking out: " Jean-Pierre", "Fast Track", "Kix", "Come Get It", "Decoy", "What It Is".
Cinelu on Miles: "Within each breath, each note, it was magical."
Comments: Cinelu was an extrovert performer and Miles gave him lots of solo space. His party piece was to sit astride an upturned conga drum and play a solo that included damping the sound with his feet. He left to join Weather Report and was invited back by Miles in late 1986. However, the second band was not as free as the first and Cinelu left to pursue a successful solo career.
Website: www.minocinelu.com