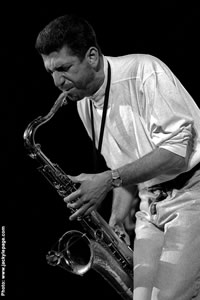 Bob Berg Photo © and courtesy
Jacky Lepage
Background before joining Miles: Played with various artists including Horace Silver, Cedar Walton and Al Foster. Also led his own bands.
How he got the Miles gig: Was invited to play on some sessions and then asked to join the band on tour.
Played from: June 1984 – January 1987
Official albums and DVDs featured on: You're Under Arrest, The Complete Miles Davis at Montreux, Live in Montreal (DVD), Rubberband, Live At Montreux – Highlights 1973-1991 (DVD), The Definitive Miles Davis at Montreux (DVD), Tutu: Deluxe Edition, Miles Davis 1986-1991: The Warner Years, The Last Word.
Tracks worth checking out: "You're Under Arrest" (studio and live), "Code MD" (live), "Ms Morrisine" (live), "Something's On Your Mind" (live).
Berg on Miles: "The highlight of my experience in the band was to get to hear Miles play night after night and be around one of the pioneers of jazz."
Comments: Berg's main instrument was the tenor sax, although he often played the soprano sax too. He was given lots of space by Miles in the early years and played powerfully on-stage. Berg also learnt classical piano as a child and sometimes played keyboards in the band. He left Miles to pursue a successful solo career. Berg died in December 2002.
Website: None