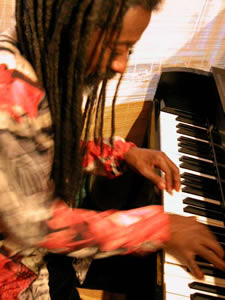 Robert Irving III Photo courtesy and © Robert Irving III
Background before joining Miles: Played in bands around Chicago, including two featuring Miles's nephew Vince Wilburn Jr. Also played with Ramsey Lewis.
How he got the Miles gig:Had known Miles from The Man With The Horn sessions, where he played on two tunes, "Shout," and "The Man With The Horn." Was asked by Miles to work with him on the Decoy album and subsequently asked to join the band as musical director.
Played from: August 1983 – October 1988
Official albums and DVDs featured on: Decoy, You're Under Arrest, Live Around The World, The Complete Miles Davis At Montreux, Live in Montreal (DVD), Live in Munich (DVD), Miles And His Group (DVD), Miles Davis Septet Live in Poland 1983, Rubberband, Live At Montreux – Highlights 1973-1991 (DVD), The Definitive Miles Davis at Montreux (DVD), Live in Poland 1983 (DVD), That's What Happened (DVD), Perfect Way: The Miles Davis Anthology – The Warner Bros. Years, Complete Columbia Album Collection, The Perfect Miles Davis Collection, Tutu: Deluxe Edition, Miles Davis 1986-1991: The Warner Years, The Last Word.
Tracks worth checking out: "Decoy," "Code MD," "That's Right," "Then There Were None," "Splatch" (live), "Ms Morrisine" (live).
Irving on Miles: "The education I learnt from Miles was immense. I learnt to follow my intuition and to utilize spontaneity when initiating ideas for new compositions. He inspired me to go beyond the mundane as an arranger."
Comments:: It is hard to over-state the central role Irving played in Miles's music of the final decade. Irving played with Miles for more than five years – longer than anyone else during this period. In addition to being musical director, he composed a number of tunes Miles played and recorded, including "Decoy," "Code MD," and "Ms Morrisine," he arranged and co-produced the Decoy album, arranged and produced the You're Under Arrest album and also composed the Street Smart soundtrack, which Miles played on. Irving left the band to pursue other projects including a solo album, "Midnight Dream." He also formed two Miles tribute bands, ESP and ESP 2, which recorded an album and released a DVD. After playing with Miles, Irving began playing more acoustic piano, an instrument he loves.
Website: None