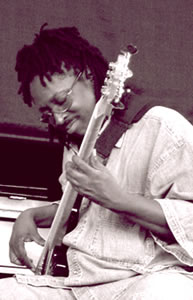 Tom Barney © steelydan.com
Photo courtesy of steelydan.com
Background before joining Miles: It was inevitable that Barney would gravitate towards the bass – his father was the bassist Tom H. Barney and his foster father was bassist Bob Cranshaw. Barney is highly accomplished on both acoustic and electric bass. He was playing in David Sanborn's band when he got the call to join Miles's band.
How he got the Miles gig: Was recommended by Marcus Miller, an old friend.
Played from: February 1983 – June 1983
Official albums and DVDs featured on: Star People, Complete Columbia Album Collection, The Perfect Miles Davis Collection.
Tracks worth checking out: "Speak" (the only official release featuring Barney).
Barney on Miles: "He was hilarious. It was like dealing with a schizophrenic, but I kinda dug it…You'd have some really nice conversations with him, but then there'd be moments when he would flip and you didn't know what to expect."
Comments: Despite being an awesome bassist (Barney's credits include Eric Clapton, Frank Sinatra, Michael Jackson and Steely Dan), Barney never really settled into the band. Barney says a combination of lack of preparation, tensions within the band and a disagreement with Miles's management caused him to quit the band.
Website: None