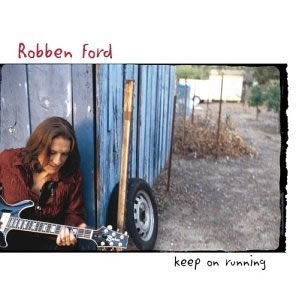 Background before joining Miles: Played with Jimmy Witherspoon, Joni Mitchell and Yellow Jackets.
How he got the Miles gig: After Mike Stern left in March 1986, Miles's producer Tommy LiPuma recommended him to Miles.
Played from: April 1986 – September 1986
Official albums and DVDs featured on: The Complete Miles Davis at Montreux, Live At Montreux – Highlights 1973-1991 (DVD), The Definitive Miles Davis at Montreux (DVD), Perfect Way: The Miles Davis Anthology – The Warner Bros. Years, Tutu: Deluxe Edition, The Last Word.
Tracks worth checking out: "Splatch," "Al Jarreau," "New Blues," "Burn." "Jean-Pierre."
Ford on Miles: "He liked musicians and creativity. He was a true artist and responded to genuiness. What a guy."
Comments: Miles loved Ford's playing and once said that there were times when he just ended listening to him. However, as Miles started tightening up the live arrangements, Ford felt it was time to leave and pursue a solo career.
Website: www.robbenford.com