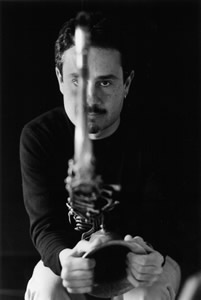 Rick Margitza Photo courtesy and © Ursula K. Moutin
Background before joining Miles: Played with Maynard Ferguson, and Flora Purim and Airto Moreira.
How he got the Miles gig: Was introduced to Miles by producer Tommy LiPuma and played on the Amandla album. When Kenny Garrett was unable to make part of a European tour, Margitza was invited to stand in for him.
Played from: July – August 1989
Official albums and DVDs featured on: Amandla, The Complete Miles Davis at Montreux, Live At Montreux – Highlights 1973-1991 (DVD), The Definitive Miles Davis at Montreux (DVD), Miles Davis 1986-1991: The Warner Years, The Last Word.
Tracks worth checking out: "Human Nature" (live), " Perfect Way" (live), "Amandla" (live), "Portia" (live).
Margitza on Miles: "It had been really challenging and really great fun at the same time…He was very observant and liked to sit in his hotel room window and look at people with binoculars."
Comments: Margitza became the last tenor player in a Miles Davis band and played strongly. His concerts included the 1989 Montreux Festival gig that saw Chaka Khan join the band on-stage during "Human Nature." He left Miles to pursue a successful career, recording a string of solo albums and playing with artists such as Maria Schneider, Chick Corea, McCoy Tyner and Louis Moutin.
Website: None