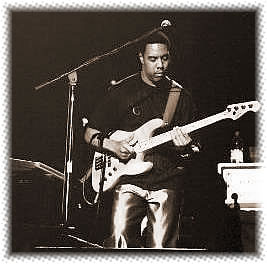 Richard Patterson © Richard Patterson Photo courtesy Richard Patterson
Background before joining Miles: Played in bands around Chicago, including in the 1970s, Data, a band that included Vince Wilburn Jr and Robert Irving, and much later, a popular fusion/funk band called Insight.
How he got the Miles gig: Was recommended by Ron Lorman, who had been Miles's concert sound mixer.
Played from: April 1990 – August 1991
Official albums and DVDs featured on: Live Around The World, The Complete Miles Davis at Montreux, ive At Montreux – Highlights 1973-1991 (DVD), The Definitive Miles Davis at Montreux (DVD), Miles Davis 1986-1991: The Warner Years, The Last Word, Merci Miles! Live At Vienne.
Tracks worth checking out: Live versions of "Wrinkle," "Me and You," "Time After Time," "Perfect Way."
Patterson on Miles: "The gigs were so much fun, but Miles would force you to focus so much that you forgot that the audience was there, and to me that makes it more musical because it's not about being distracted by what's going on outside of the stage."
Comments: Patterson was the fourth bassist from Chicago and like the others (Jones, Thomas and Crews) there was a hard edge to his bass playing and he would play some ferocious bass lines. Since leaving Miles, Patterson has been much in-demand, playing with acts such as Boz Scaggs and David Sanborn.
Website: None