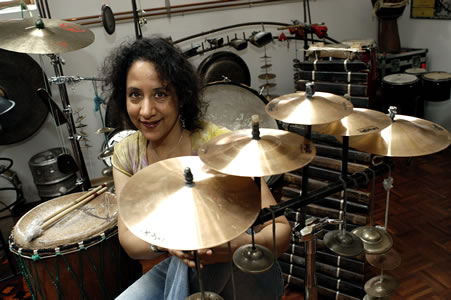 Marilyn Mazur Photo © and courtesy Marilyn Mazur
Background before joining Miles: Played in various jazz groups in Scandinavia.
How she got the Miles gig: Played on the Aura concert and album sessions in late 1984/early 1985. Was in the audience at a Miles gig and asked to sit in on a tune. Soon after, was invited by Miles to join the band as a second percussionist.
Played from: August 1985 – June 1986, April 1988 – March 1989
Official albums and DVDs featured on: Aura, Live Around The World, The Complete Miles Davis At Montreux, Live In Munich (DVD), Rubberband, Live At Montreux – Highlights 1973-1991 (DVD), The Definitive Miles Davis at Montreux (DVD), Perfect Way: The Miles Davis Anthology – The Warner Bros. Years, Miles Davis 1986-1991: The Warner Years, The Last Word.
Tracks worth checking out: "Intro," "White," "Tutu," "Heavy Metal Prelude," "Carnival Time."
Mazur on Miles: "He was always nice and inspiring but sometimes provocative! I feel Miles taught me more patience, and a lot about grooving and musical flow and gathering a band's energy."
Comments: Mazur was the only woman member of a Miles Davis band and one of the few people to re-join Miles's band. She used an array of instruments and was a hyperactive performer – Miles encouraged her to dance as well as play. Some of her most energetic performances are with the band that included second percussionist Steve Thornton, which sadly remain officially unreleased.
Website: www.marilynmazur.com