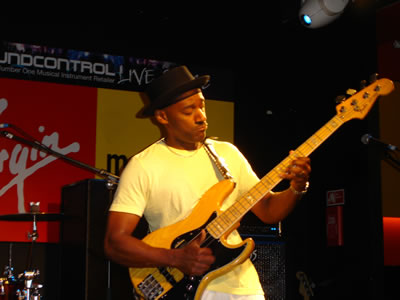 Marcus Miller © George Cole
Background before joining Miles: Although Miller was only 21 when he joined Miles's band, he was already well established on the New York session scene having played or recorded with artists such as Lee Ritenour, Dave Grusin, Lenny White, Roberta Flack, Brecker Brothers, Earl Klugh, Grover Washington Jr, Dave Liebman, Joan Armatrading and Elton John. He even played on an aborted Miles session in 1979.
How he got the Miles gig: Was recommended by saxophonist Bill Evans.
Played from: June 1981- December 1982
Official albums and DVDs featured on: The Man With The Horn, We Want Miles, Star People, Miles! Miles! Miles!, Perfect Way: The Miles Davis Anthology – The Warner Bros. Years, Complete Columbia Album Collection, The Perfect Miles Davis Collection, Tutu: Deluxe Edition, Miles Davis 1986-1991: The Warner Years, The Last Word.
Tracks worth checking out: "Fat Time," "Back Seat Betty" (live), "Jean-Pierre," "My Man's Gone Now," "Come Get It," "Star on Cicely."
Miller on Miles: "The thing that impressed me about Miles above everything else is that [criticism] never stopped him from doing what he felt he had to do."
Comments: Miller and drummer Al Foster formed a formidable rhythm section that Miles clearly loved. When Miller left the band in 1983 to focus on production and writing, Miles was sad to lose him. However, Miller would become Miles's most important musical collaborator in the last decade. They were reunited in 1985 and Miller composed, produced and arranged almost all of the first three albums Miles made with Warner Bros – Tutu, Siesta and Amandla.
Website: www.marcusmiller.com