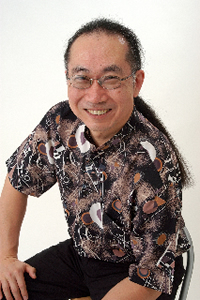 Kei Akagi © Shizuo Ouhashi. Photo courtesy Kei Akagi
Background before joining Miles: Played with a number of artists including, Art Pepper, Blue Mitchell, Eddie Harris, Flora Purim/Airto Moreira and Al DeMiola.
How he got the Miles gig: Al DeMiola's road manager knew Miles's road manager Gordon Meltzer and Akagi was asked by him to send an audition tape to Miles.
Played from: March 1989 – November 1990
Official albums and DVDs featured on: Dingo, Live Around The World, The Complete Miles Davis At Montreux, Miles in Paris (DVD), Live At Montreux – Highlights 1973-1991 (DVD), The Definitive Miles Davis at Montreux (DVD), Perfect Way: The Miles Davis Anthology – The Warner Bros. Years, Miles Davis 1986-1991: The Warner Years, The Last Word.
Tracks worth checking out: "Mr Pastorius" (live), "Tutu," (live), "Hannibal," (live), "Amandla," (live) "Don't Stop Me Now" (live).
Akagi on Miles: "Ultimately what I learnt from Miles is that music is much wider than that which is being performed at the moment. Everything one plays hints at a multitude of possibilities and one must be aware of them at all times."
Comments:: Akagi played with several other keyboardists before taking the solo spot. He played at a time when Miles's bands were playing tight arrangements. Akagi left because he felt that he was hearing things that could not be played with Miles's music. He later released an excellent Miles tribute album, New Smiles And Traveled Miles.
Website: None