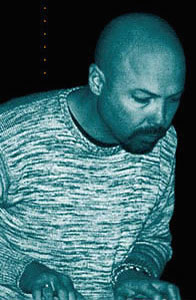 John Beasley Photo courtesy and © John Beasley
Background before joining Miles: Played with Hubert Laws, Freddie Hubbard, John Pattitucci and local bands in LA
How he got the Miles gig:Was spotted by Miles's nephew Vince Wilburn Jr and asked to send Miles an audition tape. A year later, Miles called and invited him to join the band
Played from: March 1989 – May 1989
Official albums and DVDs featured on: Live Around The World, Miles Davis 1986-1991: The Warner Years, The Last Word.
Tracks worth checking out: "Mr Pastorius" (live) (The only official release).
Beasley on Miles: "I learnt how to comp…and stay out of the way and not feed the soloist but let him decide the direction and react off of that."
Comments:: At the time, Beasley's wife had just given birth to their first child, so he didn't stay in the band for as long as he would have liked. Since leaving Miles, Beasley has released a string of strong solo albums and worked with artists such as Steely Dan, Chaka Khan, Al Jarreau and Lee Ritenour.
Website: johnbeasleymusic.com