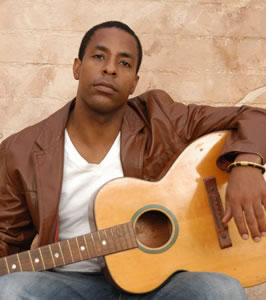 John Bigham Photo courtesy of Toyia Brown and the soul of john black
Background before joining Miles: Was a blues and soul guitarist and song writer in LA.
How he got the Miles gig: A close friend, Jillian, linked him up with Miles. Bigham auditioned for the guitarist's gig in Miles band but didn't get it. However, Miles hired him as a song writer. One day, Miles was looking for a new percussionist and asked Bigham if he could recommend someone. When a friend he suggested didn't get back to Miles, Bigham volunteered for the job and was hired.
Played from: October 1989 – June 1990
Official albums and DVDs featured on: Amandla, Miles in Paris (DVD), Perfect Way: The Miles Davis Anthology – The Warner Bros. Years, Dingo, Miles Davis 1986-1991: The Warner Years, The Last Word.
Tracks worth checking out: "Jilli" (studio and live), "Human Nature," "Tutu."
Bigham on Miles: "Miles would let you do what you do…Through Miles I learned how to run a band and how to let people be free to do what they do, but keep order in the midst of chaos. He was an amazing band leader because you always knew who was boss, but you could go for it. It was very cool."
Comments: Bigham has recorded a handful of unreleased tracks with Miles, as well as "Jilli," which is on Amandla. Bigham enjoyed his stint with Miles's band, but his first love was the guitar and he left to join an LA band, Fishbone. He continued working with Miles and was due to record some more songs with him, however Miles died before anything was recorded.
Website: thesoulofjohnblack@instagram.com
Instagram followers of Toyia can see her photos here: toyiab@instagram.com