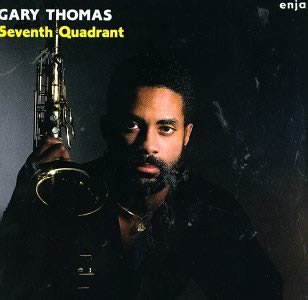 Background before joining Miles: Played with Jack DeJohnette and led own band.
How he got the Miles gig: Was asked to send Miles a tape, but it got lost in the post. So Miles auditioned him over the phone and invited him to join the band.
Played from: December 1986 – March 1987, alongside Bob Berg and Kenny Garrett.
Official albums and DVDs featured on: None.
Tracks worth checking out: N/A
Thomas on Miles: Thomas says Miles actually liked to clown around and that his intimidating public persona was often just a case of Miles "messing around with people."
Comments: Thomas's main instrument is tenor saxophone – he is a very powerful player. He played in two dual saxophone line-ups, first with Bob Berg and then Kenny Garrett. After leaving Miles's band, he became a successful solo artist, often combining hip-hop, rap and jazz. He is now director for jazz at the Peabody Institute in Baltimore.
Website: None.