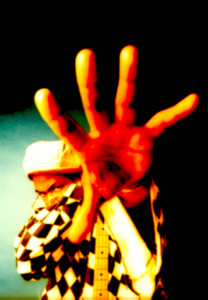 © and photo courtesy smartalecmusic.com
Background before joining Miles: Played around Columbus, Ohio and composed and recorded his own music.
How he got the Miles gig: Foley sent Marcus Miller a recording he had written for Miles – "The Senate." Miles called Miller one day and heard the song playing in the background. Miles asked for Foley's number and then over the phone, invited him to join the band.
Played from: May 1987 – August 1991
Official albums and DVDs featured on: Amandla, Dingo, Live Around The World, The Complete Miles Davis at Montreux. DVDs: Live in Paris, Live in Munich, Live At Montreux – Highlights 1973-1991 (DVD), The Definitive Miles Davis at Montreux (DVD), That's What Happened (DVD), Perfect Way: The Miles Davis Anthology – The Warner Bros. Years, Miles Davis 1986-1991: The Warner Years, The Last Word, Merci Miles! Live At Vienne.
Tracks worth checking out: Live versions of "The Senate," "New Blues," "Tutu," "Time After Time," "Heavy Metal," and "Don't Stop Me Now."
Foley on Miles: "Miles would get rid of you after six months if he heard you playing the same notes every time…He treated me like a son."
Comments: Foley doesn't actually play guitar but "lead bass". He tuned his bass up an octave, used pedal effects and developed new ways of phrasing to make his bass sound more like a guitar. Miles loved Foley's rough, raw, raunchy sound, but Foley showed that he could also play with great feeling and sensitivity on tunes such as "Time After Time" and "Don't Stop Me Now." He stayed with Miles for more than four years and was a member of Miles's last band.
Website: www.smartalecmusic.com


Thanks to:
Melanie at
smartalecmusic.com