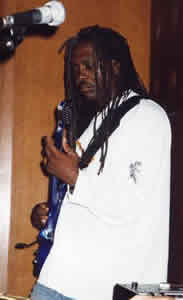 © Dr. Brookenstein Photo courtesy Dr. Brookenstein
Background before joining Miles: Played with Herbie Hancock, was (and still is) part of the Funkadelic collective. Also played with various local bands around LA.
How he got the Miles gig: McKnight thinks drummer Dennis Chambers might have recommended him to Miles.
Played from: 28-31 December 1986
Official albums and DVDs featured on: None
Tracks worth checking out: N/A
McKnight on Miles: "He didn't yell like I heard people say, he was pretty cool and down to earth."
Comments: McKnight had long dreamed of getting the Miles gig, but sadly, did not gel with Miles's band and only played a few gigs at the end of 1986 – McKnight was simply told that his sound was not what Miles was looking for.
Website: None