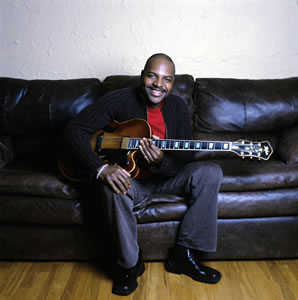 Photo by Audrey Cho Photo © Bobby Broom and courtesy Bobby Broom
Background before joining Miles: Sonny Rollins, Art Blakey, Tom Browne, Dave Grusin, Kenny Burrell.
How he got the Miles gig: Was a long-time friend of three Chicagoians in the band at the time – Vince Wilburn Jr, Bobby Irving and Darryl Jones.
Played from: February 1987 – March 1987
Official albums and DVDs featured on: None
Tracks worth checking out: N/A
Broom on Miles: "I connected with Miles either too late or too early in terms of years. I wasn't cutting the gig as far as I was concerned. First of all, I hadn't yet settled upon my guitar sound. I couldn't fit what I was hearing into the music he was making. I knew Miles wanted Hendrix. I tried as best I could to give him what he wanted, but I believe he knew more about who I was musically than I did. On the gig he'd walk over to me during one of his solos and play some long line that he would have played in 1958."
Comments: Broom was a surprising choice for Miles as he was noted more his "smooth jazz" style of playing and Miles played jazz-funk – very loud! Broom was not comfortable in this role and soon left to pursue his solo career.
Website: www.bobbybroom.com