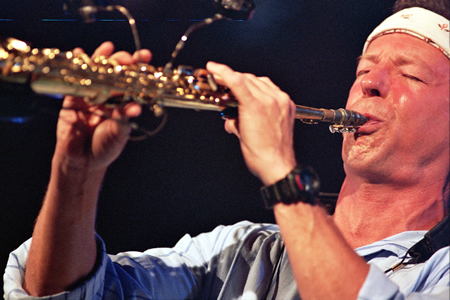 Bill Evans Photo courtesy and © Bill Evans
Background before joining Miles: Played in local bands around New York and Boston.
How he got the Miles gig: Was recommended to Miles by Dave Liebman, who was Evans's teacher for a while.
Played from: June 1981 – November 1983
Official albums and DVDs featured on: The Man With The Horn, We Want Miles, Star People, Decoy, Miles Davis Septet Live in Poland 1983, Live in Poland 1983 (DVD), Complete Columbia Album Collection, The Perfect Miles Davis Collection.
Tracks worth checking out: "Fat Time," "Kix," "Star People," "Jean-Pierre," "Star On Cicely," "What It Is."
Evans on Miles: "For around two years, we were really close. It was like my new best friend was Miles Davis."
Comments: Evans looked after Miles during the early comeback years and the young saxophonist also helped put together Miles's bands – Evans recommended Marcus Miller, Mike Stern and John Scofield. His main instrument is the tenor sax, although Miles had him play a lot of soprano sax. Evans also learnt classical piano when he was young and would sometimes play keyboards in the band. He left to join John McLaughlin's band and played in the 1991 Paris reunion concert.
Website: www.billevanssax.com