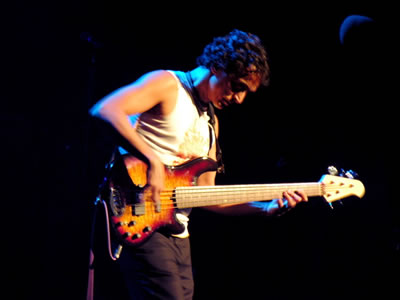 Benny Rietveld © Hal Miller Photo courtesy Benny Rietveld
Background before joining Miles: Played with Roy Obiedo, Pete Escovedo and Sheila E.
How he got the Miles gig: Probably through his association with Prince (Sheila E was the opening act for Prince).
Played from: April 1988 – April 1990
Official albums and DVDs featured on: Live Around The World, Dingo, The Complete Miles Davis at Montreux, Live in Paris (DVD), Live in Munich (DVD), Live At Montreux – Highlights 1973-1991 (DVD), The Definitive Miles Davis at Montreux (DVD), Perfect Way: The Miles Davis Anthology – The Warner Bros. Years, Miles Davis 1986-1991: The Warner Years, The Last Word.
Tracks worth checking out: Live versions of "Me and You," "Movie Star," "Time After Time," "Intruder," "Perfect Way."
Rietveld on Miles: "He loved dynamics. He also really valued the downbeat of a bar and where it was placed. He would say, 'don't get cute.' I think he was meaning not to be too clever or too intellectual about what one would play."
Comments: Rietveld followed Darryl Jones, who was a hard act to follow, but he settled in well and proved to be a talented player. He left Miles and joined Santana, playing on the mega-selling "Supernatural" album.
Website: None