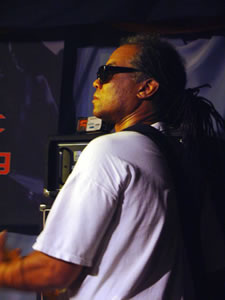 Angus Thomas © Angus Thomas. Photo courtesy Angus Thomas.
Background before joining Miles: Played in bands around Chicago. He also taught Darryl Jones how to play bass. Had played with artists such as John Mayall, Buddy Miles and Albert King.
How he got the Miles gig: Was recommended by Vince Wilburn Jr.
Played from: August 1985 – December 1985.
Official albums and DVDs featured on: Rubberband, Miles Davis 1986-1991: The Warner Years.
Tracks worth checking out: N/A
Thomas on Miles: "He always wanted my bass to sound like his voice and I used a lot of distortion with my playing. Miles wanted his voice sampling long before samplers came on the scene."
Comments: Thomas was a hyperactive performer – bashing his bass and throwing himself to the ground. He played in an amazing nonet that featured two keyboardists and two percussionists. Sadly this group's performances are only available on private recordings.
Website: None