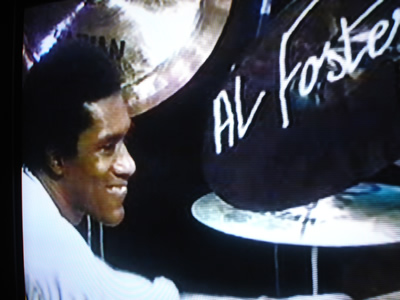 Al Foster playing at Miles's 1991 Reunion concert in Paris, July 10 1991
Background before joining Miles: Had played in Miles's 1972-75 bands and was one of Miles's closest friends.
How he got the Miles gig: During The Man With The Horn sessions, Miles decided he wanted a change of musical direction – and that he wanted Al Foster in his new band.
Played from: June 1981 – March 1985
Official albums and DVDs featured on: The Man With The Horn, We Want Miles, Star People, Decoy, You're Under Arrest, Amandla, The Complete Miles Davis At Montreux, Miles Davis Septet Live in Poland 1983, Live in Poland 1983 (DVD), Live At Montreux – Highlights 1973-1991 (DVD), The Definitive Miles Davis at Montreux (DVD), Complete Columbia Album Collection, The Perfect Miles Davis Collection, Miles Davis 1986-1991: The Warner Years, The Last Word.
Tracks worth checking out: "Aida", "Fast Track", "My Man's Gone Now", "Decoy","What It Is", "You're Under Arrest", "Mr Pastorius."
Foster on Miles: "When [Miles] called me for the album [Amandla] I asked him 'What kind of music are we doing?' and he said 'jazz motherfucker' and hung up. He knew I was tired of playing that backbeat with him."
Comments: Foster is a superb drummer and was a great support for Miles, especially in the early years of Miles's comeback. However, as time went on Miles wanted his drummer to lock into a heavy backbeat, which Foster found too constraining. He left the band during the recording sessions of You're Under Arrest. However, Foster remained close to Miles and played at the 1991 Paris reunion concert.
Website: None