The fourth in a series of reports on Miles's live gigs from 1981-1991 that I attended or have seen on video.
Venue: Tokyo Dome, Japan
Date: 21 December 1990
I thought this month I'd look at a little-known gig Miles did in late 1990 in which he did something I don't think he ever repeated again – perform to a backing track on-stage. In December 1990, Miles and his band saxophonist Kenny Garrett flew to Japan to perform in the Greening of the World (GOW) concert, organised by Yoko Ono to commemorate the 50th anniversary of John Lennon's birth (he was shot by Mark Chapman ten years earlier in New York) and raise awareness of environmental issues. The concert included appearances by Yoko Ono and Sean Lennon, Natalie Cole, Hall & Oats, Lenny Kravitz and a number of Japanese artists. The concert was released on CD in Japan called Happy Birthday John. Miles and Lennon both lived in New York during the 1970s and became friends (Miles makes an appearance on Lennon's video Gimme Some Truth, which looks at the making of the Imagine album – Miles is seen playing basketball).
One assumes that Miles didn't take his band to Japan in order to reduce costs, so instead a backing track was prepared. John Bigham, a young black guitarist who was writing music for Miles at the time, says he prepared some music for the concert and it's not certain whether this was the music Miles and Garrett performed to or something else. Miles appearance has turned up on video. The performance starts with Miles and Garrett walking on-stage. Miles is dressed in baggy pink sequined trousers and a black PVC jacket. He's also wearing his customary shades. Miles acknowledges the applause from the audience as he steps on to the stage by waving and raising his shades.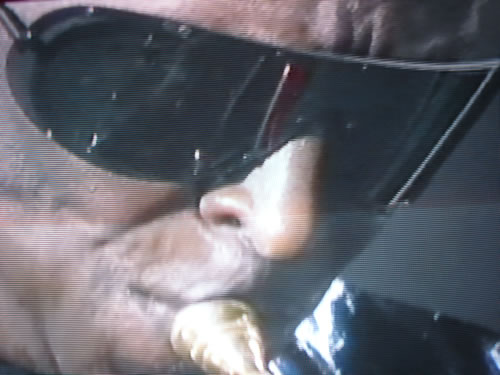 Miles, Tokyo 1990
Miles and Garrett then stand in the centre of a large empty stage, both are illuminated by spotlights. After a brief pause, Miles gives a cue to an unseen stage hand and the backing tape is started. The track they play is "Strawberry Fields Forever," and it has been created by using electronics instruments and MIDI technology. It has to be said that the backing track sounds dated when heard today, with a bossa-nova type rhythm, clattering electronic percussion, electronic drums and wah-wah effects. Miles and Garrett play the chorus together repeatedly and it's only near the coda that Miles loosens up, with Garrett copying his phrases. After five minutes the tune winds down and the backing tape fades out, although Miles continues to blow for a little longer. Then Miles and Garrett walk off, with the young saxophonist putting his arm across Miles's back as they amble off-stage.
When I first saw this video, I was struck by how uncomfortable Miles looked during the performance and I put this to down to the situation – playing on top of a static backing track is not something a jazz musician does everyday. But then I remember that during late 1990, Miles was not in good health and in fact, he didn't tour between November 1990 and March 1991. So Miles was clearly not at his best, although it's a sign of how much he cared about the memory of John Lennon that he flew across the Pacific to perform at the event. It's also interesting that Miles's final album, Doo-Bop, would have Miles blowing on top of what were essentially hip-hop backing tracks. The John Lennon concert is also moving when you consider that less than a year after Miles played in Japan (a country he always loved performing in) he would be dead.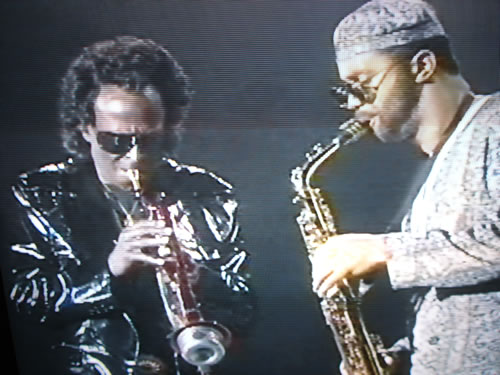 Miles and Kenny Garrett, Tokyo 1990
If you have any memories of Miles's gigs from 1981-1991, why don't you tell us about it?! All reports will be put online for other Miles fans to share. Email