Venue: International DOC Club RAI-TV2 Studio, Rome, Italy
Date: 6th April 1989
This is an unusual live gig in that it took place in a TV studio, but it is a significant event, because Miles' band plays two very rare numbers – indeed, this is the only known live version of one of the tunes played at this gig.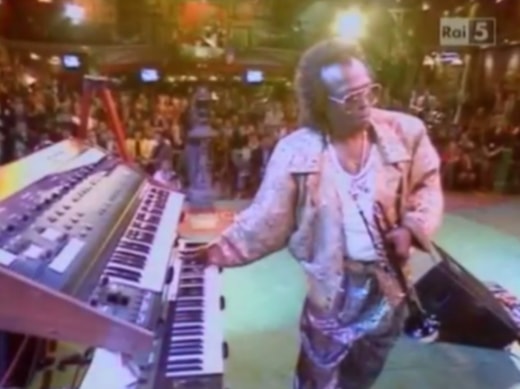 Miles in Rome, April 1989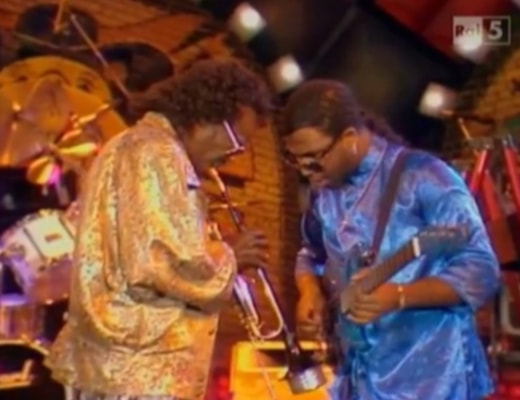 Miles and Foley in Rome, April 1989
First: a bit of background. At the end of 1988, Miles lost three band members – keyboardists Adam Holzman (who was also musical director) and Joey DeFrancesco, and percussionist Marilyn Mazur. Replacing them were keyboardists Kei Akagi and John Beasley, and percussionist Munyungo Jackson, who were recruited in early 1989. The band rehearsed in New York for a couple of weeks, with Holzman on hand to help with the arrangements.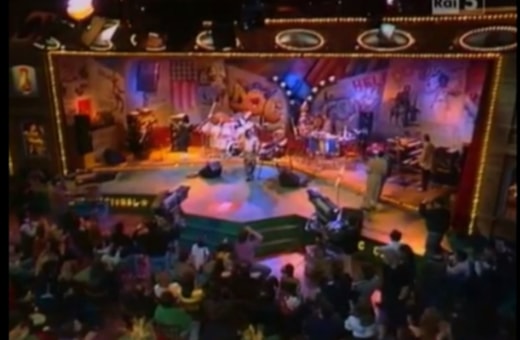 Miles' band in Rome, April 1989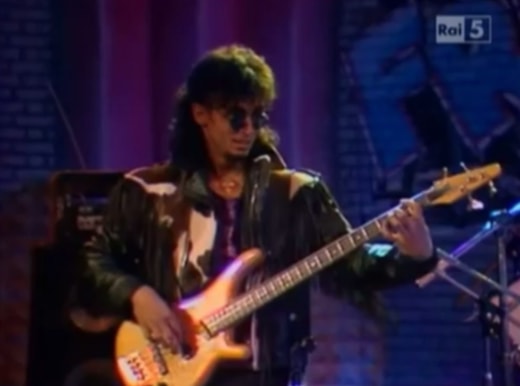 Benny Rietveld in Rome, April 1989
The band comprised of: Miles (trumpet and keyboard), Kenny Garrett (sax and flute), Kei Akagi and John Beasley (keyboards), Foley (lead bass), Benny Rietveld (bass), Ricky Wellman (drums), Munyungo Jackson (percussion). Their first concerts were in Italy, and this was the second gig they played. The TV studio design seems to have been inspired by the Liverpool Cavern club, a New York street wall, and a disco, with a brick-effect back-wall dubbed with various graffiti (including "Beatles") and multi-coloured lighting. The large stage was some distance of the audience of around 100 people, most of them smartly attired. At the front of the stage were three large static cameras and a portable camera operator, and also present was an aerial camera and another operator, who stood at the back of the stage. Despite all the camera angles, most of the shots are front close-ups, with the occasional shot from the back of the stage. There are very few sightings of the two keyboardists or percussionist.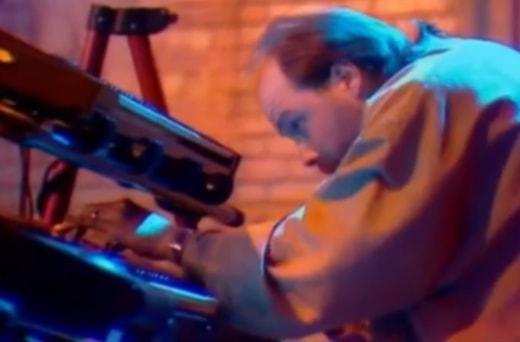 John Beasley in Rome, April 1989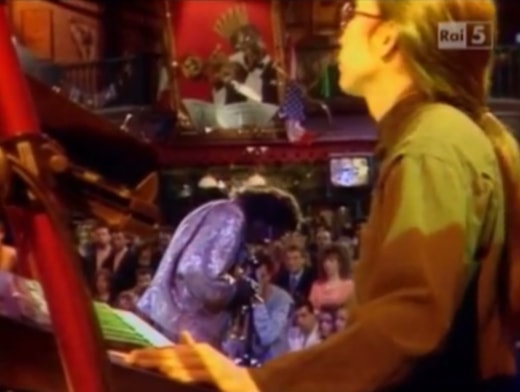 Kei Akagi and Miles in Rome, April 1989
The opening number has never been identified, and Miles discographer Jan Lohmann calls it "Unknown Y" (Jan lists a number of unknown Miles tunes by a letter of the alphabet, and this is the 25th unknown song he has identified, hence its unusual title). It's a driving funk number, with clattering percussion; a funk bass riff, swirling synth lines, and Garrett's slinky alto sax lines. Miles only played this tune a handful of times, as the opening number for concerts in Italy and France, before dropping it for new opener, "Intruder".
The second number is the slow blues "Star People", with Miles playing muted horn and Garrett given plenty of space on alto. At one point, Miles puts his arm around the shoulders of Foley, bringing him to the front of the stage for a solo, which ends with just Foley and Rietveld playing, before the band re-joins at the coda. This is followed by an energetic performance of "Perfect Way", with Miles walking up to Rietveld and the two of them engaging in call-and-response playing. The band obviously enjoyed playing this tune as can be seen by Rietveld's furious foot stomping as the tune approaches its climatic ending.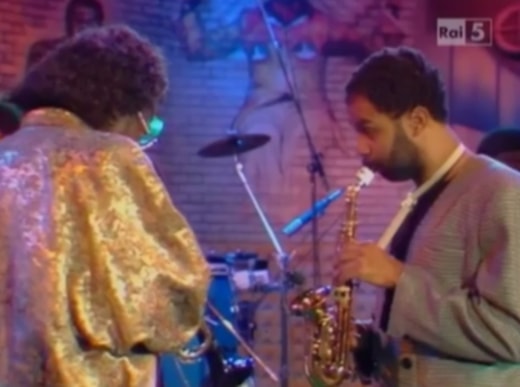 Miles and Kenny Garrett in Rome, April 1989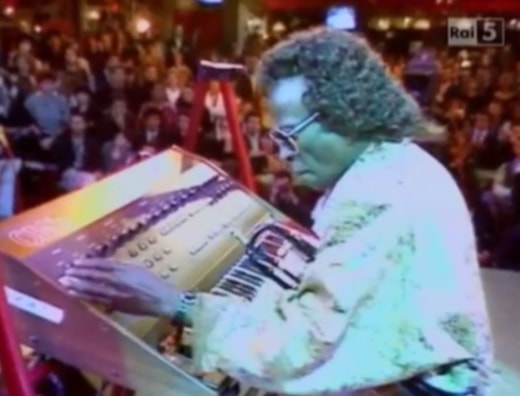 Miles in Rome, April 1989
The final two tunes were from the newly-recorded Amandla album (it would be released in May 1989). "Jilli" reflected Miles' interest in playing music with a go-go beat and the band lets rip with this number, which includes a blazing sax solo from Garrett, which gets the audience wildly applauding. At the end of the number, Miles walks around the stage, playing a few lines, before bringing Foley, Garrett and Rietveld to the front of the stage for audience applause. The band then plays the final number, George Duke's mid-tempo "Cobra", the second track on Amandla. This was the only track on Amandla where Garrett played soprano sax, but for the live version, he used a sopranino sax, a smaller version of an alto sax, which is tuned in E-sharp, and sounds an octave higher than the alto saxophone. Garrett played alto, soprano and baritone sax (plus flute) with Miles' band, but as far as I'm aware, this is the one and only time that he played sopranino.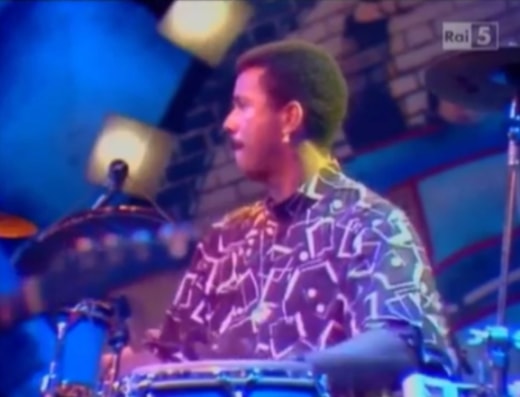 Munyungo Jackson in Rome, April 1989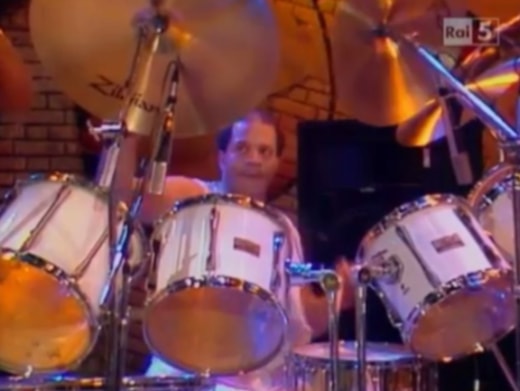 Ricky Wellman in Rome, April 1989
The band play a creditable version of "Cobra", but it is clearly a work in progress when it comes to mastering the arrangement. Even so, it's a shame that it was dropped from the set-list after just one attempt. That is why we should be grateful that this performance is documented on film. The band would tour Italy, France, the UK and US during April and May 1989, before Beasley left, to be replaced by Adam Holzman.
Kei Akagi in Rome, April 1989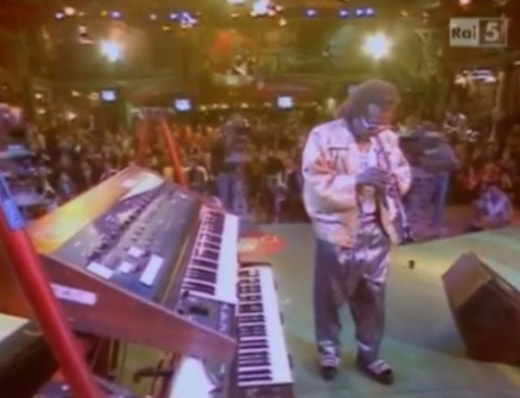 Miles in Rome, April 1989
The concert has been uploaded to YouTube.
See our interview with John Beasley, who talks about this gig.
With thanks to Jan Lohmann.
If you have any memories of Miles's gigs from 1981-1991, why don't you tell us about it?! All reports will be put online for other Miles fans to share. Email