The seventh in a series of reports on Miles's live gigs from 1981-1991 that I attended or have seen on video.
Venue: Giants Stadium, New Jersey
Date: 15th June 1986
During June 1986, the human rights organisation Amnesty International ran a series of concerts across the USA, designed to raise the profile of its work. There were six benefit concerts and the final one was held in the huge outdoor Giants Stadium, featuring an array of artists that included Joni Mitchell, Little Steven, Joan Armatrading, Yoko Ono – and Miles.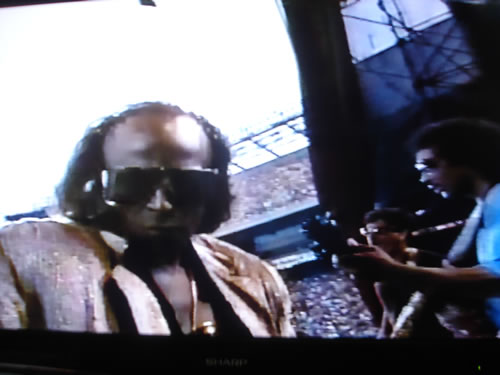 Miles at Giants Stadium, New Jersey, 15th June 1986
Miles played a set lasting just under 30 minutes and his band consisted of Robben Ford (guitar), Bob Berg (saxophone), Robert Irving IIII and Adam Holzman (keyboards), Felton Crews (bass), Steve Thornton (percussion) and Vince Wilburn Jr (drums). There was also a special guest artist who sat in with the band – more on him later. It was a warm, sunny day and the vast audience was in good spirits – lots of beach balls were being passed amongst the crowd. Miles and his band were also in good humour – Miles exchanged smiles with a number of band members, blew kisses and pulled his tongue at the camera, and waved to the crowd. It was also a casual affair, with Miles wearing a light jacket, shirt and black and white polka dot trousers, Ford in shirt and jeans and Wilburn Jr sporting a baseball cap, tee-shirt and shorts. This was also a time when many of Miles's band emulated his habit of wearing sun glasses – Ford, Crews, Irving and Berg all sport them.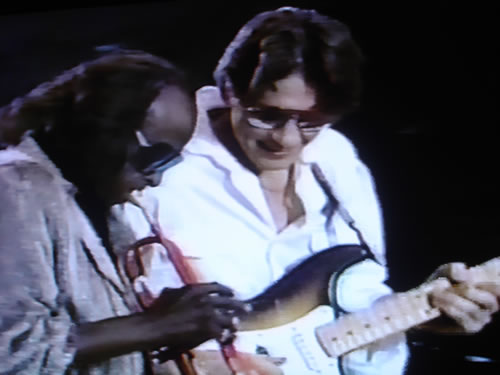 Miles and Robben Ford
The set kicked of with a rousing version of "One Phone Call/Street Scenes," with Miles alternating between trumpet and keyboards. Crews plays superbly on this number, laying down a powerful groove with Wilburn Jr on the drums and support from Thornton. Berg plays a tight sax solo, followed by Ford, who lets loose with some scorching guitar licks. The number lasted for about nine minutes and in a normal gig, the mood would have been taken down a few notches with the ballad "New Blues" following straight on. But in this truncated set, Miles moved on to the title track of the Tutu album. The album was still a few months away from its official release, so the number will have been unfamiliar to many. "Tutu" was followed by another track from the album, "Splatch" with Berg and Ford soloing again. During this number, Miles was having problems with his keyboard, resulting in the roadies trying to fix the problem.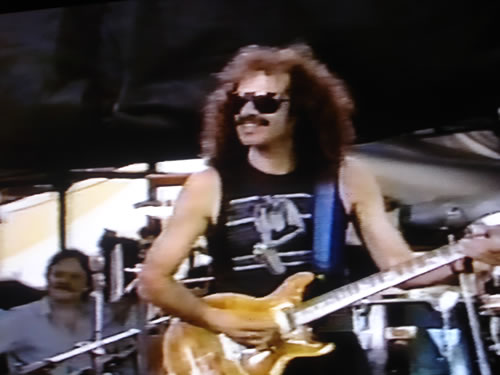 Carlos Santana
The final number saw Carlos Santana (an old friend of Miles) joining Ford on stage for a two-guitar line-up (Miles had two Mike Stern and John Scofield in the same band for around six months in 1982/83). The number they played, "Burn" is a rock-funk number that Miles first heard in 1980. Ford and Santana comp well together and just as Santana is thinking about playing a solo, Berg enters and plays a LONG solo (at one stage, you can see Ford and Santana exchanging glances as if to say: "When is this guy going to stop and give us a go?!"). But Berg plays superbly and when he finishes, Santana and Ford let rip, exchanging licks and giving each other a chance to shine. It's a great end to an exciting gig and I wish I'd been in the crowd!
If you have any memories of Miles's gigs from 1981-1991, why don't you tell us about it?! All reports will be put online for other Miles fans to share. Email