The tenth in a series of reports on Miles's live gigs from 1981-1991 that I attended or have seen on video.
Venue: Philharmonie, Berlin
Date: 1st November 1985
This gig was broadcast in full on German radio and portions of it also appeared on television. This was an interesting period in Miles's musical development. By 1985, Miles was arguably at his peak in terms of health, technique and energy. By now, it was not unknown for Miles to play two concerts in one day, totalling more than five hours performance. But after this year, Miles's energy levels seem to slowly ebb away and in the following years, he made fewer performances and often played much less during the concert. It was also interesting because Miles had left Columbia Records during the summer and signed with Warner Bros. It was during this period that Miles was looking for material for his first Warner Bros album and this is reflected in the concert repertoire.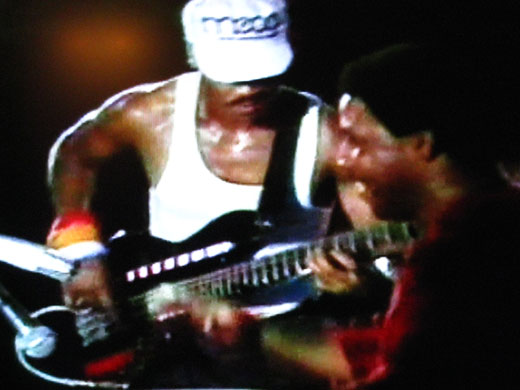 Angus Thomas and Steve Thornton
Miles also had his biggest band of the final decade, a nonet that included two keyboardists and two percussionists. Miles's band comprised of himself on trumpet and keyboards, guitarist Mike Stern, an original band member, who had left in June 1983 and returned in the summer of 1985; saxophonist Bob Berg; keyboardists Robert Irving III and Adam Holman (who had joined the band in October); bassist Angus Thomas, percussionists Steve Thornton and Marilyn Mazur and drummer Vince Wilburn Jr. Thomas and Mazur had joined the band in August 1985, with Thomas replacing Darryl Jones, who had left to join Sting's new band. There was a strong connection between the two bassists, as both hailed from Chicago, both were life-long friends, and in fact, Thomas had taught Jones how to play the bass. Mazur was the only woman member of a Miles Davis band. She had met Miles in January 1985 during the recording of the album Aura, and Miles asked her to join the band in the summer.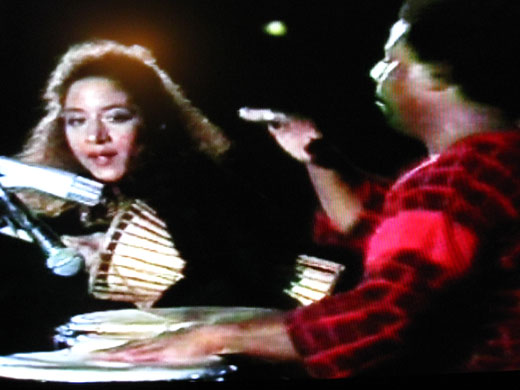 Marilyn Mazur and Steve Thornton
The Philharmonie Hall is vast and Miles and his band played with an audience that sat both in front and behind the stage. The band really gelled together and Angus Thomas describes it as the "baddest motherfucking jam band on the planet." There was certainly an energy and an intensity to the playing that kept you on the edge of your seat, even when the band was playing a ballad. There are many concert highlights. Miles's playing on the Chaka Khan ballad "Stronger Than Before," is simply moving. On "Pacific Express," Miles leaves the stage to flirt with a woman in the audience and at the end of the tune, Irving plays a short piano reprise. "Something On Your Mind" features a blistering guitar solo from Stern, but the most energetic tune is "Hopscotch," which includes a powerful Steve Thornton solo (his conga drums are brought to the front of the stage). He's joined by Mazur, who plays an African talking drum while dancing wildly. Then, Thomas steps to the front of the stage to take a solo, before throwing himself at Miles's feet. The next tune "Rubberband" had only been recorded a month earlier and was planned as the title track for Miles's new album (the Rubberband album would be shelved). An upbeat number, "Rubberband "sees Miles playing lots of discordant notes on the keyboard, much to the amusement of Stern, who grins wildly at him. The encore, Mr Mister's "Broken Wings" was not televised, which is a shame, because the band play an excellent cover version, starting with a catchy bass riff played by Thomas, which has the audience clapping away, before Miles joins in to play some strong trumpet. And then it was over. The nonet continued until the end of the year, until Thomas left, to be replaced by another Chicagoan bassist, Felton Crew. Stern would stay with the band until March 1986. The nonet also marked a time when Miles's band were playing much looser, because after Miles recorded the Tutu album in early 1986, the arrangement started to get more organized. This band is often overlooked when people talk about Miles's 1980s performances, but it deserves much greater recognition. Let's hope one day, that the Berlin concert is officially released.
If you have any memories of Miles's gigs from 1981-1991, why don't you tell us about it?! All reports will be put online for other Miles fans to share. Email