Steve Khan was voted one of the 22 greatest guitarists in a Japanese jazz magazine and in addition to recording a string of solo albums, he has worked with artists such as Quincy Jones, Steely Dan, James Brown, Gil Evans – and Miles. Steve plays on the title track of Amandla, but unfortunately, a mistake made whilst the album artwork was being produced, meant that his name was left off the album credits – it now appears in second run CDs out in the US.
Steve kindly took the time to explain his role in Amandla and share his views on Miles' music in general. And in case you're wondering, Steve is the son of the legendary songwriter Sammy Cahn, best known for his long association with Frank Sinatra, although Miles also performed some of his songs (including "I Fall In Love Too Easily.")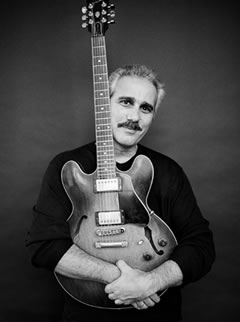 © Paul Aresu and courtesy Steve Khan
TheLastMiles.com: How did you get the Amandla gig?
Steve Khan: Through Marcus [Miller]. We'd known each other a long time.
TLM: How did the session take place?
SK: My role on the track was easy. Marcus had an idea of what he wanted to do and I made a few suggestions, and we did it. Most of it is still there. There are couple of things I did that are under-mixed – they're there, but they're not prominent. There are power chords, some color effects, and some melodies that I played. It's a very thick texture of stuff with all the synthesizers and keyboards, but it's in there. Miles wasn't even there. When I did that stuff Miles was on the phone listening. I'd be sitting in the studio with [percussionist] Bashiri Johnson – we were overdubbing – and I could see Marcus holding the phone up to the speakers and Marcus was talking to Miles, and Marcus would say: "Miles says, 'tell Steve he's a motherfucker!'" It was funny. But it was still a thrill to be a part.
TLM: But you had mixed feelings on this particular track because Joe Sample was involved?
SK: It was tempered with my bitterness over the Joe Sample thing. I had worked on an album of Joe's [Spellbound] with Marcus and Tommy [LiPuma] and [drummer] Omar [Hakim – who also plays on the track "Amandla"] and I basically got fired. So I wasn't sure if I wanted to play on the track! It's funny, but you can be doing something that you've always wanted to do, and then find that it's not quite what you wanted it to be. In this case because Miles was not even there.
TLM: Some people have complained that Miles shouldn't have been making albums like Amandla, which used a lot of electronics and overdubbing.
SK: When it's somebody like Miles, well, he doesn't owe anybody anything. He doesn't have to do anything the way somebody thinks he should do it. He's a great artist – Miles, Trane [John Coltrane] and Ornette [Coleman] are probably the three most important artists of that era of our music, so he doesn't owe anybody a damn thing. If that's how he wanted to do it, who's to say no? Even the great recordings that guys of my generation just worship, the things of the mid-1960s with Ron [Carter] and Tony [Williams] and Wayne [Shorter] and Herbie [Hancock]. A lot of those recordings aren't even like you conjure them up to be, because the more you learn about music, then much of that stuff sounds like recorded rehearsals to me – there are mistakes. Wayne's music is very orderly and structured and not random at all. What he was doing then with Amandla was some form of very sophisticated pop, R&B jazz. It wasn't about stretching out for twenty minutes – he'd already done all that stuff. You can see why Miles dropped out for while because he had done everything – there was nothing left to do.
TLM: Your name is missing off the credits. [The reason for the credit error was that during the production of the album artwork, Marcus Miller was called by somebody in the art department and asked about the musician credits. Several tracks were mentioned and Miller explained that Steve was not on any of them, except "Amandla". But a misunderstanding meant that Steve's name was inadvertently omitted from the credits for the title track.]
SK: You never forget something like that and it's really heartbreaking when something like that happens. When you have been a musician of my generation and you moved to New York, there used to be a joke with all the musicians. Everyone would leave messages on each other's answer machines doing impressions of Miles' voice. Everyone would joke with one another: 'Miles is gonna call, I can't go out to dinner tonight'. Of course he never called, but it was dream for everybody, so that when the opportunity comes… to have something like this to happen, it is pretty unbelievable. But there was a second run of the CD in the U.S., and my name's in there!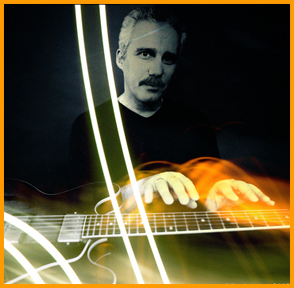 Photo © Paul Aresu – Digital art © Tanya Prellwitz
TLM: What's your take on Amandla as an album?
SK: I never paid attention to any of those recordings. If I listen to Miles I listen to Sorcerer and Miles Smiles and Nefertiti and E.S.P. I have some of the late stuff; most of it is on LP and I've never bought the CDs, because I don't care about those recordings. I think the last of the post-quintet records that I still have a great affection for is Big Fun [1972]. I love "Ife" and "Great Expectations" – that was fantastic to me. All the stuff after that, [well] even though he had some great players like Steve Grossman and Dave Liebman, I just never cared for the music. I know he was trying to create something, but I stopped caring for it. I know he was very sincere and always searching for something, but for me, as a fan of his, I stopped listening. The things that he had spawned, the guys he had been a father to in a sense, the fusion music in that period was more interesting. John McLaughlin was under Miles' tutelage, Herbie Hancock had been, Weather Report. He influenced everything, but I think that as he got older, while not totally relinquishing control, he was happy to have someone he trusted like Marcus taking care of things.
There was something really beautiful about In A Silent Way, but what's funny to me is that what one hears is really the product of Teo Macero's editing – that piece has a lot of magical editing. But as a concept, and the feeling they created in the studio, it was for that time, quite revolutionary. But after that and Bitches Brew and a couple of tracks on Big Fun, most of it started to become a big jumble for me. It starts to enter into the area where you say to yourself: 'this must have been an awful lot of fun to do, but I wouldn't want to listen to it'. There is a lot of music like that, where you think, 'wow, it must have been great to have been there, but I don't enjoy listening to it.'
TLM: Why was the 1964 -1972 period so special to you?
SK: The music that I have the greatest affection for is so caught up in a fantastic time in the 1960s. It was an amazing time for young people; it was a time for great hope; youthful, foolish hope that we could change the world. Some of it had to do with Kennedy. It shows in everything: the music, the art, the films. You sometimes forget that. I got the DVD A Different Kind Of Blue [which document's Miles's performance at the 1970 Isle of Wight festival]. The concert to me was less interesting than the interviews because of what many of the guys had to say and their perception of what was happening musically and sociologically. Look at Gary Bartz and on his vest you see the black power insignia. It's so easy to forget what was happening historically and that you can't separate the music from those things, especially the music of Miles Davis. That's what makes it so remarkable to me where sometimes in life the music comes to represent that something is so much bigger than just some guys playing. Jimi Hendrix represents something that transcends the moment, and Miles was like that too. After that music, it's hard for anything [for another twenty years] to live up to that, in my opinion. I feel lucky to have been alive during that time.
TLM: Did any of Miles's guitarists impress you from the 1980s?
SK: I think the most profound music maker was Sco' [John Scofield]. I also think in a curious way that Robben Ford might have been the best player for what Miles was trying to do at that time. Because what he really wanted was a guy who played the blues. One of the most profound things in the [Different Kind of Blue] DVD was that there always a sense that none of the musicians knew what was happening and, there was this sense of insecurity – "Am I playing good? Am I doing the right thing?" Miles's answer would be: "You're still here aren't you?" The great thing was what Dave Liebman said, when he was reflecting on his own journey with Miles. He said: "I get it. Coltrane's fast, Miles is slow. Wayne's fast, Miles is slow. I play fast, Miles is slow,' and the realization that by playing different, this is what makes Miles sound great, by him playing less. That quote captures what's great about any bandleader: how you pick the people around you. If you're the voice of the music, it's like putting the jewel on a beautiful red pillow, and that's what Miles was great at doing.
TLM: What is Miles's legacy today?
SK: That's a hard question to answer. For me, he's of that period where the important players were also bandleaders. He and 'Trane and Ornette are the branches of this huge tree, and each one gave birth to that which will be with those of us who continue to play and those of who listen for as long as there's music like this. I'll never forget the [second] great quintet; it's like the soundtrack of my adolescence. I would find it hard to live without knowing that particular music had been around. It depends where somebody walks in on the movie. If someone comes in listening to Bitches Brew or We Want Miles, that is what will be important to them.
Many thanks to Steve for his time. Check out Steve's site www.stevekhan.com