If you're of a certain age, Ray Parker Jr will be on a lot of records that are the soundtrack of your life. Ray, who was born in Detroit in 1954, was a teenage guitar protégé playing behind acts such as Stevie Wonder, The Temptations and Gladys Knight and The Pips at the Twenty Grand Club in Detroit while barely old enough to shave.
From there, he toured with Stevie Wonder on the 1972 world tour with The Rolling Stones, and soon after, became one of the most sought after session musicians of his generation, recording with a host of acts for the legendary Motown writing/producer trio Holland-Dozier-Holland, as well as everyone from Stevie Wonder to Barry White, and Boz Scaggs to Marvin Gaye. He also became a composer, writing with artists such as Chaka Khan and Barry White, before forming the smash hit group Raydio. From there, Ray became a solo artist, and in 1984, had the international smash hit "Ghostbusters," from the movie of the same name.
So what's the Miles connection? Well, Ray produced a couple of albums for the singer/guitarist Randy Hall , who worked with Miles on The Man With The Horn album (Randy co-composed and sings on the title track). In 1985, Randy was asked by Miles to produce his first album for Warner Bros (to be called Rubberband), which was recorded at Ray's own studio, Ameraycan, in North Hollywood. Ray kindly talked to TheLastMiles.com about his amazing musical career – and Miles.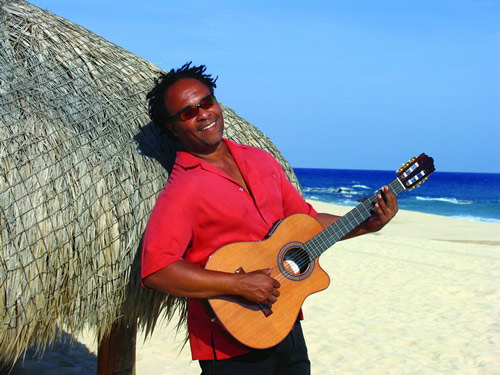 Ray Parker Jr © and courtesy Ray Parker Jr
The Last Miles: Why did you choose the guitar and who were your musical influences?
Ray Parker Jr: I grew up playing the clarinet and the saxophone. The clarinet was my main instrument and, by the time I got to ten or eleven and got tall and started getting interested in girls, the clarinet didn't cut it! Also, I really didn't like blowing. My brother had a guitar and I started playing that. The guitar let you play more than one note at a time, which I thought was wonderful.
TLM: Were you influenced by any guitarists?
RPJ: I was looking at the Ed Sullivan show and they had The Loving Spoonful, and they showed John Sebastian with a white [Fender] Stratocaster plugged into an amp and I thought "Wow, I can plug it into an amplifier and drown out my friend who plays the drums! I want to play it!" For me, everything about the guitar was magical; you could put it around your neck, you could play it, you could sing with it – it just did anything.
TLM: Were you influenced by any style of guitar such as rock, jazz or funk?
RPJ: I liked them all – R 'n' B, disco – all of it.
TLM: You were obviously highly talented, because as a teenager you were doing sessions and working with professionals. You were also playing in clubs behind acts like Stevie Wonder and The Temptations.
RPJ: That was one of the blessings for me. [drummer, band leader, producer] Hamilton Bohannon was the [Twenty Grand Club] band leader. I was thirteen years old and he came down to my house and asked my mother if I could come down to the club. There were a lot of famous people in the band. Sometimes the Funk Brothers [Motown's house band] would be in it – [legendary bassist] James Jamerson would sit in a lot. Remember this wasn't a big deal to me at the time – he was just a buddy I played with every night! It's only in later years, you realise it was such a big deal! I tell people "Oh yeah, James Jamerson. I used to sit in his car and we'd hang out"! It was a wonderful place to play.
TLM: Did you get your musical training on the bandstand?
RPJ: Absolutely. I was formally trained in elementary school on the clarinet. My teacher taught me everything I needed to know – reading music, chords and other stuff. After that, I didn't need any further training.
TLM: You started working with Holland Dozier and Holland in session work when they left Motown to form their Invictus Label
RPJ: After they split from Motown, if you were a Motown musician, they didn't particularly want you playing for Holland Dozier and Holland, so that left that door wide open for me. I could go with HDH and do all of their records. That was my big break.
TLM: You got to be one of the biggest session guitarists on the scene. Talent is an obvious quality to reach this level, but I suspect there's a lot more you need as well.
RPJ: Besides just playing, I had a unique style of playing. Everybody on the West Coast was playing the "California Dreaming" kind of guitar with the volume pedal and sustain and that kind of stuff. Mine was more rhythmic – it had screams and pops and some other things. But, as I tell all young musicians just getting started, being on time really helps! And smiling really helps. If you're pleasant towards people and being creative and they [producer or artist] enjoy the experience, they'll want you back, and next thing, you're on everybody's record.
TLM: Did you find that when you went to sessions, producers would like you work out your own parts?
RPJ: Most of the time they would. They have the music so you have a road map to follow. A lot of the times I would read the chart and they'd say "We didn't call you to read the chart. Put some of that magic stuff on it – we want the extras!"
TLM: I've got to ask you about Boz Scaggs
RPJ: Boz Scaggs was wonderful and playing with people like [the late, great drummer] Jeff Porcaro was something else. And my first Gold record came from Boz Scaggs [for the album Down Two Then Left]. All those hit records I'd played on – I'd never got a gold record until then. I still have it today.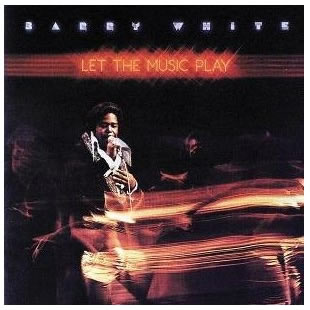 TLM: And Barry White
RPJ: He was one of my favourites. He was one of the nicest guys in the world. He was selling millions of records and I would just keep bugging him "I wanna write a song!" And finally, I wrote this instrumental song and he loved it! So I said, "Why don't you let me cut it with the band?" So he left home and let me cut it with the band. I took it over to his house and he listened to it and said "That's great, we're putting it on the album." So he did – it's called "Always Thinking Of You," and it's on the White Gold album. Later, we wrote a number together, "You See The Trouble With Me" [on the album Let The Music Play] and that was a big hit. Looking back on it, I was only nineteen. He didn't have to put one of my songs on his record – he was just being nice. And if you heard the form I gave him – he really didn't have to do that! He would always be nice to me. He saw I was a young kid, [who was] very energetic. He was a guy from the ghetto and he looked at me and thought "this is a guy who's trying to do something." I'd told him 'thank you' many times and I was so sad when he passed away.
TLM: You were making a great living as a session musician but that obviously wasn't enough, because you got into composition and became an artist in your own right. I think you once you said Stevie Wonder was a great help when it came to composition.
RPJ: That's putting it mildly! For a guy who taught me how to record, how to layer the tracks, how to write, put the arrangements down, as well as take me out of Detroit and put me on tour for the first time. I think we have to give a lot to him! My Dad was always disappointed that I didn't finish college and I said: "Dad. I was on the road with Steve Wonder for a year – that was college!"
TLM: What about the "Maybe your Baby" session for the Talking Book album?
RPJ: Stevie Wonder called and said "we're going on tour and I'm finishing off my new record, come on down and play guitar on this song." That was like a dream come true.
TLM: Later on you formed Raydio (one of the big hits they had was "Jack and Jill"), and then became a solo artist. Then of course, there was "Ghostbusters." I believe the film's producers auditioned something like sixty songs for the soundtrack title.
RPJ: It sounds easy now because you've heard the song. But if somebody told you to write a song with the word "Ghostbusters" in it, it's pretty difficult. That was the hard part – getting the title in the song.
TLM: You came up with a novel solution – getting your then girlfriend's friends to chant it out in the studio!
RPJ: That's right, I didn't think singing it was a good idea at all!
TLM: You also played almost every instrument on it and did most of the vocals.
RPJ: Yes, most of it's me.
TLM: Not only did you go from session musician, to composer to artist, you then got into engineering. I believe this was forced on you because you'd book sessions for late at night, because it was cheaper, but then find that the engineer would fall asleep on you!
RPJ: People say "why did you want to play all of the instruments and engineer it and do all the rest of the stuff?" I'd say it's not an ego thing, but in the beginning, I couldn't afford to pay somebody! But I didn't want be one of those people who'd say 'I wanted to have a demo tape, but somebody didn't do this, so I couldn't get it together.' People didn't want to hear that so, I had to do everything myself, at least in the beginning.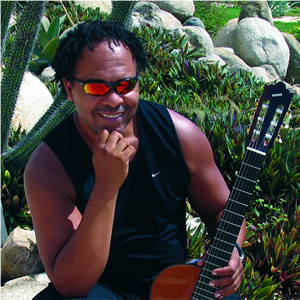 Ray Parker Jr © and courtesy Ray Parker Jr
TLM: You built a home studio with engineer Reggie Dozier
RPJ: We wired it ourselves. I had to give Reggie my colour TV to finish it! He was doing it for free, but it was a bigger job than he'd envisioned. He was looking at my new colour TV and saying, "this is a lot more work than I thought." Reggie just lived down the street so he was round mine all the time and we were sitting up late for weeks, soldering, putting all joints together and all kinds of stuff. So I said "Well, take my colour TV!" And we got it done.
TLM: Having your own studio must have liberated you in terms of recording
RPJ: Exactly. By then, I had written songs with a lot of people, Barry White, Chaka Khan and others. In order to get your record right, there's a lot of experimentation. So to be able to sit at home with your own studio and try out different ideas; that's it right there.
TLM: You also created Ameraycan studios, which was (and still is) a very successful operation.
RPJ: It came about when I was selling one of my houses and moving into a condo and needed somewhere to put the studio. So I built a small room in North Hollywood and it ended up being two SSL [Solid State Logic] rooms by the time I got done and I still ended up going home and recording! I rented that studio out and built another one at home. I had that place for about twenty years then I sold it to Paramount.
TLM: One of the artists who recorded there was Randy Hall. How did you two meet and what attracted him to you?
RPJ: Randy Hall was a talented guy. When he came from Chicago, he gave me a demo tape with about twenty songs and I loved all of them. I thought the lyrics and stuff were incredible. We got him a record deal on MCA. When I go on tour now, Randy Hall's playing with me. We're still friends and we still hang out.
TLM: During the sessions for Love You Like A Stranger, Miles asked Randy and [album co-producer] Zane Giles to work with him on his first album for Warner Bros. Were you around during those sessions?
RPJ: In those days, I was just changing from the Sony MCI consoles to the SSL consoles. Randy cut his stuff and it sounded great. Then he started cutting the Miles stuff. I loved Miles but I was working on something else. I invited the head of Warner Bros down to hear something I was doing and he forgot about what I was doing, because somebody came in and said "hey Miles Davis is in here!" I wasn't trying to do this, but he thought I was the most important guy in the world after that!
TLM: Any memorable moments with Miles?
RPJ: My best Miles story. When you're young and stupid, you're young and stupid. Miles liked to draw – he would always be drawing. One day he said: "Hey Ray, sit down, I wanna draw you." I think I was chasing some girl so I said: "I'll be right back. I've got to go the store or something." And I blew it off and he ended up dying without drawing me. He was going to draw me and hand it to me – how stupid is that?!!
TLM: They were very productive sessions and it was a different direction for Miles. Were you surprised that Warner Bros abandoned the album and released Tutu?
RPJ: I'm not surprised when record companies do anything! They do some crazy things! I don't know why it ended up like that, but I hope they've still got some of that stuff!
TLM: Did you ever listen to Miles?
RPJ: Everybody listened to Miles Davis. He was the musicians' musician. He was Mister Cool. He was who you aspired to be. Even if you don't want to play his music, you wanted to be cool like him.
TLM: Some people feel that during the 1980s, Miles was coasting musically. I don't agree. What's your take?
RPJ: I disagree with that too. He was just doing his thing. He was the kind of guy who did what he felt like doing. I'm down for that! I like that idea!
Many thanks to Ray for his time and to Barbara Shelley for her help. Ray's website is at www.rayparkerjr.com