In the summer of 1991, Miles Davis entered Unique Studios in New York to record his next album. No one knew that, within three months, Miles would be dead. The resulting posthumous album Doo-Bop was a mix of jazz and hip-hop, co-produced by Miles and Def Jam hip-hop artist Easy Mo Bee.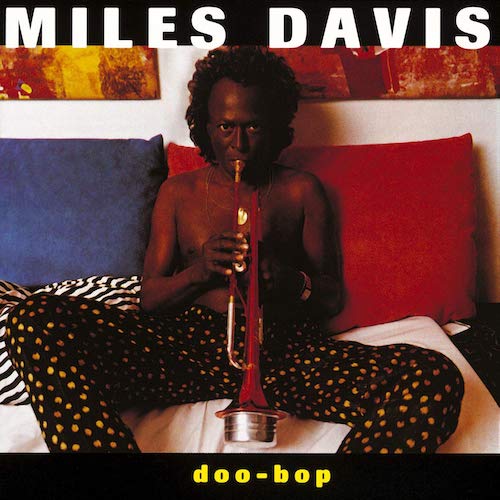 Doo-Bop
cover – The cover shot for
Doo-Bop
was taken by Annie Leibovitz
Michael Benabib is an American portrait photographer whose impressive client list includes David Bowie, Iggy Pop, Tupac Shakur and Keith Richards. Check out Michael's work here: michaelbenabib.com. In 1991, Michael was commissioned to photograph Miles in the studio with Easy Mo Bee, and one of his photos was used on the album artwork. Again, no one knew that this would be one of the last photo shoots that Miles did. The Last Miles talked to Michael about that day.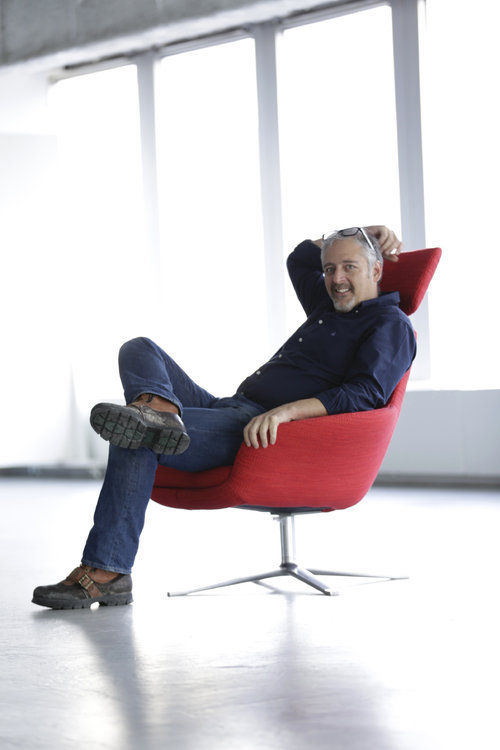 Michael Benabib – Celebrity photographer Michael Benabib © Michael Benabib
The Last Miles: How did you get the gig?
Michael Benabib: I was hired by Def Jam Records. I love Miles. I grew up listening to jazz and my father is a real big jazz fan. So when I got the job, the first thing I did was call him and he said, "Miles has a reputation of being difficult; I don't want you to be disappointed." Then I went to the shoot.
TLM: Can you tell us about your time in the studio?
MB: As a professional photographer, you never know how much cooperation you are going to get. As well as Miles, there was Easy Mo Bee, [rapper] Nikki D and [hip-hop producer] Sid Reynolds [Nikki D and Sid were also planning to work with Miles on some tracks]. I set-up my lights and I tried to take a picture that told a story by showing the board [the studio console] in the studio. Miles was great and was really interested in what I was doing. He asked about my technique; the camera I was using and he wanted to see all the Polaroids – he was just totally involved. It was a great experience for me.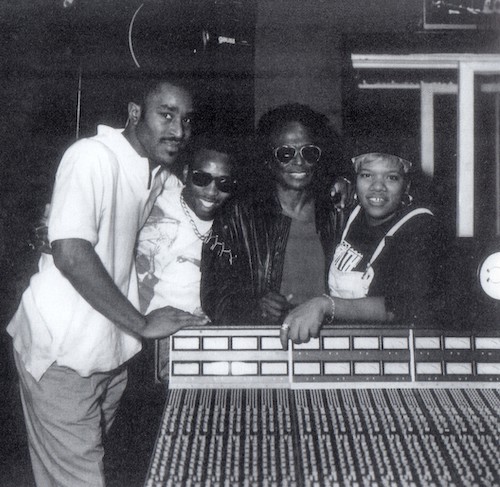 Miles at Unique – Michael Benabib took this shot of Easy Mo Bee, hip-hop producer Sid Reynolds and rapper Nikki D at Unique Studios. Notice the big smile on Miles' face! © Sid Reynolds
TLM: How long did the shoot last?
MB: In retrospect, I wish I had spent more time. I was a young photographer at the time and was so in awe that I tried to rush to take the pictures quickly, because I was thinking, 'time is so valuable.' I now realise that it's my job to take as many pictures as possible until they are sick of me, because that's the way I get the best pictures, if I spend as much time as possible. But at the time in my career, I was not as confident as I am now. I would say the shoot took around 25 minutes to half an hour.
TLM: How many shots did you take?
MB: I took maybe four or five rolls. I wish I still had the originals that I shot for Def Jam.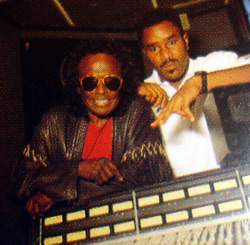 Easy Mo Bee/Miles Davis – This image of Miles and Easy Mo Bee in the studio was taken by Michael Benabib and used on the album's liner notes
TLM: Your photos were amongst some of the last pictures taken by Miles and certainly in a studio environment. Miles died soon after your shoot. Were you aware at the time how close to death he was?
MB: I had no idea he was so close to death.
Many thanks to Michael for sharing his memories of that shoot.