[An extract from a major interview by George Cole with Jo Gelbard in the April 2005 issue of Jazzwise].
Music had always been a major part of Miles Davis's life and the last year of his life was no exception. It was hectic period that revolved around playing, touring, and recording. And it was during this time that Miles toured the US and Europe and played two major retrospective concerts within two days in Montreux and Paris in July 1991. Miles also began recording a new album in New York that would include hip-hop tunes and Miles had so much material, that he wanted his next album to be a double one. The signs were of a man in a hurry, eager to cram in as much music into his life as he possibly could, and the reason for this was stark and simple: Miles knew he was living on borrowed time.
One person who was with Miles for almost all of this period was Jo Gelbard, an artist who had met Miles seven years earlier. Gelbard became Miles's art teacher, then his artistic collaborator and eventually, his companion. "I've met a woman whom I really feel comfortable with," said Miles about Gelbard, "she's a very nice loving woman who loves me for myself. We have a good time together."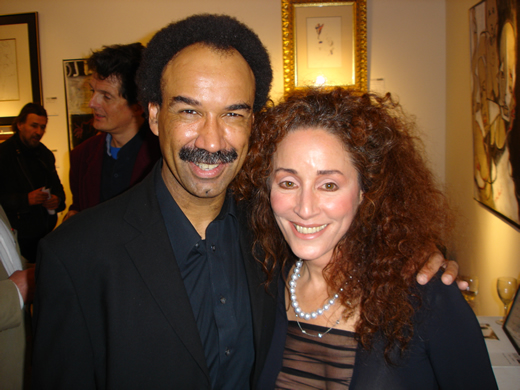 George Cole and Jo Gelbard
When Gelbard first met Miles in 1984, she was a 34-year old sculptor with a husband and seven-year old son. At the time, Miles was 58 and married to his third wife, the actress Cicely Tyson. "We lived in the same building on 5thAvenue. I met him in the elevator. He was on crutches – he had just had a hip operation," says Gelbard, "he heard I was a sculptor and came to my apartment to see my work and he liked it. He asked if I could teach him a few things about art – and other things! I said I that I doubted if I could teach him about anything actually – I was scared to death! I could barely speak."
She adds. "He was sketching and he asked me to help him. So I visited his apartment upstairs and I looked at his art and told him what I thought of it. I would give him verbal criticisms, which didn't really help him, and then one day he said 'I have no fucking idea what you're talking about, why don't you just fix the painting?' And I fixed it and actually it looked pretty good and that's how it started. Then he said "I like it better with both of us on it, let's try and do something.' And that's how it came about."
Miles and Gelbard would meet in his apartment to paint. Gelbard explains how they worked together. "We would take a canvas or a paper and somebody would do something – put down a colour, or a line or a face or whatever – and the next person would say – without actually saying it verbally, but by doing it – 'I think it needs this'. And the next would say, 'I don't know, maybe this would be better.' And it would just go on without speaking until it was done. We never really knew where it was going. A lot of the times, he would watch me and wouldn't feel the need to jump in until a certain point and vice-versa. So there are some paintings that are fully fifty/fifty of us and there are others that have more of one person."
But the artistic partnership did not begin smoothly. "The way Miles painted was not the way he played or the way he sketched. He was so minimal and light-handed in his sound, in his walk. His body was very light; he was a slight man, a delicate kind of guy. His sketches are light and airy and minimal, but when he took his brush and paint, he was deadly -he was like a child with paints in kindergarten. He would pour it on and mix it until it got too muddy and over-paint. He just loved the texture and the feel. It got all over his clothes and his hands and his hair and it was just fun for him – I think it tapped into the childish part of his brain. But it wasn't great art."
Gelbard met Miles at a low point in his life. "He was physically a mess. He'd had his hip replacement, he had gotten over pneumonia and he was weak. He didn't seem to have any great passion for anything – he was struggling to find his way. But if you fall in love with somebody, the birds come out in spring and you re-invent yourself – that's what happened. Miles fell in love very late in life."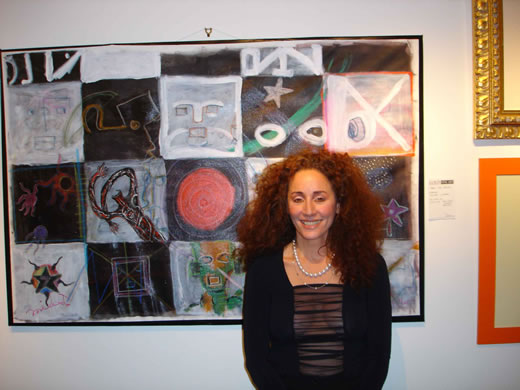 Jo Gelbard with one of her collaborative paintings with Miles
The relationship moved on from being an artistic collaboration as Gelbard found herself getting more drawn into Miles's life. "He kept giving me these projects to handle for him: decorate the apartment, pick out some clothes for the show, handle the money, until I became like his wife. It was not so much as, 'we're in love' but more 'we're not leaving each other'. You just fall deeper and deeper in each other's life until you can't get out."
Many people might think that being Miles's partner would involve a life of parties, receptions and other social events, but nothing could be further from the truth, says Gelbard. "He was reclusive, so no one was really around us at any time. It's not like we ran around partying. My relationship with Miles was in his apartment. The only time we went out was to take a limo to a store to buy clothes and then directly back. Or we'd to a gig, where he performed and then we went directly home. We were rarely away from his apartment. We were always cooking or painting and he had rarely had people around him, maybe his musicians and maybe his road manager. I was the middleman between him and the world. Even when he felt good, he just wanted to shut the world out and he was very successful at it."
There were times when Miles was violent towards Gelbard. "A lot of the violence in the last year was due to a lot of medication that he was taking. There was no question that in the last year of his life, he was dying – he knew it and I knew it. His choice in the last year of his life was to almost accelerate the process, because he worked tremendously. He was painting a lot, he did this whole tour, he was recording, so he made almost a conscious choice to live his life full pressure until it was no longer possible. He orchestrated the last year of his life to be full steam ahead, but it took a lot of pain killers and medication and that affected his mind and his emotions and consequently he became very violent and volatile, a little psychotic at times. But it was my choice. There was no way I was not going to spend the end of his life with him; I owed him too much; I loved him."
Miles's last year was very hard on him. "He had this great aura and he had this great macho sex appeal and he looked good until the end. That was the picture he wanted to portray and it worked for him, but that's not the reality. It was a struggle for Miles. It was such a bad year. He was an old, very fragile, very sick man who needed a lot of care and a lot of patience."
Miles played his last concert at the Hollywood Bowl on 25 August 1991. Soon after, he became sick and was taken into hospital by Gelbard, who remained with him until he died. Miles died on 28 September 1991, the official cause of death being a stroke, pneumonia and respiratory failure.
"He's always around," says Gelbard, "the people who die that you love – you just live with them. They don't die -they're just there all the time; they're on your shoulder. He's like that. He gave me my confidence and so he's always there saying 'fuck 'em!'"
Today, Gelbard is helping to run the family diamond business and she puts that down to Miles. "He changed me completely as a person. He gave me tremendous self-confidence, both as an artist and as a woman, because he believed in me. There is no greater validation than having Miles Davis believe in you creatively."
This is edited from a 5000-word interview that appeared in Jazzwise April 2005. In the full interview, Jo talks more about art and Miles, the prospect of marrying Miles, the 1991 Paris and Montreux concerts, Miles and hip-hop and the rumours surrounding Miles's death. Jo also provided photographs of her and Miles for the article. There are also two extracts from The Last Miles, which look at the musical relationship between Miles and Prince and the abandoned Rubberband album. For back issues and subscriptions information, go to www.jazzwise.com
Thanks to Jon Newey, editor, Jazzwise.