If you are a big fan of Miles Davis' electric period, you'll probably know that the first musician to play electric guitar with Miles was Joe Beck. You'll also probably be aware that the first electric guitarist to appear on a Miles Davis record was George Benson, although he was actually the third guitarist Miles used. So who was the second guitarist? The answer is: Bucky Pizzarelli.
On January 12 1968, Bucky joined forces with Miles' second great quintet that included, Wayne Shorter, Herbie Hancock, Ron Carter and Tony Williams, to record the calypso-tinged tune, "Fun." The track finally appeared on the Directions compilation album in 1981(although the guitar part was wrongly credited to Joe Beck).
John Paul "Bucky" Pizzarelli was born in 1926 in Paterson, New Jersey, and music seems to run through the family genes. His eldest son John is a guitarist and second son Martin, a bassist. His daughter Mary is a classical guitarist. Bucky has played with a Who's Who cast of artists and musicians that includes, Miles, Sinatra, Buddy Rich and Wes Montgomery. Today, Bucky is in his mid-80s and still wowing audiences at his gigs. TheLastMiles.com got a chance to chat to Bucky about his career and that Miles Davis session.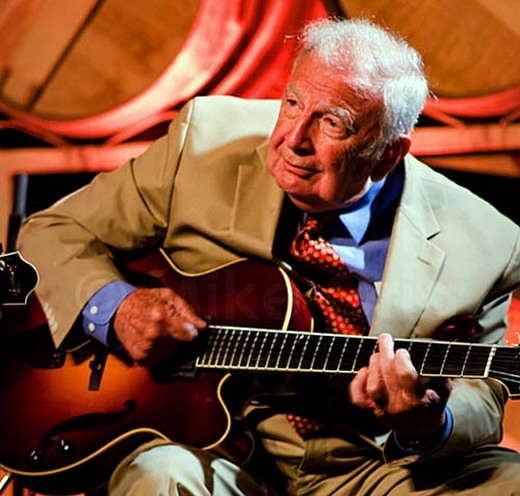 Bucky Pizzarelli. Photo by Mike Orla. Courtesy Benedetto Guitars
TheLastMiles.com: You grew up in a musical family and your uncle played guitar. Is this what attracted to you to the instrument?
Bucky Pizzarelli: One of my uncles [Bobby Dominick] played with a lot of big bands. It was during the depression here and he looked like a million dollars every time I saw him. He had a suit, a new car and he was picking up 50 bucks a week on the road with all his bands. It was with people like [trumpeter] Clyde McCoy, [trombonist] Buddy Rodgers and [pianist] Raymond Scott. He worked with Joe Mooney a lot too, the great accordion player. When I saw that, I said, "That's what I want to do."
TLM: How old where you when you first picked up a guitar?
BP: About nine.
TLM: Were you self-taught?
BP: My uncles Pete Dominick and Bobby Dominick taught me.
TLM: Where did the name Bucky come from?
BP: My father went to Texas when he was sixteen and he had a cowboy thing going, and when I was born later on, he called me "Buckskin." Everybody calls me Bucky.
TLM: Who were your main musical influences?
BP: Django Reinhardt and Freddie Green. The first time I heard a guy play the electric guitar it was Charlie Christian. I was playing acoustic guitar in those days. I didn't have an amplifier until I got out of high school! The funny thing is, that they worked on direct current and alternating current, and so if you plugged it into the wrong one you got a big shock! My uncles would say to me, "Listen this guy; listen to Benny Goodman and the guitar player. Listen to George Van Eps" – who was out in the west coast in those days – he was a great chordal player.
When I heard those guitars, I was so fascinated. It was either Django or George Van Eps, or another guy, George Barnes, who I became a partner of later on in the late 60s. He came from Chicago and we met in New York. He was on the staff at NBC when he was eighteen and I used to listen to him on the radio. I couldn't believe the way he played electric guitar. He came to New York in the 1950s and I did a few recordings with him, and with a group called The Three Suns: it was accordion, organ and guitar.
I got a staff job in New York [with NBC] and played with Kate Smith, a great singer. One day, The Three Suns were on as guests and the guitar player couldn't make it, so they asked me to join in. I wore his tuxedo and played everything I supposed to play! I went on the road with them for a while and got to play a little more than I usually did. And I said to myself, "I want to go back to New York and do studio work", which I did for about 12 years. One session after another; in those days, it was very busy.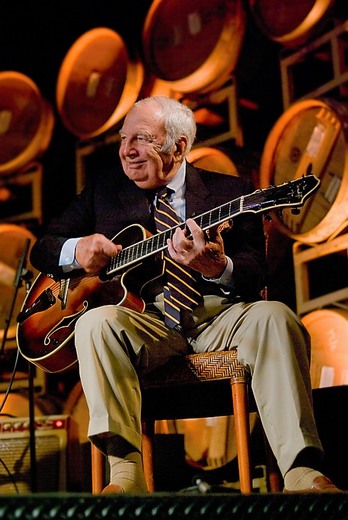 Bucky Pizzarelli. Photo by Mike Orla. Courtesy Benedetto Guitars
TLM: What makes a good guitarist?
BP: I think you have to know the history of the plectrum guitar. You have to go back to Eddie Laing and Carl Kress, and that's sort of the bible of the way to play the guitar. And George Van Eps and those chordal. guys were unbelievable players. They would play solos right into the mic without an amplifier. When you see what music they left for us to play, it's just incredible; they were like little operas. They'd have three or four sections: they'd play a romantic part, then it would go very frisky and then it goes back to the theme again; the different things that went on: they'd even change the tunings of the strings. It's something you need to have knowledge of in order to become a good guitar player.
TLM: What modern day guitarists impress you?
BP: There are a couple of young guys, Frank Vignola and Howard Alden. They are exponents of all those guys I mentioned, and then they do their own things. Frank, for example, sounds like Django Reinhardt, and Howard Alden recorded with George Van Eps. It's just incredible the way they know the repertoire.
TLM: George Van Eps influenced you with the 7-string guitar
BP: That was in the late 50s. He came up with this mellow guitar album that just floored everybody. I listened to it with some of the best guitar players in New York at the time, people like Tony Mottola. We all marvelled at it. We went down to see George Van Eps demonstrate a new 7-string guitar that was made by Gretsch and in the evening, he played in a night club, which I think was in the Empire State Building. We all went down to see him, Tony Mottola, Art Ryerson and others. After we heard him play, we all went to Manny's music store in 48th street and I think we cleaned out their entire stock of seven-string guitars!
TLM: What appealed to you about the seven-string guitar?
BP: It gives it in a new dimension. You can play in all the keys properly, which you can't do with 6-string, because you have to depend on the open and closed strings.
TLM: Your first professional gig was at seventeen and with the Vaughn Monroe dance band
BP: I just played rhythm and a few solos, and riff things with the reed section. It was a good experience and I learnt how to play. We had some great musicians in the band like [trumpeter] Frank Ryerson who co-wrote "Blue Champagne," and we had a great arranger Don Costa who later arranged for Frank Sinatra. There was also Richard Hayman, a great harmonica player who had a big hit with "Ruby".
TLM: Your playing career was interrupted by military service
BP: I got drafted out of the band and went to Europe for the last four months of the [Second World] war. I was with the 86th Division, The Black Hawks. We started in Cologne and then went all the way to Salzburg, Austria. Then they sent me to the Philippines, where I spent nine months doing nothing! But I did the play the guitar a lot there.
TLM: You became a staff musician at NBC in 1952
BP: When I worked with Vaughn Monroe's band we used to supplement our violin section with six more violins for the radio show every week. Fortunately, all those violinists were contractors – you hire me and I'll hire you! I happened to meet one of them on the street one day and he said "Hey, they're looking for a guitar player for the Kate Smith Show. Go up and see this guy called Roy Shield," who happened to be the contractor for NBC. And so, on his say-so, they gave me the job! I had a five-day-a-week job for a whole year, so it was great. We had a great band and when the band broke up; I didn't know what I was going to do with my life. You know how it is, you get used to one thing and then all of a sudden it's gone and you've got to go down a different street.
TLM: What happened between left NBC and joining The Tonight Show in 1964?
BP: When I left NBC, I joined The Three Suns and after two years I decided I didn't want to leave New York, so I started doing recording sessions. I worked with everybody; Dion & the Belmonts, whose first four records sold a million copies – "A Teenager in Love," was one of them. That's how I got to meet all the great guitarists, people like Barry Galbraith and George Barnes. Most of the big guys played the lead chair. So I watched them in action and then stole everything!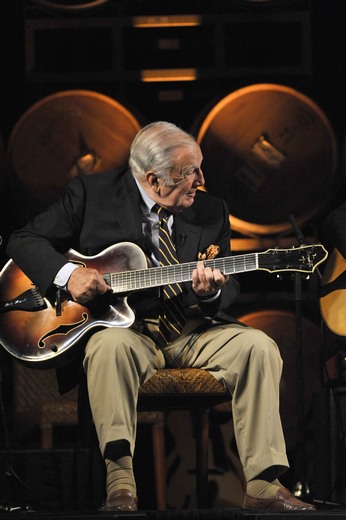 Bucky Pizzarelli. Photo by John Brackett. Courtesy Benedetto Guitars
TLM: As you've said, you got a lot of experience on the session scene. What's the art of being a good session player?
BP: I did most of my sessions on rhythm guitar and there's a certain way to do that. I learnt from Barry Galbraith and Freddie Green and Allan Reuss When I heard them play, there was something different going on and I thought, "I've got to find out what it is!" That's why they were working all the time, because when you heard a bass hit the first note and the guitar hit the afterbeat – that was magic when it worked right: when it was done correctly. That always impressed me and that's the most important thing on a record. If you listen to a Frank Sinatra record you hear that "boom-ching, boom-ching" and it's so perfect. It makes everything happen and if you don't play the guitar correctly, you can ruin the whole record!
TLM: You've played with an impressive roster of artists: Buddy Rich, Stéphane Grappelli, Benny Goodman, Dizzy Gillespie, Wes Montgomery, Les Paul, Duke Ellington, Sinatra, Tony Bennett
BP: It was always a pleasure to play for Tony Bennett or Frank Sinatra, because you knew the music was great and you didn't have to play any gimmick. When you played the rock 'n' roll thing, you had to come up with some kind of a hook. That's how all these rock guys got the gig – the drummer would come with a certain lick, "Oh leave that in," you had to come up with something. When you did a record date, with someone like Sinatra, it was all written out; the chords were right there – all you had to do was play it correctly. That's what made it nice.
While I was doing the studio work, George Barnes and I teamed up together and when I got my 7-string, we ended up playing all over New York; little upstairs clubs and places like that. We ended up playing a whole year at the St Regis Hotel. I recorded Californian Dreaming with Wes Montgomery – he was fantastic. I've played a few concerts with George Benson and Les Paul. Les used to pop around to our house and we'd play together, Nobody knows that Les Paul was an expert on the acoustic guitar – he could talk to you for hours about the acoustic guitar.
TLM: I've got to ask you about Duke Ellington and Buddy Rich
BP: It was Duke's birthday and they were celebrating his birthday in every night club all over New York. George [Barnes] and I were playing at the Playboy Club and Duke walks in. I think this was around 1970-71. And the next moment, were sitting in Duke's apartment and he's sitting on a big couch and we're playing right in front of him, with nothing but a little coffee table between us! We played everything we knew – our repertoire included a lot of Ellington. We were there about an hour and half and just before we left, he said, "I want to sing with you guys." And he sang the blues; he sang about 24 choruses and made up the lyrics as we were playing! It was incredible!
When George and I split up, I started playing alone in a club, the Sorabaja. [Saxophonist] Zoot Sims used to come in, because he lived close by, and used to sit in. The boss liked duos so we used to play together. A producer called Sonny Lester came in and said, "I want to make a record with you guys." We went to the studio the next morning, and who's sitting in the studio – Buddy Rich and Milt Hinton playing the bass. We weren't going to send these guys home! We were going to do a duet, but we ended up making a nice record with Buddy Rich [the album is called Somebody Loves Me].
Buddy sang, "Gee Baby, Ain't I Good To You" and Zoot sang it too. I played with Buddy and Benny Goodman at The White House for President Reagan. I also played for Bill Clinton. They were great gigs. The first time with Reagan [in 1982], it was the Benny Goodman Quartet, with Milt Hinton and Hank Jones on piano. Buddy played the drums. I think Buddy and Benny only made one record together, because Benny's favourite drummer was Gene Krupa! It was incredible. President Reagan was flipping out! Sinatra was there with his guitar player Tony Mottola; they wanted two guitar players, one for Frank, and one for Perry Como. The guest of honour was the President of Italy, so we all got up and played "Santa Lucia", an Italian song. That was incredible.
With Clinton [in 1998], I played with [Claude] Fiddler Williams, who had played guitar with Count Basie. He was a great violin player too. He played like Charlie Christian – in fact, he taught him. We put a lot of gigs together around New York. He was great. Clinton was a tenor player and our mutual friend was Zoot Sims.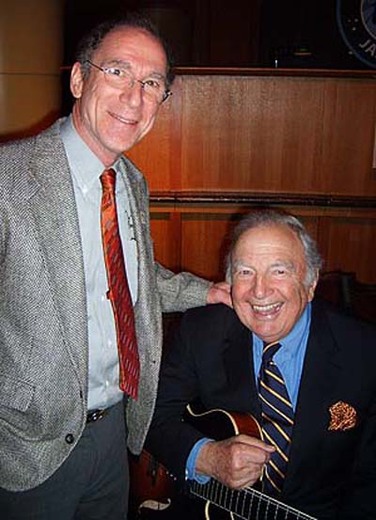 Robert Benedetto and Bucky Pizzarelli. Photo by Cindy Benedetto.
Courtesy Benedetto Guitars
TLM: Going back to January 1968 and the session with Miles Davis
BP: It was just a session for me. We did so many dates that it didn't register with me! Teo [Macero] was the producer and he knew me from all the sessions I'd done at Columbia Records. I was down there a lot for the Mitch Miller shows and Teo knew Mitch. They had a little part for me and then we played. We did it so many times, I was bleary! The band was there. Miles was there, but he didn't play – he played just a few notes. We made tracks and he played along with them later on. I was intrigued by the fact that Miles was using guitar, because I knew he was one of the greatest trumpet players around.
TLM: Did you listen to Miles' music?
BP: I heard Miles' do the Aranjuez Concierto, which he called Sketches of Spain, but I heard the great English guitar player Julian Bream do it and when you hear that — there's nothing left! That's the way you play that song! So Gil Evans got it and started improvising and he wrote some chords, and Miles is playing all around it. It was a big hit for Miles, but when you hear the original…
TLM: You come from, and now have, an incredible family of musicians.
BP: We were fortunate, because we had Benny Goodman come over to our house and the kids would play with them, and they'd play at his house. [Bassist] Slam Stuart used to stay at our house, so he was showing Martin a few things on a bass that we had in the house. I think Martin got a lot of things from Slam.
TLM: Can you tell us a little about the development by Robert Benedetto of your custom 7-seven string?
BP: I played down at Disney World and Bob was in the audience one night. I had my Gretsch and in those days, they hadn't taken all the bugs out of it. It was a good instrument, but this wasn't right; that wasn't right. So Bob made me a 7-string and sent it to me without even telling me. So, we started taking the bugs out of his guitar! And that's how we came up with what I'm playing today. I use La Bella strings – Nylon Tapewound – metal strings wrapped with nylon tape, so you don't hear any noise from the metal grooves – when you slide from one to another, there's no sound at all. I still have the old guitars that I played rhythm on, which are special. When I do a date with a big orchestra, I'll take an old Epiphone or D'Angelico, but if I'm soloing, I use the Benedetto.
TLM: I hear you never take your own amp on the road!
BP: You can't take it on the road, unless you drive somewhere. If you get on a plane, that thing is a mess by the time you get somewhere! Amps don't mean anything to me – I'm playing the jazz cat now. I like the old amps with the tubes – you get a nice ring. I never use effects pedals. I start by turning off all the dials on the amp and turning the volume up -and that's it!
TLM: You've seen a lot of changes in the music scene
BP: When I listen to the television and hear a studio band, I couldn't play one note with any of those bands! They've changed the whole style around! They don't compete with us – they just changed the whole thing around. Guitar players – it's mostly effects. Guitars in the hands of these kids today are weapons!
TLM: How have you managed to continue to play for so long and so well?
BP: Every day I get up and I try to correct what I screwed up the night before! That's my theory. I prepare for the next time. I'm playing mostly live dates now and that's a big thrill, because that's the ultimate – to be in front of people.
Many thanks to Bucky, who is one of the warmest people I've ever had the pleasure to interview. Thanks also to Cindy Benedetto for the great photos. Check out the Benedetto Guitars site www.benedettoguitars.com