New York-born Bashiri Johnson is one of the leading percussionists on the scene, having worked with many artists including, Madonna, Bob Dylan, Luther Vandross, George Benson, Donald Fagen, Roberta Flack, Al Jarreau and Scritti Politti. He also played on the title track of Miles's album Amandla. In this exclusive interview, Bashiri talks about what it was like working on a Miles session, Miles as a musician and inspiration, life as a session musician and why it's important to embrace new music technology.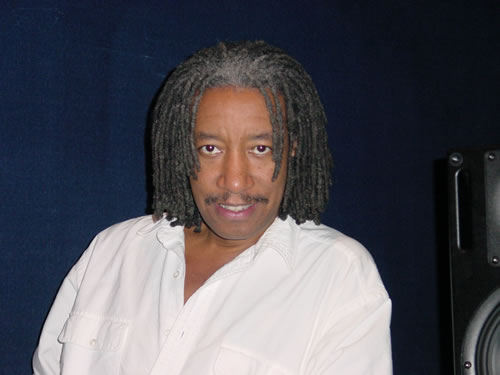 © and courtesy Bashiri Johnson
The Last Miles: Can you tell us a little about your background?
Bashiri Johnson: I was born 5/12/55 in Brooklyn, New York. I played percussion because it was peer thing out of high school! I think I had it in me to be a musician and a percussionist – I think it was ingrained in my DNA – but it didn't actually reveal itself until I went to high school. I went to John Dewey High School in Coney Island, Brooklyn. I started hanging out with guys who were good at sports – I was pretty good at sport myself, I was in the track team. I was in this group called The Leaders Group, which was composed of the best athletes. The majority of the guys I was hanging out with were in a band – drummer, bass player – I went to high school with [bassist] Tom Barney, who did some work with Miles.
[Director] Spike Lee also went to John Dewey High School. The guys were rehearsing and I didn't want to be kept out of that mix! So I said "No one's playing percussion," so I started playing the congas and joined the band. After banging around on the drums for a while, I started getting serious, so I started taking lessons. Some of the first lessons were with [Nigerian percussionist Babatunde] Olatunji at his Dance Theater in Harlem. I took some lessons at Jazzmobile , which used to give free lessons. I also studied at the Dance Theater of Harlem – they had a dance/drum programme. Then I started to look for someone who could help me play in bands. I used to practice at my mom and dad's home by playing to the radio. I'd flip the channels and find some music that I could play percussion to. So my mentors were the recorded percussionists that had played on albums, people like Ralph MacDonald. I would first emulate his parts and then make up my own parts as if I was the percussionist hired to play. Practising like that got me into being a real session player.
TLM: You also studied with Mtume [percussionist in Miles's band from 1971-75].
BJ: The first person I asked was Bill Summers [percussionist with Herbie Hancock's band] but he was in the West Coast so it couldn't work out. But I spent three years studying with Mtume. I snuck backstage at a Miles Davis concert – it must have been around 1975 – and I said "Do you give lessons?" He said "no" so I asked if I could hang out with him and he invited me to his house and that began my three years stay with him, all while he was writing and producing hits Roberta Flack and Donny Hathaway. My first professional record was on Stephanie Mills' "What Cha Gonna Do With My Lovin'?" That was my first Gold record too.
TLM: That got you started on the recording session scene.
BJ: I started to play gigs and get known as a session guy and people just started calling.
TLM: You once said that one of the things that helped you get so many sessions was your versatility.
BJ: It's helped me a lot. What I've noticed is that people call me when they're not looking for something specific. If they want a traditional tabla part, they'll call a tabla player and work it out with them to get exactly what they need. But I think people call me because they have a broad stroke idea that they want to have percussion that sounds a certain way on their record and they know that I will give them that broad stroke of percussion. I'll cover the things that they need and I'll bring my level of expertise to the project. During the 80s and 90s I worked with a lot of producers that would just leave me in the room [recording studio] to record and they would be on the phone! Then they'd come back and say "That's great, thanks – see you!" And that level of trust and sense of security that I'm going to give them what they need was really cool. It helped to build up my production chops because learning how to compose and produce percussion parts for people's records helepd me to grow into writing and producing my own projects, so it was a good training ground for me.
TLM: But when you're given so much freedom, it must be hard to resist the tempation to over-play?
BJ: I have to give it to people like Ralph MacDonald and Paulinho DaCosta, who I was listening to and studying, so I had a good framework to build on. Bill Summers was another of my favourites and Airto was my absolute favourite – I wanted to be him! I loved what he would do on records. So listening to him and other top guys helped me to formulate my own sound. You have to emulate first before you can innovate.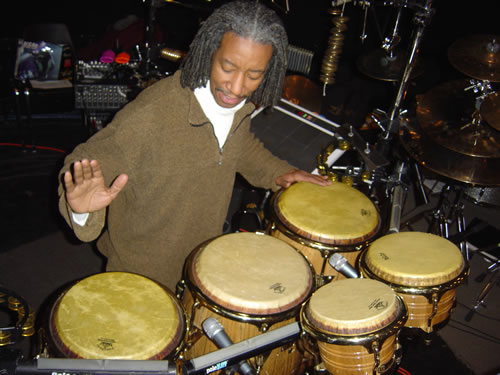 © and courtesy Bashiri Johnson
TLM: I must ask you about one of your early sessions and that was the late Luther Vandross's great album Never Too Much.
BJ: That was a great session. I remember it was the old Media Sound [studio] on 57th Street. That was a great room for recording. On that record my choice was to play some hand-held percussion but that wasn't sounding that great and [bassist] Marcus [Miller] said "play congas" and that's when I came up with that part on that record, which for me is a very innovative part, because it's not a typcial Latin Mambo part that you would play. Working on that record helped pave the way for a lot of future work. That was a great sesssion because there were great musicans there like [guitarist] George Wadenius, [drummer] Buddy Williams and of course Marcus. We did the rhythm tracks in like two takes and then Luther came in and in one take did the lead vocal – it was amazing. We all knew that something special and magical was happening after he sang his vocal on that track.
TLM: During your time with Mtume, did you get to meet Miles?
BJ: No. Because Mtume had just evolved into producing his own stuff and working on his own stuff. I think I caught Mtume during the tail end of his stint with Miles. My first time meeting Miles was when I was working live with Roberta Flack, some time in the 80s. She opened for Miles and I walked past Miles' dressing room and that's where I got to see him and met him – it was very brief!
TLM: Tell us about the Amandla sessions.
BJ: Marcus called me for that. He said he was producing this track for Miles's record and he wanted me to come in and play this track with [the late, great percussionist] Don Alias. [drummer] Omar [Hakim] was on that session too. So Marcus said "I want you to come in and play with these guys." I went to the [Right Track] studio and I had my set-up. I was there to do colours and flurries and light grooves and Don was doing more like drum stuff. Omar was playing traps.
TLM: So the three of you were in the studio together laying down the track?
BJ: Yes, we all played together. Marcus would run the track down and kinda tweak things. He'd say things like "I really need you to do this here and this there, and kinda change this," and so Marcus would mould it into what was working best for the track. That was it. We finished and afterwards, we listened down and we were all really happy. And Marcus was left to mix it and work it into what we know of today.
TLM: [Guitarist] Steve Khan recalls seeing you on that session.
BJ: Yes, Steve's a cool guy and a great player. Everybody who worked on that music got along really well. I think Khan basically had a rhythm track and kinda played live to it, to give it life and feel. That was a really cool session. We all just excited and jazzed over the fact that we were contributing and playing on a Miles Davis project. For most musicians coming up in my era, playing on a recording with Miles Davis was the epitome of reaching creative success. It was the point where you could say "I have arrived. The acceptance by my peers is unquestioned." You could use it as a professionalism calling card!
TLM: What made Miles so special?
BJ: Miles commanded the highest level of creativity of talent from you. He expected you to pour beyond your capabilities into his music. That why a lot of people found gifts they had working through Miles, because he was able to bring out people things that they would not normally tap into. People like Herbie Hancock, Keith Jarrett, Tony Williams, Mtume and Reggie Lucas – in fact, all the people Miles played with – somehow he was able to charge their inner talent. He somehow pushed that button to turn it on and, after leaving Miles, they were in a whole other level of performance and creativity. Even for us who did not work with Miles directly would practice hard to try and tap into that element of heightened creativity that we thought we could bring to a situation where we might work with Miles. We were always trying to better ourselves to be able to work with Miles Davis. It's different today. Today, I don't feel you have people who are trying to achieve that ultimate in personal creativity or expression, because I don't think they have an outlet like a Miles Davis to work with. You do have people like Prince, who is perhaps the ultimate that many people would strive to work with. But you don't have someone like Miles, who was breaking the boundaries between genres and fusing things together. It would be nice if we had that sort of element in today's music.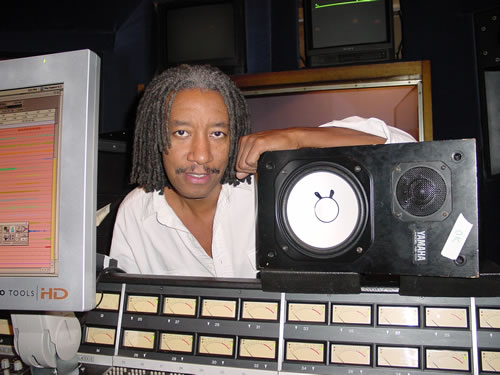 © and courtesy Bashiri Johnson
TLM: What was your reaction when you heard Amandla?
BJ: I was very proud and pleased. I thought "Now, I'm definitely a session guy!" All of the stuff I've done is fantastic and I'm really proud and appreciative for all the sessions I've done, but working with Miles Davis was the ultimate.
TLM: Where there any particular Miles bands, albums or musical periods that influenced you?
BJ: I loved the band with [tabla player and percussionist] Badal Roy and Don Alias. The grooves there were really happening. And of course, I loved all of the stuff Mtume did. One of my favourite records is the On The Corner album. But I loved all the periods – I loved Jack Johnson, Kind of Blue, Agharta. Even "Time After Time."
TLM: Some people felt that Miles was basically playing pop tunes in the 1980s. What are your feelings about this period of Miles's music?
BJ: I think that was a period where he was expressing himself through the genre of pop. He was putting his voice on top of the times. He wasn't trying to re-make anything as more re-inventing himself in that genre of music. That was a time where Miles was continuing to express himself using younger musicians and experimenting with sounds. He was still pushing the envelope. People still loved and respected Miles and wanted to work with him and hear what he had to say and what he had to bring to his playing. People still wanted to play and to grow with Miles. So for me, that was still a great period.
TLM: During the 1980s, Miles appeared on the Scritti Politti album Provision, playing on "Oh Patti." You also played on that record. What your memories of that album?
BJ: I was really impressed with Green [Gartside] and David Gamson. They were the epitome of microscopic producers. David Gamson would have me playing a shaker part for sixteen/thirty-two bars and then he'd tell me to take a break. Then they would dissect that part, trying to find the absolute perfect two or four bars and then use that as the basis for the song. So I would be in the lounge chilling for an hour while they dissected parts I'd played. Then I would go back in and do some overdubs and of course I would have to perform it until the feel absolutely worked perfectly. I really liked working with those guys because it helped me to hone in on a certain level of exactness in my playing -it was good for me to have that. There were few situations when working for certain people where that level of exactness had to be performed. I remember working for [the late singer/producer] Dan Hartman who was also looking for the same thing. It helped me to grow and the music Gartside and Gamson working on at the time was fantastic – the grooves were so solid, the sound was so tight and the mixes were incredible. Working with Scritti Politti was just an extension of working with Miles Davis; they were great sessions.
TLM: In the 1980s, more and more technology came into the studios and there was lots more sampling. Has that made it more challenging for the life of a session musician? Have producers been more tempted to use samples or a computer to create sounds rather than a human being?
BJ: For me, it wasn't a challenge at all. I just gravitated and evolved with what was happening. Early on in my career, I decided that I was going to continue to work and I wanted to do more sessions than anyone else! It was young ego at the time, but I also wanted to have a sound and leave a legacy behind. I was not intimidated by the onset of samplers and drum machines. I remember I would talk to other drummers and percussionists and they would say "Hey man, what do you think about this Linn 1200 drum [machine]?" And I'd say: "I got one and I'm learning how to program it!" That was my attitude. There were some guys who refused to get into drum machines and their work suffered because of that choice. But I knew that that was the wave of the future. And it's the same now: I'm not going to be intimidated by changes within the music industry or the fact that there's a lot more sampled music that has become the norm for records and music production. If that's going to be the movement then I'm going to move with things. That's why I made my first sample library [Supreme Beats], which was distributed by Spectrasonics
That was a highly acclaimed and my inspiration for doing that library was that there were a lot of producers and engineers who were putting out sample library products, so I thought "If engineers and producers are going to put out sampled music, what are we musicians going to do?" I decided to put together a sample library of percussion sounds that I would play on along with some of my peers. Another hugely successful sample library I put out was Ethno-Techno with Ilio which was my own entry into effected sounds and the grooves from that are from other worldly places and my imagination. I hear the stuff all the time in films and commercials. So I was not intimidated by sampling music – it was my calling to be an innovator. I said "I'm not going to be defeated by it; I'm going to try and master it."
TLM: What are you doing today?
BJ: I have a studio, The Lab, in Brooklyn. I'm working on a record for myself, which is a collaboration between me and my music and an artist who does neo-primitive ceramic work. So his art is inspiring my music and my music is inspiring his art. The project is called "Art Rhythm" and I'm also producing a record for Papa Suso, he's a kora player from The Gambia. And I'm also doing a children's project that I'm putting out on my own label. So yeah, I'm busy!
Many thanks to Bashiri for his time. Check out his website: www.bashirijohnson.com