The first in a series which looks at the short-lived bands Miles had in the 1980s.
In March 1986, Miles toured the US with a band that played less than a handful of known gigs – in fact, only three have been documented. But this band was highly significant, because it marked the first time material from Miles' forthcoming Tutu album was played live – some six months before the album was officially released.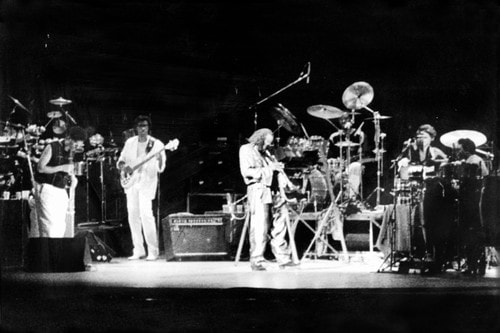 I've never found a photograph of this band and the nearest one to it is this one, kindly supplied by Vince Wilburn Jr. It features Stern's successor, guitarist Robben Ford, plus the remaining eight members of the group
The Band
This was one of Miles' largest bands, a nonet that included two keyboardists and two percussionists. The band members were:
You can find further information about each band member in our profiles section.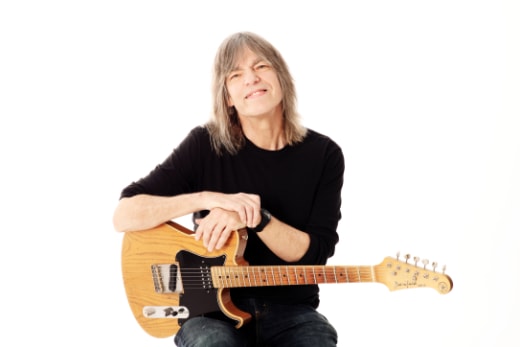 Mike Stern by Sandrine Lee
A Few Band Facts
This band had a strong Chicago connection. Three of its members – Felton Crews, Robert Irving III and Vince Wilburn Jr had been part of a band called AL7, which Miles brought to New York from Chicago in 1980 to record material for his comeback album. Two of the tracks they composed and recorded, "Shout", and "The Man With The Horn", appeared on The Man With The Horn album. A fourth member of the band, Randy Hall, never played live with Miles, although this band would rehearse and perform a number of songs that Hall either co-composed or co-produced for the Rubberband album. Felton Crews was one of a long line of bassists from Chicago, who played with Miles in the 1980s. Crews had replaced Chicagoan Angus Thomas, who in turn had succeeded fellow Chicagoan Darryl Jones. In 1990, another bassist from Chicago – Richard Patterson – would join Miles' band. All members of the March 1986 band appear on the 2019 album Rubberband.
The Repertoire
This was a fascinating period to be playing with Miles, because he had effectively recorded two new albums in the previous few months – Rubberband and Tutu, and many tunes from these sessions would be played live. It must also have been challenging learning the new material in such a short time. Band rehearsals took place in a New York studio in mid-March 1986, at the same time Miles was still recording Tutu.
The tunes the band rehearsed included "Tutu", "Burn", "Perfect Way", "Al Jarreau" (alternative title for "I Love What We Make Together"), "Carnival Time", "Portia" and "Splatch". Intriguingly, two other tunes were also rehearsed, "Backyard Ritual", which was composed by George Duke and appears on Tutu, and "No Time For Showtime", composed by Randy Hall and Zane Giles for the Rubberband album. This track was written with Chaka Khan in mind although only a demo track featuring a good vocal performance by the late Vesta Williams was ever recorded (it did not appear on the 2019 Rubberband album). Miles never played "Backyard Ritual" or "No Time For Showtime" in concert, which is a shame, because the band produced smoking versions of both songs – one version of "No Time For Showtime" features some scorching sax from Bob Berg.
The band played the following tunes live:
"Star People" – from Star People
"One Phone Call/Street Scenes"/"Human Nature"/"Time After Time" – from You're Under Arrest
"Carnival Time"/"Wrinkle"/"Al Jarreau"/"Rubberband" – from Rubberband
"Tutu"/"Portia"/"Splatch"/"Tomaas" – from Tutu
"Burn" – from The Man With The Horn sessions
"Maze" – from the 1985 Warner Bros sessions
"Hopscotch"/"Stronger Than Before" – unrecorded tunes
Note that the repertoire varied for each performance, and some tunes would be dropped or added on the night.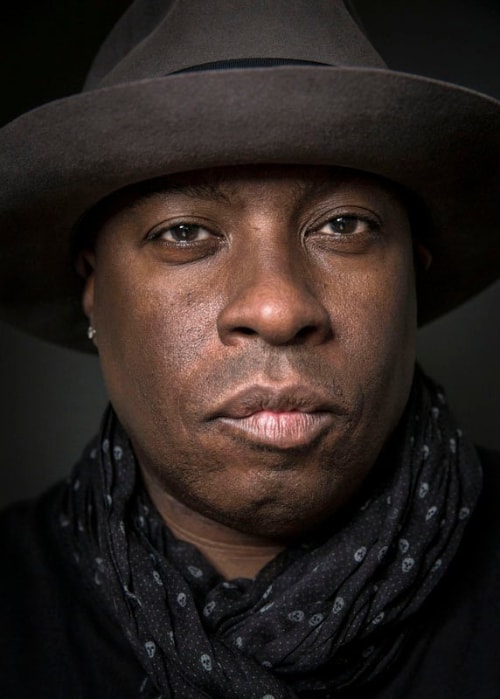 Vince Wilburn Jr © milesdavis.com
The Band Live
As far as is known the band only played together several times – on 21 March 1986 at the Opera House, Boston, Mass (two sets); on 22 March 1986, at the Lehman Centre, City University of New York, New York, and on 23 March 1986 at The Ohio Theatre in Columbus, Ohio. It's a shame, because the dynamics of the band was superb. As Felton Crews recalls, "That was a great unit; I loved playing with those musicians." Crews and Wilburn Jr formed a formidable rhythm section, with playing that was right in the pocket; Stern and Berg were outstanding at both comping and soloing, and the two of them really gelled. So much so, that after leaving Miles' band, they would regularly play on each other's albums and tour together (I saw them once in London, with Dennis Chambers on drums – it was a terrific night). Sadly, the partnership was cut short by Berg's death in a traffic accident in 2002.
Going back to the band, the two percussionists, Thornton and Mazur, created an exciting blizzard of cross-rhythms and polyrhythms that added to the sound. Although Irving III and Holzman didn't solo at this stage (in later bands, they would get the opportunity to strap on a portable keyboard and solo at the front of the stage), their impact on the sound cannot be overstated, creating atmospheric tones and colours or producing dramatic soundscapes. Last but not least, Miles was in fine form, playing strongly, often without a mute and for long stretches of time.
This was a high-energy band, which blazed out of the traps with a storming version of "One Phone Call/Street Scenes", and included a white-hot performance of "Burn", with Stern's screaming guitar and Berg's blistering sax to the fore. "Hopscotch" included percussion solo slots for Mazur and Thornton, as well as an all-too short solo from Crews, with super-fast playing, thumped strings and some slap bass. But there also many melodic moments, including moving versions of "Portia", and "Time After Time". If a compilation album or boxed set of Miles' 1980s live performances is ever released, this band should definitely be included.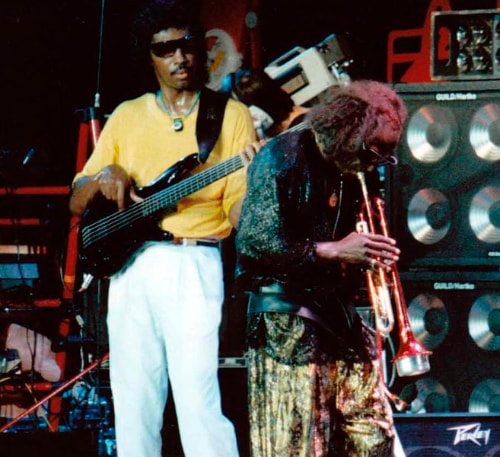 Felton Crews and Miles
Bassist Felton Crews recalls what it was like playing in the 1986 band
The Last Miles: The band was almost a reunion of AL7! What was it like playing with Vince and Baabe again?
Felton Crews: It was always good playing with Vince and Baabe, so yes it was like a reunion of sorts. But our roles were much different being members of the Miles band, because in AL7 the guys wrote music, which was a mixed bag of flavours (such as funk, R&B, rock, and soul pop). With Miles, the soundscape was so spacious, and the freedom of expression allowed us to approach the music in such a uninhibited creative manner, in ways that weren't possible in the many other bands I'd played in. It was a great opportunity to apply one's self-governing music awareness skills. Miles was great at being non-intrusive with a musician's creative input.
TLM: Can you recall when you were asked to join the band and your reaction to being asked?
FC: Well I can certainly recall when the subject of my touring with Miles was first brought up. We were in California recording Randy Hall's second album Love You Like A Stranger at Ray Parker's studio on Lankershim Blvd [in Los Angeles]. We were also tracking songs for the recently released Miles Davis Rubberband album. During the session, while I was listening to a playback, Miles ask me if I wanted to tour with him, and of course I said I'd love to. This was in the summer months [of 1985]. A few months went by, and I finally got the call from Vince or Baabe letting me know that Miles was ready for me to come aboard. They sent the rehearsal tapes in December or January for me to check out, and my first dates were in March of 1986, in Boston, Cleveland, and Ohio.
TLM: Can you recall the first time you met Miles?
FC: I first met Miles in 1979 in New York at his home, when we were flown out by Columbia Records to record The Man With The Horn album. The guys had formed AL7 long before I joined the group, so they had a prior relationship with Miles, through Vince Wilburn (Miles Davis's nephew), so my first meeting was at that time, and I found him quite welcoming.
TLM: The 1986 band was a nonet, which included two keyboardists and two percussionists – what was it like playing with such a large ensemble?
FC: I loved playing with that group, because Baabe and Adam provided so much colour to the music it felt like I was playing with many more musicians, and I appreciated the challenge of filling any leftover holes in the syncopated rhythms played by Vince, Steve and Marilyn – it was like a machine with many moving parts working in syncopation.
TLM: How did Miles direct so many players during a concert?
FC: That was the amazing part of it – Miles gave very little direction, except for sending someone upfront to solo. I felt like everyone knew what their roles were, so we didn't require a lot of direction: just use your ears, and self -govern thy self.
TLM: This was the first band to play songs from the Tutu album (which wouldn't be released for another six months) – can you recall your reaction when you first saw the arrangements and heard the rough mixes? Where you surprised by the new direction in Miles' music?
FC: I wasn't surprised at the direction of Tutu, because we understood while recording The Man With The Horn a few years earlier that Miles was returning after his time away from touring, and recording with an enthusiastically predetermined vision that he wanted to proceed in new directions, he told me "I don't want to play any of those old songs". I was surprised and amazed at how Marcus Miller was able to capture the character and personality of Miles on so many of the songs – it was like Tutu was perfectly tailored for Miles, like some of his exquisitely made stage apparel.
TLM: Can you tell us about the rehearsal process – I assume Baabe did all the arrangements?
FC: I can't say for sure how or who created the arrangement for the show, because I received the rehearsal tapes. I learned the show, came to rehearsal, and played the arrangements, but I can assure you that when you listen closely, Robert Irving's fingerprints were all over it.
TLM: Am I right in thinking that rehearsals took place in mid-March at Clinton Studios in New York?
FC: To my best recollection, my first rehearsals were at S.I.R rehearsal space in Manhattan with the band.
TLM: The repertoire was very varied – tunes from Tutu, Star People, You're Under Arrest, Rubberband and other sources – was it challenging learning all the material?
FC: Yes, it was a mixed bag of songs, but as I said, I learned the show from board tapes. Angus Thomas was the bassist preceding me, so the most difficult part about learning the arrangement was not playing all of Angus's improvised licks, and applying my own creative input. But it was a task, because he played a lot of nice tasteful stuff, and hearing his performance also gave me insight on how much freedom, and a good idea on what the bass player's role was in the band. Miles never restricted us being creative.
TLM: Where there any tunes you particularly enjoyed playing and if so, why?
FC: What a difficult question George! I liked the intro songs ["One Phone call/Street Scenes"], the blues song ["Star People"], "Portia", "Tutu", "Carnival", "Burn", "Al Jarreau" and others. My job was to make them all sound good, so I tried not to be partial to any song in particular, although I did like playing the songs with the extended vamps which allowed more creative expression from everyone in the band.
TLM: Do you recall rehearsing "No Time For Showtime" and "Backyard Ritual?" Do you know why these songs were never played live?
FC: Now those songs sounded like Baabe to me, and I did recognise the hits (accents) from "Carnival" in one of the tunes, but I don't know why we never performed them live.
TLM: What was it like playing "Burn" a song from The Man With The Horn sessions?
TLM: "Burn" was always our release song, with that pulsating riff charging through the air space. It was also a good special guest song, for example., the 1986 Amnesty International Concert with Carlos Santana. Miles would really burn up his solos on this one.
TLM: What are your memories of playing with Bob Berg and Mike Stern?
FC: To be with such monster players as these two musicians were was very humbling. They were empathetic and very welcoming to me, and I always learned something from their approaches to soloing, and feeling the music.
TLM: How did the band dynamics change when Mike Stern left and Robben Ford joined the band?
FC: Well in my opinion Mike, and Robben are both incredible musicians, with two completely different styles and approach. Miles had a unique way of being a great leader by not guiding a musician step-by-step in what their roles would be in the band.
When I joined the band, Mike Stern had been there for a while, and I would listen to him each night on how he'd enter his solos. Considering that you never knew when Miles would point to you letting you know that, okay it's your turn, Mike always seemed ready. In my view, when Robben came in to the band, he'd never assume that Miles wanted him to solo until Miles would move over to him, grab him by the arm, and proceed to walk Robben closer to front of stage, which was the green light. Robben would let it fly, so I enjoyed playing with both them very much. I missed them both when they left the band, because anytime there is a change in personnel in a band, there is usually a change in the sound, so each time, you have to readjust and learn the new ingredient the new member brings to the band.
TLM: What are your greatest memories of playing with Miles on-stage?
FC: There were so many great memories, but I'd have to say that when Miles graciously welcomed other artists like Santana , the late George Duke and David Sanborn on stage with us, and seeing the glow in their eyes, just to be on stage with Miles. It really helped me appreciate the moment, and see how blessed, and fortunate I was to have been given the opportunity to share the greatness of Miles Davis every night. It was the ultimate experience.
TLM: What were you doing pre-Covid, and what are your plans for when we come out of this nightmare?
FC: Pre-Covid I was working locally, and awaiting a couple tours. I was traveling back from a short tour when they officially started shutting down all venues and restaurants in March 2020. I dedicated my time to finishing my CD again.
I also decided to go back to school, since I wasn't working as much. I should be finished in November, then we'll see where the world is by then.
Special thanks to Felton for taking the time to answer our questions, and Miles discographers Jan Lohmann, Klaus Werner, and Peter Michael Probst of www.kind-of-blue.de for their help and information.