The Very Best of Miles Davis: The Warner Bros. Sessions 1985-1991
Warner Jazz/Rhino 8122-74883-2
Track listing:
Tutu 5.15
Splatch 4.45
Catémbe 5.35
Mr. Pastorius 5.42
Amandla 5.21
Mystery 3.55
Chocolate Chip 4.38
The Doo-Bop Song 5.00
Trumpet Cleaning (with Michel LeGrand) 3.56
Siesta/Kitt's Kiss/Lost In Madrid Part II (with Marcus Miller) 7.00
The Pan Piper (with Quincy Jones) 1.40
Summertime (with Quincy Jones) 2.54
In A Silent Way 1.49
Time After Time 9.58
Hannibal 7.22
In some quarters, it's quite fashionable to dismiss Miles's comeback years (1981-1991). Miles had gone soft; sold out; lost interest in music; was more interested in the trappings of stardom; surrounded himself with second-rate musicians; couldn't play; didn't have anything new to say. Some have even gone as far as to suggest that if Miles had never blown another note after 1975, it would have made no difference to his musical legacy. I beg to differ. I find it hard to imagine a world without albums such as Star People, Aura, You're Under Arrest, Tutu, Siesta and (shock! horror!) Doo-Bop. Some of Miles's fans tolerate the early Columbia recordings but have harsh things to say about the Warner Bros. years, which ran from 1985 to his death in 1991. This compilation is a very welcome antidote to such attitudes.
My Miles Davis record collection is heaving with compilations from Columbia Records but, apart from the Warner Bros. boxed set The Complete Miles Davis at Montreux 1973-1991, there were no compilations albums that focused on Miles's Warner years. Until now. This is an excellent compilation in so many ways. First, it's very well packaged with an informative booklet that gives track and personnel information (although sadly, no recording date details), as well as liner notes from trumpeter Wallace Roney, who played with Miles at the 1991 concert in Montreux. It's also very-well priced and packed with music, none of which has been edited from the album versions. Last, but not least, it's really nice to see that the album is dedicated to the late Don Alias, the much-missed percussionist who played on Bitches Brew, was in Miles's band in the early 1970s and also appears on Amandla.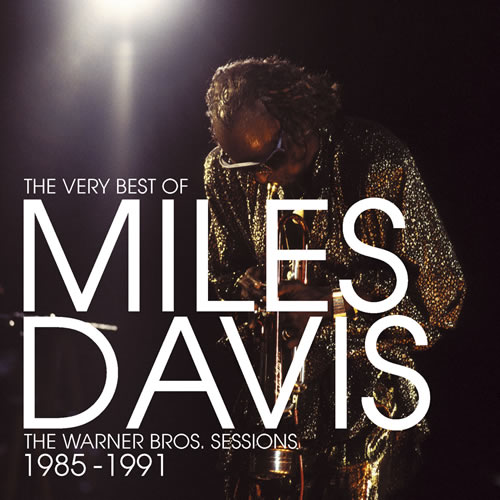 The Very Best Of Miles Davis includes music from Miles's seven Warner Bros. albums – Tutu, Siesta, Amandla, Dingo, Miles and Quincy Live At Montreux, Doo-Bop and the concert album Live Around The World – the last three were released posthumously. The music is more or less arranged in chronological order. Few could argue with the inclusion of the album's opener, "Tutu," the first of a series of fruitful musical collaborations with Marcus Miller. This moody number with its New Orleans-inspired beat, electronic soundscape, Miller's dancing bass work and the hypnotic melodies leaping out of Miles's Harmon-muted trumpet, sounds as fresh and exciting today as it did when I first heard it more than twenty years ago (where does time go?!). Hard to believe that Miles was 59 when this record was made while co-producer/composer/arranger Miller was only 26. A word here too for the other co-producer Tommy LiPuma, who had the inspired idea of using drum machines and other electronica for Miles's first Warner Bros. album.
The second track from Tutu is "Splatch," which, to be honest, is not one of my favourite tracks (Miller says it's the one track he'd liked to have done differently on the album). A funk-rock workout dominated by a heavy backbeat supplied by a drum machine, plus various sound effects, "Splatch" certainly sounds exciting, but it lacks the subtlety and sophistication of the rest of the music on Tutu – I would have preferred "Full Nelson" to have been included. "Catémbe" is the first of four numbers that originally appeared on Amandla and one of the best tracks on the album (in my opinion, the compilation features the four best tunes). It's got a great driving rhythm (Miller plays drums and bass on it and it also features Mino Cinelu and Don Alias on percussion) and Miles's playing matches the excitement.
Miles always liked to surprise his audiences and he certainly did that with "Mr. Pastorius," which sees him playing jazz-swing on this moving tune dedicated to the late bassist Jaco Pastorius. Miles's open horn sings while Miller supports on bass and bass clarinet. Hard to believe that Al Foster's sensitive drumming was recorded after Miles and Miller had recorded their parts. "Amandla" (named after the cry used by African National Congress supporters during the Apartheid era – it means "power") is a superb ballad with inspired performances from everyone including, Kenny Garrett on alto saxophone and Joe Sample on piano. The more I listen to this track, the more I appreciate the (sadly uncredited) contribution of guitarist Steve Khan who adds lots of interesting colours, chords and riffs to the overall sound.
There will doubtless be some fans who choke on the fact that the hip-hop inspired album Doo-Bop is represented here with three tracks, but they remind you just how under-rated this album is and how Miles was still seeking to connect with the music of the day. "Mystery" is one of the best tracks Miles recorded during his Warner Bros. era, with its acid jazz feel and melodic playing from Miles. "Chocolate Chip" is a heavyweight number with a (sampled) James Brown-type, funky guitar riff and Miles's trumpet darting aound the mix. I suspect some Miles fans will be apoplectic by the inclusion of the title track, which features raps from Easy Mo Bee's vocal group Rappin' Is Fundamental. But if you dislike the rapping (personally I don't) just try to listen to the music, which is based on Kool and Gang's beautiful jazzy ballad "Summer Madness." "Trumpet Cleaning" a track from the Dingo soundtrack, sees Miles returning to his playing style of the late 1950s.
Miles's second soundtrack offering is a medley from the vastly underrated Siesta, which features some of his best playing of the decade. The medley opens with the title track, a Spanish-tinged number featuring a marching drum pattern by Omar Hakim and some fine acoustic guitar playing from John Scofield. But the highlight is Miles's open horn, which soars and sweeps on this track. Listen to how Miles pushes himself to soar close to the upper register at times. "Kitt's Kiss" is a short segment featuring Miller on bass clarinet and "Lost In Madrid Part II" is a dreamy, atmospheric number with some fine melodic bass playing from Miller.
Miles's surprise collaboration with Quincy Jones, which saw him playing the old Gil Evans arrangements at the 25th Montreux Jazz Festival on July 8th 1991 (barely two months before his death) is documented with two short pieces, "The Pan Piper" and Gershwin's "Summertime," both of which are very moving. The final three tracks are from Live Around The World and start with the moody "In A Silent Way," with Miles blowing over a backdrop of sweeping, swirling synthesisers. Sadly, space limitations meant that the seamless transition into the driving number "Intruder" (which is what happened during Miles's concerts) couldn't be included. But what do you get is a gorgeous near ten-minute version of Cyndi Lauper's "Time After Time," and the moving "Hannibal," (the fourth tune originally from Amandla), a recording taken from Miles's last concert, barely a month before he died.
Miles Davis was often well ahead of his fans and critics, witness the critical reassessment of his 1970s music, which was initially dismissed by many. The signs are that music from his final decade is beginning to get the attention and respect it deserves. If you're one of those people who have dismissed Miles's Warner Bros. years or are new to his music, then you should listen to this compilation, which gives you a realy good feel for what Miles did musically in the last six years of his life. With open ears and an open heart, you should find lots to touch you. As George Duke says: "You have to be able to find one track and say 'Man, that's some classic Miles,' and if you don't, you're dismissing a whole period of his life and not giving him the credit he's due."
—
You can buy The Very Best Of Miles Davis: The Warner Bros. Sessions 1985 – 1991 online from Amazon.co.uk and Amazon.com