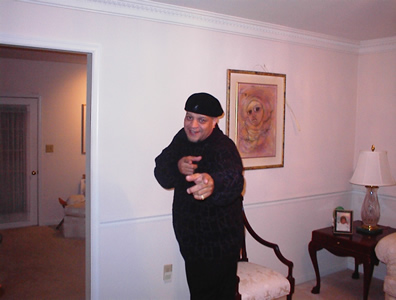 Ricky Wellman in 2006 Photo courtesy and © Ricky Wellman
Background before joining Miles: Played with Chuck Brown and the Soul Searchers and was one of the founders of the go-go sound that started in Washington DC.
How he got the Miles gig: Miles heard a tape of Chuck Brown and the Soul Searchers and was knocked out by the drumming. He phoned Wellman and invited him to join the band – there was no audition.
Played from: March 1987 – August 1991
Official albums and DVDs featured on: Amandla, Dingo, Live Around The World, The Complete Miles Davis At Montreux, Live in Paris (DVD), Live in Munich (DVD), Live At Montreux – Highlights 1973-1991 (DVD), The Definitive Miles Davis at Montreux (DVD), That's What Happened (DVD), Miles Davis 1986-1991: The Warner Years, The Last Word, Merci Miles! Live At Vienne.
Tracks worth checking out: "Big Time," "Wrinkle," "Heavy Metal Prelude," "Carnival Time," "Intruder," "Portia," (live).
Wellman on Miles: "He was a powerful man in the fact that his insight on creativity was unbelievable. If you really tuned in and listened, you could really learn and exploit your creativity to what he wanted – to make you an overall better muscian. I loved Miles as a musician and as a person."
Comments: Wellman is a strong and agile drummer, with the ability to throw in many interesting beats and accents while maintaining the flow of the music. He formed formidable rhythm sections with bassists Darryl Jones, Benny Rietveld and Richard Patterson. He was the last drummer in a Miles Davis band.
Website: None
Sadly, Ricky Wellman died in 2013.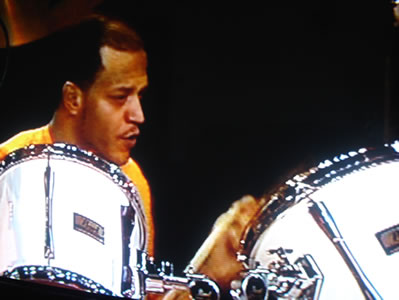 Ricky Wellman playing with Miles in 1988.