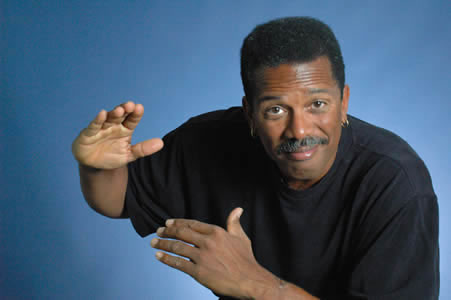 Munyungo Jackson Photo courtesy and © Munyungo Jackson
Background before joining Miles: Played with many artists including, The Temptations, Eartha Kitt, Barry White, Ronnie Laws and Joe Zawinul.
How he got the Miles gig: Was recommended by Miles's nephew Vince Wilburn Jr. Miles saw a video tape of Jackson playing with Zawinul and hired him.
Played from: March 1989 – October 1989
Official albums and DVDs featured on: Live Around The World, The Complete Miles Davis At Montreux, Rubberband, Live At Montreux – Highlights 1973-1991 (DVD), The Definitive Miles Davis at Montreux (DVD), Miles Davis 1986-1991: The Warner Years, The Last Word.
Tracks worth checking out: "Perfect Way," "Jilli," "Tutu," "Time After Time," "Intruder."
Jackson on Miles: "A lot of people thought he was mean, but he was funny and real…I never looked at him as intimidating. He let people be who they are. I really dug being there and learned so much from being with him."
Comments: Jackson fitted well in the band and always seemed to enjoy himself on the bandstand. After playing with Miles, he was a much sought after percussionist, playing with artists such as Quincy Jones, Stevie Wonder and The Pointer Sisters.
Website: www.munyungo.com