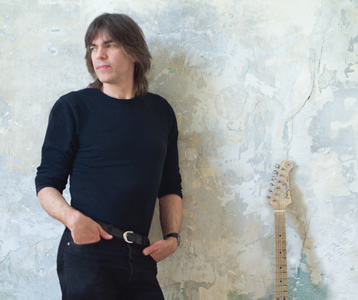 Photo by George Lange © Mike Stern website. Photo courtesy Roy Holland
Background before joining Miles: Played with Blood, Sweat & Tears, Billy Cobham, Tiger Okoshi and Jerry Bergonzi.
How he got the Miles gig: After Miles fired Barry Finnerty during The Man With The Horn sessions, saxophonist Bill Evans (who had gigged with Stern around Boston) recommended Stern. Stern played on "Fat Time." (named after him) and Miles then asked Stern to tour with him.
Played from: June 1981 – June 1983, August 1985 – March 1986
Official albums and DVDs featured on: The Man With The Horn, We Want Miles, Star People, Miles! Miles! Miles! (Japan-only release), Rubberband, Complete Columbia Album Collection, The Perfect Miles Davis Collection, Miles Davis 1986-1991: The Warner Years.
Tracks worth checking out: "Fat Time," "Jean-Pierre," "Come Get It," "Star People."
Stern on Miles: "Miles was always after attitude rather than specific things…He wanted cats to feel like they could jam, they could just play, so solos were stretched out."
Comments: Stern came under intense criticism, not least because Miles often wanted him to play loud rock chords. But Stern could also play the blues and bebop licks – and Miles clearly loved his playing.
Website: www.mikestern.org