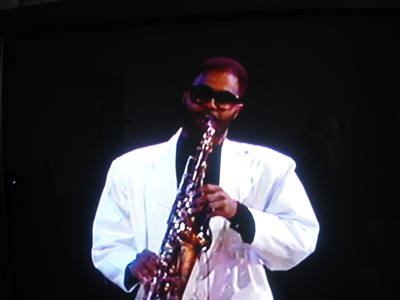 Background before joining Miles: Played with various artists including Freddie Hubbard, Woody Shaw and Art Blakey.
How he got the Miles gig: Miles saw Garrett playing in a video with Dizzy Gillespie and then called Garrett at home, inviting him to join the band.
Played from: February 1987 – August 1991, initially with Gary Thomas.
Official albums and DVDs featured on: Amandla, Dingo, Miles & Quincy Live at Montreux, The Complete Miles Davis at Montreux, Miles in Paris (DVD), Live in Munich (DVD), Live At Montreux – Highlights 1973-1991 (DVD), The Definitive Miles Davis at Montreux (DVD), That's What Happened (DVD), Live At Montreux (DVD), Perfect Way: The Miles Davis Anthology – The Warner Bros. Years, Miles Davis 1986-1991: The Warner Years, The Last Word, Merci Miles! Live At Vienne.
Tracks worth checking out: "Human Nature (live)," "Hannibal" (live), "Amandla," "Tomaas" (live), "Splatch" (live).
Garrett on Miles: "We developed this relationship without even having to verbalise it…It's basically how we did this call and response thing…It was just communicated through the music. To me it was the greatest thing that we didn't have to talk about what we were going to do…we just did it."
Comments: Garrett was a tremendous find for Miles and while his main instrument is the alto saxophone, he also played flute, plus soprano and baritone saxophone. His solos on "Human Nature" were often breathtaking (both for Garrett and the audience).
Website: www.kennygarrett.com